Harvest foliage, football and fun in Nebraska this fall

While a visitor to Lincoln on a fall Saturday may think that Pantone 186CP red is the only color that exists in all of Nebraska, the state actually has a bounty of fall colors on display in autumn. Between the changing leaves, harvest festivals, cozy comfort food and quintessential fall attractions like apple picking and pumpkin patches, the crisp fall air isn't the only reason to explore the state. 

Allow this quick guide to be your starting point to fall in love with Nebraska this autumn.
Explore the byways to find postcard-worthy foliage  
You won't beleaf the fall colors on display at Indian Cave State Park. It's located in the southeast corner of the state and is accessible via one of Nebraska's scenic byways called Heritage Highway. The park features over 3,000 acres that border the Missouri River. When you arrive at these sweeping views of autumn hues, you'll see why this is one of the state's favorite spots for leaf-peeping. 

Follow the river north (and hop on the Lewis and Clark scenic byway along the way) for more fall views at Ponca State Park located about 25 miles northwest of Sioux City, Iowa. The park has 22 miles of trails and offers a unique overlook where you can see the Missouri River plus three states (Iowa, Nebraska and South Dakota) all at once. 
If you're sticking around Omaha and road tripping around the state isn't an option, Fontenelle Forest in Bellevue (just 15 minutes south of the city) is a privately owned nature center with miles of nature trails and an ADA-accessible boardwalk to enjoy the changing leaves and spot wildlife. 
Fall means football in Nebraska (just don't forget your scarlet red) 
The changing leaves won't be the only ones sporting red this autumn. Fall and football are synonymous as the state rallies behind the University of Nebraska's Cornhuskers football team. Everything centers around Memorial Stadium (referred to as "the sea of red" when over 85,000 fans file in wearing the school's colors) located on the university's campus in Lincoln.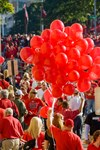 Whether you have tickets to the game or not (they have a current streak of 389 consecutive home game sellouts, which dates back to the 1960s) spending gameday in Lincoln is an experience in itself. Fans arrive hours before gametime to setup tailgates as far as the eye can see (that is, unless there's a cornhead hat in your view ... it's like a cheesehead except, well you get the idea). There are public tailgate parties around town as well, including the Do the Dock Tailgate at the Embassy Suites by Hilton Lincoln. Just remember, when someone yells "husker," yell "power" back and you'll fit right in. 
Even on away game weekends, the festivities don't stop. Fans converge on The Railyard in Lincoln's Historic Haymarket District. The venue is centered around bars and restaurants and displays the game on a big outdoor screen (where there's so much scarlet red you'll think you're in Memorial Stadium). For a bite to eat, head to nearby The NZone for classic gameday fare like burgers and wings, drinks and lots of screens to see the action.
Wholesome (and scary) festivities  
Nothing quite says fall like an afternoon of apple picking. Arbor Day Farm in Nebraska City, about 40 miles south of Omaha on the Nebraska-Iowa border, sits on over 260 acres. You can pick your own apples on the orchard (an ideal spot for Instagram-worthy seasonal photos) and indulge in all things apple at their Apple House Market—think apple pie, apple cider (hot or cold), apple jam, apple wine and apple slushies.
For an equally important fall activity, Bellevue Berry Farm and Pumpkin Ranch (just south of Omaha) has over 20 acres of pumpkins for an ultimate pumpkin patch experience. For those visiting the west side of the state, Homestead Pumpkin Patch in North Platte offers pumpkin picking plus other seasonal essentials, like hayrides and a corn maze. 


Roca Berry Farm, about 20 minutes south of Lincoln, hosts a fall festival every year with family friendly activities like games and slides. But at night, it becomes the Roca Scary Farm, full of frightful activities like a haunted house and a hayride through their haunted woods. For more scary sights, celebrate the Halloween season at Knee Knocker Woods in Gibbon. They uses animatronics to create their eerie haunted trails, including one infested with zombies. 
Cozy up with fare like chili with cinnamon rolls 
The cooler weather welcomes one of state's most beloved food parings—chili with a side of cinnamon rolls. This combo is beloved state-wide throughout Nebraska and the surrounding region of the country. Try it for yourself at Tina's Café, a Lincoln restaurant that's been around for decades. Give their homemade chili and "huge" cinnamon rolls a try, and you may have just found your new favorite fall meal.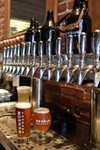 And don't leave the hops harvest out of your fall-forward itinerary. Benson Brewery, located in its namesake's neighborhood in Omaha, has limited edition beers that will taste like fall in a glass—including their chai spiced brown ale called Karha-T, or The Velveteen, an oatmeal stout. 
If you are visiting the Sandhills area, head to nearby Ord for Scratchtown Brewing Company. Their rotating menu has been known to feature seasonal taps like Scratchtoberfest, their take on an Oktoberfest beer and Scarlet-N-Cream, named in honor of the Cornhuskers, of course. 
Ready to go? Start planning your road trip to Nebraska with these fall trip ideas.