Why Greater Palm Springs Is An Oasis Like No Other

Nothing embodies escape from daily life quite like an oasis—and that's just what you'll find, both literally and figuratively, in the nine cities that make up Greater Palm Springs. On the literal end of the spectrum, there are the most stunning and surreal palm oases tucked away along winding hiking trails. On the figurative end, there are countless oases of calm scattered among the area's famed spas and wellness centers. In between, you'll find oases of art and culture—and plenty of spots to refuel on locally grown delicacies.
For some of the best cases in point, read on, then start planning your own retreat to this storied swath of Southern California.
An oasis of outdoor adventure
If you make time for only one hike on your trip, go big and visit the largest native palm oasis on the entire continent: Palm Canyon. Part of the Indian Canyons on the edges of Palm Springs—an ancestral home and sacred space of the Agua Caliente Band of Cahuilla Indians—Palm Canyon is one of three canyons you can visit here. But this one offers particular bang for the buck (or the 12-buck entry fee, as the case may be).
Within the span of only a 2.3-mile moderate loop, you'll be transported to what feels like another planet or some primordial, Edenic era on earth when endless outsized palms proliferated along hidden streams, their almost floor-length skirts and massive fronds rustling in the warm breeze. There's even a secluded waterfall nearby for good measure. And if you do have more time to explore the rest of the Indian Canyons, don't miss the oasis along Andreas Canyon trail or the Seven Sisters waterfall at the end of Murray Canyon trail.

Another stunning Palm Springs canyon that's sacred to the Agua Caliente Band of Cahuilla Indians, and that you can reach via a moderate trail, is Tahquitz Canyon. An approximately two-mile easy loop accessed through a visitor center for a $15 fee (again, totally worthwhile), this trail culminates in a 60-foot waterfall that flows seasonally through approximately May.
And for anyone who can't get enough palm-filled oasis hiking, there's also the aptly named Thousand Palms Oasis, part of the trail-laced Coachella Valley Preserve that's fed by waters from the San Andreas Fault. Try the moderate, approximately 4-mile Willis Palms Trail and—beyond the dramatic namesake trees—you may get a bonus wildflower show if you act fast. There's no entry fee here, though donations are appreciated.  


Note that if you'd rather horseback ride through the region's palm oases and canyons, outfitters such as Smoke Tree Stables and CottonWood Canyon Ranch offer gorgeous guided tours. If mountain biking is more your speed, consider the trail at the aforementioned Palm Canyon, or Palm Desert's Bump and Grind trail (also popular among hikers).
---
An oasis of arts and culture
Greater Palm Springs has long been known as a Modernist oasis, where fans of the mid-century esthetic have flocked for the architecture and design alone. And if that's your thing, you'll continue to be awed by the local offerings, from Kaufmann House—the Richard Neutra-designed, Slim Aarons-immortalized estate of the same family that commissioned Fallingwater from Frank Lloyd Wright—to the Elvis Honeymoon Hideaway, where the King and Priscilla ensconced themselves in the late '60s.
So beloved is the Modernist esthetic here, in fact, that this spring will even see the world premiere of the Mid-Century Moderns Musical at Palm Springs' Desert Rose Playhouse (April 20-May 8).
But mid-century modernism is just the start of the region's cultural offerings. 
Public art installations also abound, as you'll find everywhere from Cathedral City (check out Simi Dabah's "X" Marks the Spot Place outside the public library) to Coachella (don't miss El Mac's striking mural in the Pueblo Viejo neighborhood). For the comprehensive guide to public art across Greater Palm Springs—and the local arts scene in general—download the soon-to-launch artsGPS app.

These installations and exhibits are complemented by festivals of all kinds: The renowned Indian Wells Arts Festival is back April 1-3, when thousands of works (whether paintings, sculptures, photos, ceramics or wearable art) draw veteran collectors and newbies alike. Adding to the festive atmosphere are the live jazz, champagne bars and engaging artist demos.
Then comes the trio of music festivals: Indio's iconic Coachella (April 15-17 and 22-24) and Stagecoach (April 29-May 1), followed by the new Oasis Music Festival (May 11-15), a celebration of every genre from Latin pop to jazz to folk across a multitude of venues throughout Greater Palm Springs.
---
An oasis of culinary delights
Whether you're spending your time in Greater Palm Springs gallery-hopping, festival-rocking or trail-blazing (or some combination thereof), refueling is not only essential, but also key to understanding another surprise element of this region: the outstanding bounty that's produced here.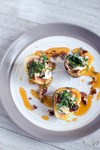 Arguably the most iconic crop is the date, and though date palms themselves aren't endemic, these Middle Eastern and North African imports have thrived alongside their native California palm-tree cousins since the turn of the 20th century, when the USDA viewed this oasis as the perfect place to experiment with agriculture.
Since then, date gardens have, well, cropped up throughout the region, one of the most historic and beloved being Indio's Shields Date Garden. You can't go wrong with the house date shake—though every local has an opinion on who serves the absolute best version in the area. Other contenders include the date shakes at Windmill Market and Produce in Desert Hot Springs and—for a more elevated variation on the theme—at State Fare Bar & Kitchen inside the Ritz-Carlton, Rancho Mirage.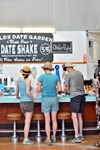 Meanwhile, other hotels are putting their own spin on locally grown ingredients. The new chef at the Miramonte Resort & Spa's Citrus & Palm restaurant, Adrian Hernandez, will be incorporating native crops from the onsite herb garden wherever possible. And the new Lily Kwong-designed garden at the JW Marriott Desert Springs Resort & Spa is filled with native plants (the sage assortment is particularly amazing), many of which will be put to use in cocktails, teas and other menu items throughout the property.
---
An oasis of wellness
The same water sources that nourish the local palm oases are just as effective at nourishing your spirit: There's nothing quite so serenity-inducing as slipping into a geothermically heated pool in a sublime natural setting. One of the best places to find out? The naturally-fed resort and spa pools of Desert Hot Springs. You'll find them at the iconic Two Bunch Palms, the wonderfully intimate Hope Springs and the quirky El Morocco Inn & Spa, among others.


Of course, the best spas in Greater Palm Springs take advantage of more than the thermal waters. From the legendary La Quinta Resort & Club (yes, in La Quinta), where you'll want to try the desert agave nectar body therapy treatment, to the new Azure Palm Hot Springs Resort in Desert Hot Springs, home to deliciously detoxifying desert sage clay wraps, wellness hot spots are making good use of the local bounty.    
---
Ready to go? Start planning your trip with these offers to Greater Palm Springs today.