Global Glimpse offers teens a chance to experience the world

If you had a chance to go on a life-changing international trip, but you'd have to leave loved ones at home and surrender your cell phone the minute you got off the plane, would you do it?
That's the question high school students Sofia and Nia faced when they were offered the opportunity to go on an all-encompassing adventure that was equal parts service, education and travel via Global Glimpse, a non-profit organization that has facilitated over 400 international trips for 8,000 students since launching in 2008.
"At first, I was really nervous, but before we left, they told us to be comfortable being uncomfortable," said Sofia, now a high school senior in the Bay Area. "And I feel like that's something I really took to heart during the whole trip."
Students like Nia and Sofia are nominated by a teacher or administrator for inclusion in the program. They then undergo a rigorous application and review process to earn a spot on one of the 40+ trips that Global Glimpse runs each summer to Costa Rica, Panama, Ecuador and the Dominican Republic. Students typically travel during the summer after their junior year to take part of a culturally immersive 14-day program in country. Itineraries are designed to build empathy, leadership skills and global perspective.

For many students, it's their first chance to travel internationally and experience a culture other than their own.
"It was a journey in and of itself," said Nia from Chicago, now a college sophomore majoring in biology and neuroscience. "I had to get a passport. I had to convince my parents to let me go, because not only was I going out of the U.S. for the first time, but I was going without them. But I was so excited, it was a big motivation for me."
In 2024, Travelzoo will once again be a partner organization of Global Glimpse, providing scholarships that make these memorable experiences available to deserving students, regardless of their financial situation. 
"We feel strongly that traveling internationally broadens your world view. Experiencing new cultures makes you a better global citizen," said Andrée Sanquini, U.S. General Manager at Travelzoo. "We're proud to support Global Glimpse for a third consecutive year in 2024 to make this invaluable opportunity open to exceptional students."

"Be comfortable with being uncomfortable"
Global Glimpse brings together students from low-income and underrepresented backgrounds from schools in the San Francisco Bay Area, Chicago, New York, Los Angeles and Massachusetts for these life-changing experiences.

Students who are accepted into the program take part in pre-trip workshops to develop leadership skills and global competency. Then they are placed into groups of about 20 to complete a 14-day in-country experience. Trips combine service activities with cultural exchanges, like preparing and eating dinner with a local family. Students hear from guest speakers about topics such as environmental conservation and sustainability, and take turns filling leadership roles within their group, under the watchful eye of trained staff and local community members. Students are encouraged to journal during the experience and provide peer feedback to the day's leaders.
Then, there are days devoted to exploring (like visiting a waterfall) or learning more about the country they are visiting (like touring a museum).

"What I enjoyed about the trip was that the schedule was perfectly set up," said Sofia, who helped refurbish a playground and gymnasium at a local school in Turrialba for her team's Community Action Project (CAP). "It was always something new, and at the end of the day you really felt accomplished.
"You were able to tell yourself, 'I did that', and then you were excited for the next day."
Despite not knowing most of the students in her group, Sofia said they quickly "clicked" and stay in touch via group texts several months later. 
"I was so grateful for the people on my trip," she said, "because they really pushed me and made me feel comfortable."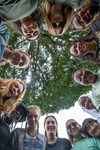 Building a global perspective
With new people, new places, new foods (and yes, no phone), there was some culture shock at first. But the students we talked to said that these new experiences helped them both appreciate what they have at home, and value what they were experiencing real-time on their journey.
For Nia, traveling from Chicago to Costa Rica was a real eye-opener.
"It was a very humbling experience for me, because of the little details you take for granted living in the U.S., like electricity," she said.

And then there was the natural beauty. 
"It was so much more beautiful than I expected," she recalled. "The forests were a big difference from where I lived in Chicago. We went into the rainforest, and it sounded like a white noise soundtrack of bird sounds."
Her experience also made her re-think some things at home. 
"The experience gave me a more conscientious mind about how I interact with the environment," Nia said. "How much waste am I creating? How much water do I use to wash my hands or take a shower?"
Sofia commented on how the pace of life in Costa Rica was so much different from that in the Bay Area.
"No one's in a hurry," she said. "It was more calm and simple."

When her group reached their base camp in the forest near Turrialba for the two-week experience, she was pleasantly surprised.
"OK, well this is definitely different from where I'm coming from," she said. "But it quickly felt like home."
Lifelong memories, lifelong travelers
Upon their return, alumni are encouraged to become ambassadors for the program—sharing their experiences, developing leadership skills and encouraging younger students to apply.
"I was blessed with a once-in-a-lifetime opportunity and I wanted other people to know about it," Nia said.

Sofia commented that her experience interacting with so many local Costa Ricans changed how she intends to travel in the future.
"When a lot of people go on vacations, they go to the place, but they don't really know where they are going," she said, recounting the fun she had cooking with a local family. "I really feel like after this experience, I want to get more involved with the culture and community of the places that I'm visiting."

For Nia, one of her most memorable moments was watching baby sea turtles hatch and make the journey to the ocean.
"It was so cool," she told us. "I didn't expect them to be so tiny. We went to the beach at nighttime, wore all black clothes, used special lights and could only whisper."
As for that thing about no phones, well, Nia said that wasn't a big deal, after all. 
"It was unexpectedly amazing," she told us. "I was as into social media as one teenager could get and so connected to my phone. But once you get there, there was so much to see and do, that you don't even realize you don't have your phone.
"Not having your phone is a small price to pay for the chance to see baby sea turtles hatch and go to the ocean."
---
To learn more about Global Glimpse, please visit their website and consider making a donation to give the gift of travel. The non-profit has handed out over $14 million in travel scholarships since 2008.