Four dreamy desert days in Greater Phoenix

We're entering the time of year when a long weekend somewhere sunny starts to sound more appealing by the minute. And while sunny's a great starting point, the field narrows considerably once you add: easy to reach, dreamily desertic, culturally rich, gastronomically gifted, buzzing with nightlife, laced with trails—and awash in wellness offerings. In fact, some would say you're left with one clear choice: Greater Phoenix—the ultimate desert escape if you're looking to milk every moment of a long weekend (or to know, at least, that the option exists if you're feeling ambitious).
With that in mind, we've come up with an experience-packed four-day itinerary, with options for foodies, art lovers, trail aficionados, shoppers, nightlife enthusiasts and wellness seekers. Read on to start plotting your getaway, secure in the knowledge that even if you decide to do nothing more than lounge poolside under the sun, that's between you and the saguaros.
Day 1: Sandstone buttes, arts & crafts, presidential eats
Morning hike in Papago Park

Ease into your desert adventures at an eminently accessible and fascinating urban hiking spot: Tempe's Papago Park, where even the shortest walks, such as the .3-mile Hole in the Rock trail come with major payoffs—in this case, the striking geologic feature for which the trail is named and the attendant lagoon views. As several of the other trail names suggest (Big Butte Loop, for one), the park is also home to a variety of red sandstone buttes, worth seeing even if you don't want to spend a lot of time hiking here.
Ease in further at the Spa at Camelback Inn

Here beneath one of the area's most iconic peaks—Camelback Mountain—you'll find one of the best spots to start acquainting yourself with another local icon: bountiful wellness offerings, such as the Adobe Clay Detox Wrap (adobe being the mud-like substance from which so many early Arizona homes were built). Though the wrap and accompanying scalp massage constitute a warm welcome in and of themselves, once you rinse off with a cactus fiber cloth under the Vichy shower, you're massaged with warmed desert juniper and sage oils for good measure.  
Lunch at Barrio Café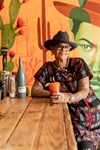 Celebrating its 20th anniversary, this Phoenix institution has been recognized by everyone from the James Beard Foundation to presidential campaigns (with Biden and Harris putting in a joint appearance here just before the 2020 election). The chile en nogada is one of the most classic go-tos on the menu—so much so that there's even a vegan version that subs out the chicken filling in the poblano peppers for mushrooms and platano maduro, among other amazing flavors. Other standouts include the smoked cochinita piblil (the pork-based favorite prepared over 12 hours) and pato en tamarindo, a seared duck breast in tamarind-port sauce).
An afternoon at the museum (or two)

Not even 10 minutes from Barrio Café sits another can't-miss Phoenix legend: the Heard Museum. Considered one of the finest and most extensive collections of Native American art in existence, the museum is also home to a number of cultural events, including the World Championship Hoop Dance Contest (February 18-19) and the Heard Museum Guild Indian Fair + Market (celebrating its 65th anniversary edition March 4-5). But whenever you go, you'll find stellar exhibits, from the ongoing Grand Procession of contemporary Plains Indian dolls to Home: Native People in the Southwest, an exhibition of almost 2000 pieces: jewelry, pottery, basketry and much more.
Serious art lovers will want to turn the afternoon into a double-feature: Just half a mile away sits the esteemed Phoenix Art Museum, where you should experience—at a minimum—You Who are Getting Obliterated in the Dancing Swarm of Fireflies. Known simply as Fireflies to fans, this Yayoi Kusama infinity mirror room is the museum's most beloved permanent installation.
Dinner at Kai

The state's only AAA Five Diamond and Forbes Five-Star restaurant, Kai (or "seed" in the Pima language) draws heavily on Native ingredients and flavors—think mesquite meal, Pima wheat berries, desert sage—and incorporates them into singularly elevated and creative preparations. Rounding out the experience is the setting: The Sheraton Grand at Wild Horse Pass, where the floor-to-ceiling windows (not just at Kai, but also at the Lobby Bar, a great place to kick off the evening) offer expansive views onto the surrounding desertscape.


Day 2: Fanciful formations, fried & grilled greatness, vintage chic
Morning hike at South Mountain Park and Preserve

Famous for trails that range from the ultra-accessible (such as the Judith Tunnell paved half-mile loops) to the strenuous, South Mountain Park and Preserve has something for everyone. One standout? Hidden Valley via Mormon Trail, a moderate-to-strenuous four-mile out and back that includes fanciful formations, a natural tunnel, desert flora, expansive vistas—and for good measure, ancient petroglyphs.
A treatment at Tierra Luna Spa & Sol Garden

Tucked into the historic Arizona Biltmore, a Waldorf Astoria Resort, the spa whose name evokes the earth and moon is meant to both ground and transport you. Thus the likes of the Grounding Quartz Massage, a warmed crystalline full-body treatment—and the Luna Cosmic Facial, a hydrating and soothing series of washes, masks and serums applied with lunar cycle-inspired massage movements.
Lunch at The Fry Bread House
A decade into its status as one of the James Beard-designated America's Classics, this local legend continues to serve up the most famous Native American food in the area. The Tohono O'odham-owned establishment is home to not only the namesake deep-fried breads (which forms the basis of everything from tacos to desserts here), but also to exceptional chili stews and posole.
Afternoon stroll through the Melrose District

The Fry Bread House is one of several attractions along the one-mile stretch of Seventh Avenue between Indian School and Camelback that's known, alternately, as the Melrose District, the Curve, and the Gayborhood. Walk off lunch, stopping to browse for antiques, art and vintage fashion finds. And if you happen to be there on the third Sunday of any month between October and April, don't miss the outdoor Melrose Vintage Market, where dozens of local vendors convene. Wrap up the afternoon with both video games and cocktails that nod to a different era. (Centipede and a Farrah, anyone?)
An evening on Roosevelt Row
Get to know another eminently artsy and strollable Phoenix neighborhood—Roosevelt Row—by night. Start by fueling up at nearby Bacanora, one of America's Best Restaurants of 2022, according to The New York Times.  "The caramelo stands apart," says the paper of Bacanora's grilled and loaded-up corn tortilla, but "there are practically no misses on the short menu" of wood-fired Sonoran food. See: the elote, pollo asado and frijoles con queso. Another excellent restaurant choice? The James Beard-nominated Larder + The Delta, which blends local produce with Southern culinary traditions to amazing effect, as you'll find in the likes of Low Country potted pork rillettes and Yesterday's Hushpuppies. From either restaurant, you have direct access to the eye-popping public art and buzzing nightlife of Roosevelt Row.


Day 3: Horseback adventures, botanical beauty, sensory feasts
Morning horseback ride

As befits an establishment found at Wild Horse Pass, Koli Equestrian Center offers up epic horseback riding—not so much on the adrenaline-pumping front (these horses are gentle walkers and trotters) but rather, on the scenic front: Here on the Gila River Indian Community Reservation in Chandler, 2400 acres of equestrian trails wind through mountain-backed desert landscapes under wide-open—and often breathtakingly blue—skies. Whatever your skill and experience level (from zero to expert), you'll find good riding options, as well as the opportunity to take in the rich cultural heritage that suffuses the gorgeous surroundings.
Lunch at Thaily's

Yet another Greater Phoenix eatery that ranks among America's Best Restaurants of 2022, per the The New York Times, Thaily's is about 20 minutes from Koli Equestrian Center in Chandler, where a Cambodian-Iraqi fusion menu is perhaps the last thing you'd expect to find—and one of the richest discoveries you'll ever make. The result of the owners' marriage (the Cambodian-born Thai Kambar learned her way around a Middle Eastern kitchen from her husband Lee's Iraqi parents), the daily specials might look something like this: Arabic chicken sandwich; toasted sesame coconut sweet rice cake; coconut steam mochi.
An afternoon at the Desert Botanical Garden

Continue the day's local landscape exploration in a more curated setting: the famed Desert Botanical Garden. Choose your own adventure (or several of them) along the garden's themed trails, where you'll find tens of thousands of plants and—if you're lucky—kaleidoscopic pollinators of all kinds. But if you do nothing else here, stroll the main trail, aka the Desert Discovery Loop, to see a whole world's worth of desert species that have adapted to Phoenix living, as well as the prized resident historic plant collections.
An evening in Old Town Scottsdale

Helmed by the James Beard award-winning chef Charlene Badman—and touted by publications from Food & Wine to Travel + Leisure—FnB is the perfect place to fuel up for an evening in Old Town Scottsdale. While the menu is ever-changing, you might find the likes of acorn squash with freekah, cinnamon, grilled eggplant, tomato and burnt seed yoghurt or Neiman ranch ribeye with chanterelle mushrooms, wheatberries and thyme butter. Once you've eaten your fill, head out to explore this storied neighborhood—whether on a Thursday night Art Walk if the timing of your trip cooperates (they happen every Thursday throughout the year except Thanksgiving); on a self-guided tour of the Scottsdale Wine Trail, or a self-guided Historic Old Town walking tour.
Day 4: Summit views, healing hues, artisanal booze
Morning hike in Phoenix Mountains Preserve

To start your last day on a serene note, hit a lesser-trekked trail: Lookout Mountain Summit Trail (1.2 miles out and back), where you'll get peace, quiet and—after an approximately 450-foot ascent—stunning views of the Phoenix Mountains Preserve. If you want some bonus hiking, you can easily tack on the 2.6-mile Circumference trail through the desert at the base of the mountain.  
Serenity continued at the Joya Spa

From the very first, the renowned Joya Spa at the Omni Scottsdale Resort & Spa at the Montelucia transports you to another headspace. Atop a grand staircase, you'll pass through the Joy of Intention room, where you'll choose from five stones to set the tone for your time here: tiger eye, blue lace agate, rhodonite, rose quartz or hematite. From there, you move through the room of purification, home to a massive quartz crystal that radiates multicolored light and calming vibes, so that by the time you're actually on the treatment table, you're pre-blissed for the likes of an Arnica and Hot Towel Massage—or an Amethyst Facial.
Lunch at Pizzeria Bianco

A pilgrimage site that's been lionized in The Wall Street Journal and The New York Times, on NPR and Rachael Ray—and across all manner of media in between—Pizzeria Bianco is, to serious eaters, reason enough to visit Greater Phoenix. One bite of the classic Margherita and you'll see why—but then again, you wouldn't want to miss the Rosa (Parmigiano Reggiano, red onions, rosemary and Arizona pistachios) or the Wiseguy (house-smoked mozzarella, wood-roasted onions and fennel sausage).  
An afternoon stroll around Heritage Square

Walk off lunch in the surrounding neighborhood, where Phoenix's Victorian past lives on—most famously, at the Rosson House Museum. A beautifully restored 1895 Queen Anne style home, this monument offers a glimpse into turn-of-the-century Phoenician family life through hourly guided tours (the last one starts at 3 p.m.).
Dinner at Quiessence
To end your trip on a special and surprising note, head to the award-winning Quiessence at the Farm, where you'll discover not just the possibilities of farm-to-table dining in the desert, but also the beauty of the experience. Tucked into the Farm at South Mountain, this twinkle-lit, fresh flower-strewn spot serves up an ever-evolving seasonal tasting menu as well as handcrafted garden-to-table cocktails and Arizona wines (among others). While you await, say, a sunchoke soup with fried pork, mascarpone, date puree and tomato confit, raise a Stone Grove Gin & Citrus or Smokey Paloma to the last four days in Greater Phoenix—and vow many happy returns.
---
Ready to go? Plan your Phoenix trip with these resources.