Fort Myers: An Eclectic Beach Getaway

For someone like Caitlin Palumbo of @mydarlingpassport — a travel journalist and influencer who's traveled to hundreds of cities in dozens of countries across the world — you might think a trip to a few laid-back islands and beaches on Florida's southwest coast would be no big deal.
But on the contrary, when we asked Caitlin to explore the islands, beaches and neighborhoods of Fort Myers, she arrived back in her hometown of New York with a story full of outstanding experiences and surprises.
Chock full of intriguing finds, jaw-dropping nature, smiling service, delicious dishes and sunsets that rank among the most stunning she's seen anywhere, Caitlin's Fort Myers escape left her wanting only for one thing: more time in the destination. 
We caught up with Caitlin to get the scoop on what sets the Fort Myers area apart, and — should you be inspired to plan your own trip — how to make the most of your time in this richly eclectic coastal area.
"We felt that we were off the beaten path — in a wild part of Florida."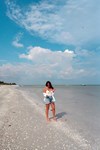 While strolling the beaches and driving between the diverse neighborhoods around Fort Myers, Caitlin and her travel pal Nadia were struck by the unusual signs they kept running across. "We saw postings like 'gopher tortoise crossing,' and 'watch for low-flying owls.' It spoke of how environmentally conscious the area is and how people care about the animals there." She said it also gave her a feeling of being in a unique part of Florida: one that's secluded, serene and less-traveled than the typical vacation spots. 
"People get stuck doing the same thing in Florida, so it was really cool to see a place that's lesser-known and so peaceful. It's a spot where you can really get away," she said.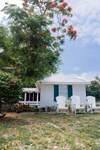 Her experience taking a day trip from Captiva Island to Cabbage Key, one of the outer islands that speckle the coast in this part of Florida, reinforced the idea that she had touched upon an unspoiled nature haven. 
"We saw so many dolphins alongside the boat. They were jumping super high out of the water — putting on a show." And once on the island, the wildlife encounters kept going; Caitlin and her friend spotted dozens of gopher tortoises moseying around the grounds.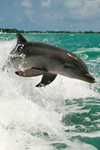 Also on Cabbage Key, the pair enjoyed lunch at the Cabbage Key Restaurant, an open-air eatery set among cuban laurel trees draped with Spanish moss and offering serene views of the marina and Pine Island Sound. Every inch of the restaurant's main room is plastered with dollar bills patrons have signed and stuck on the walls over the decades.
Caitlin and Nadia added their own Sharpie-scribbled George Washington to the mix, meanwhile digging into a plate of smoked fish dip, a salad with shrimp and a few Cabbage Creepers — the bar's signature cocktails, where piña coladas meet coffee liqueur.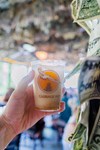 Caitlin marveled at the unique aesthetic and the tasty menu, adding that the frozen key lime pie is a must-try. 
"We took our dessert up to a little overlook and enjoyed the view." That view included a number of other islands she felt compelled to check out on subsequent journeys, some peppered with houses, others completely unpeopled. She was surprised to learn there were so many islands just off the coast of Fort Myers.
"We met a lot of friendly locals," Caitlin said. "What a cool life, just take your boat out to Cabbage Key on the weekends and get lunch."  
"I hunted for shells on the white-sand beaches like a child."
Caitlin stayed in a beachfront resort on Sanibel Island, and took advantage of the opportunity to spend each morning soaking in the early sun. She had heard that the area is known for its plentiful seashells, but she was still met with more beauty than she bargained for.
"The beaches were stunning, and the shells were absolutely amazing," she said. She and her friend took turns finding good ones and organizing them on their hotel lounge chairs, saving the best ones as souvenirs to take home. Other visitors had written messages in the sand with shells.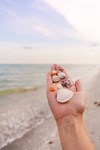 They were also pleasantly surprised by the surf. "The water was like a bathtub. It seems like it would be great for kids, too, because the waves are so calm."
Each morning, they would stop at a locally-owned coffee shop called Sanibel Bean ("I love that there weren't many chains on Sanibel," Caitlin commented) and bring their java and yogurt out onto the sand. They also visited the Sanibel Lighthouse and the surrounding beach on one of these mornings, and were left with no questions as to why it's the most photographed site on the island.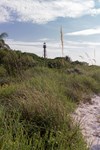 "It's a gorgeous area. We spent an hour just walking on the beach and enjoying our coffee," Caitlin said.
"The Edison and Ford Winter Estates blew me away."
Caitlin spent an afternoon in Fort Myers where she explored the fabled seasonal homes of Thomas Edison and Henry Ford. There, the innovators escaped the chill of northern winters and hosted illustrious friends like president-elect Herbert Hoover and Harvey Firestone (yes, the tire guy).
Caitlin was struck by the beautifully restored homes and buildings, including Edison's main house (where the furnishings on display are nearly all original), guest house and botanic research laboratory.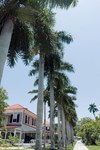 She was even more taken aback by the landscaped grounds. "I couldn't believe how gorgeous it was. I spent time walking along the river and photographing the gardens." 
She was surprised to find that visitors come to the property for more than its beauty and historical importance. 
"There's a nice garden store where people come to buy their fruit trees and flowers," she said.
"The sunsets were spectacular. It's one of the best sunset spots in the country."
In true Florida west coast style, Caitlin and Nadia made an event out of sunset every evening. On their first night in town, they took in the nightly show at The Mad Hatter on the northwest corner of Sanibel Island, where the roasted garlic appetizer and famed crème brulée dessert were nearly as impressive as the elusive "green flash" of sundown. 


The following night, they headed to a celebrated sunset spot on Captiva Island: The Mucky Duck. 
"This was such a cool spot. I love a good beach bar, and this one ranks with the best I've been to," Caitlin said. Since the venue does tend to draw a crowd (and does not take reservations), Caitlin's recommendation is to get there early to score a good spot for sunset gazing.
She and Nadia kicked off their shoes and stuck their toes in the sand, glasses of the house-made sangria in hand, as the sun dipped low. "It was one of the big highlights of the trip." She added that the live music — a nightly occurrence — put it over the top.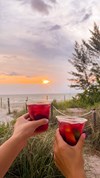 They finished the evening with dinner at another Captiva favorite: The Green Flash, which did not disappoint. "The seafood everywhere was so incredible," she said.
"The art in Matlacha was very vibrant, colorful, eccentric, abstract and whimsical. It's such a cool, funky place."
Sunday morning, Caitlin took a detour north to visit Matlacha (pronounced Mat-la-shay), an "Old Florida" fishing village and vibrant artists' community located between the mainland and Pine Island. They browsed the boutique galleries, many of which are painted in flamingo-pink, lime-green and Caribbean-blue hues. The florid, festive scene made it abundantly clear they were not in New York anymore, Caitlin said.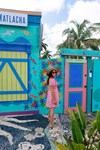 "It was really fun to explore Matlacha, and everyone was so friendly," Caitlin said. "I would definitely plan for a few hours to spend there. If you just drove past, you would miss so much as it definitely has its own unique vibe."
Among the sights Caitlin found most memorable were paintings of squids, flamingo mailboxes and sculptures of sea creatures.  
"Shangri-La Springs was a hidden gem."
The pair's next and final stop was Bonita Springs — and more precisely, the Shangri-La Springs hotel and spa — on the southeast end of the Fort Myers area.  
As they drove in, they were struck by the changing scenery around them. 
"There was a lot of Old Florida-esque and Spanish architecture. And trees with Spanish moss, which I love," Caitlin said.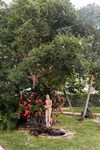 Once they reached the hotel, their surroundings grew even more remarkable. The grounds of the century-old hotel include a huge garden where staff grow herbs and seasonal vegetables for use in the onsite restaurant, mangoes, bananas and other tropical fruits and even loofah plants, which are then dried and sold in the spa's shop to be used as natural and hyperlocal sponges.
Amid a full events calendar, Shangri-La Springs even hosts an educational tour and tea party one Tuesday per month, whereby visitors learn about tea-specific plants, sample light bites and sip teas created with the property's homegrown ingredients.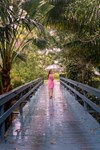 Caitlin took a full tour of the place, which also included a look at the natural mineral springs for which the entire town is named and a pretty creek where wild orchids hung from trees.
"It felt like we were in the tropical jungle," Caitlin said, adding that she could understand why the property is a popular place for weddings. 
The spa was also impressive, Caitlin said. "It was gorgeous. It had very Eastern, yoga and meditative vibes." 
Nadia opted to try the muslin bag massage, which incorporated herbs and plants grown in the garden just outside. "It was one of the best massages of her life," Caitlin said. 
"We were looking on Zillow for vacation homes by the end."
Caitlin's main tip for travel to the Fort Myers area is to give yourself extra time to explore. "There's something for everyone — art lovers, wellness-seekers, animal lovers, families." She said she'd plan for a week next time she traveled here.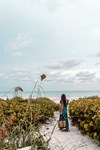 She also recommended getting up early each morning to snag some extra quiet time on the beach (and to get the jump on all the shell hunters).
"The trip exceeded all expectations — and I expected it to be good!" Caitlin said, laughing. "It was so cool to discover this less-traveled area."  
---
Ready to go? Get your travel guide and start planning your Fort Myers trip today.