Find your perfect vacation vibes in Greater Palm Springs

A patchwork of healing natural hot springs, awe-inspiring trails, lush palm oases, mid-century modern architecture and 21st-century foodie hotspots, this storied stretch of Southern California makes for a singular getaway with wildly varied appeal. Whether you're a nature lover, culinary explorer, culture connoisseur, wellness seeker or all of the above, you'll find yourself falling for Greater Palm Springs.
Put this sun-kissed oasis on your 2023 bucket list now, then check out our favorite finds for all kinds of travel personas.
For the wellness seeker…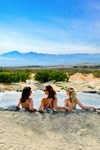 Maybe all that new-year-new-you energy has you charged up. Or maybe you're a consistent wellness seeker who needs no annual prompting. Either way, Greater Palm Springs is the place to be—the perfect confluence of hot springs, hiking trails, treatment tables and sound baths (for starters).
To experience workouts that are rivaled only by the views they offer, hit the trails of Mount San Jacinto, Palm Canyon or Joshua Tree National Park, to name a few of the amazing local hiking experiences. For a lower-impact workout with equally high-impact views, check out some of the 130+ area golf courses—with favorites ranging from the Jack Nicklaus-designed PGA West course in La Quinta to the Arnold Palmer-designed Classic Club in Palm Desert. Even yoga comes with a view here, whether you're taking a Power Yoga Palm Springs' rooftop class or doing yoga in the gardens at Sunnylands in Rancho Mirage.

Post-exertion, immerse yourself in the natural mineral waters of Desert Hot Springs. Perhaps the most iconic local soaking spot is Two Bunch Palms, where you need to be a guest of the hotel—something every wellness seeker should consider—to use the pools and tubs. But you can find other great options if you'd rather just dip in for the day. Case in point: Azure Palms Hot Springs Resort & Day Spa Oasis, or—for something on a more intimate scale—the historic hacienda recently reborn as the Good House. Either way, a day pass grants you access to spring-fed pools, a sauna and treatment rooms.
Still, geothermic water isn't the only thing wellness seekers should be soaking up in Greater Palm Springs: Don't leave without experiencing at least one local sound bath, perhaps at Power Yoga Palm Springs, which hosts sound baths and meditation events throughout the month, or Bliss Chakra Spa in Palm Desert. 
---
For the nature lover…

Beyond those legendary hiking trails, there are countless ways to enjoy the truly great outdoors here. Book a horseback ride along the base of the Santa Rosa and San Jacinto Mountains—or explore 150 miles' worth of area trails with a private guide—through Smoke Tree Stables. To experience horsepower of a different kind, book an open-air Jeep excursion with Red Jeep Tours by Desert Adventures, an adrenaline-pumping intro to the San Andreas Fault, among other natural wonders.

The skies over Greater Palm Springs are a wonder all their own—whether you're talking about the miles of Insta-famous windmills that make for a dreamy daytime drive or the blanket of stars that dazzle after dark. (A good starting point: Rancho Mirage Library and Observatory, where you check out the schedule of Public Exploration Nights.) But of course, the ultimate way to appreciate the local skies (and views) is to take to them yourself: The iconic Palm Springs Aerial Tramway, which lifts you a dramatic two and a half miles into pristine mountain wilderness, is also reportedly the largest rotating tramcar on earth.
---
For the culinary explorer…
Already known for its vibrant food scene, Greater Palm Springs is undergoing a restaurant renaissance, with exciting new openings that range from Molé, home to beloved Mexican delicacies (such as the titular savory chocolate sauce) to Waldo's Ristorante & Bar, an ode to mid-century Italian classics, where the pasta puttanesca is a particular standout. Both restaurants happen to be in Palm Desert, but you'll find all kinds of buzzy offerings throughout the area, such as the veggie- and seafood-forward Front Porch from the owners of Farm, a longstanding local favorite.

For those who consider food and drink the main event, several upcoming festivals serve up great reasons to book ASAP. There's the Palm Springs Passion 4 Pinot Noir Festival (January 27-28), Cathedral City's Taste of Jalisco Festival (February 3-5) and Palm Desert Food and Wine (March 24-26). For a food festival that celebrates one of the area's most famous crops, don't miss the Riverside County Fair & National Date Festival in Indio (February 17-26), where you can sample date shakes, date syrups, date bars, date caramels, stuffed dates, wrapped dates…you get the idea.
---
For culture connoisseurs…

Among the area's greatest cultural claims to fame is the profusion of mid-century architecture and art. No fan of the era (indeed, no one with even a casual appreciation of it) can resist the amazing local structures—from Elvis' Honeymoon Hideaway to the Sinatra House to the Kaufmann House—and galleries. If you're a die-hard, don't miss Modernism Week (February 16-26), a blend of expert-led architecture tours, musical presentations and lectures.

But Greater Palm Springs has a lot more to offer art and culture fans than Modernism. To start to get a sense of the range, download the artsGPS app for a self-guided tour of more than 100 public art installations across all nine cities, plus listings of concerts, exhibits and festivals. Within that last category, one of the most renowned is the upcoming Desert X (March 4-May 27), when acclaimed artists from across the globe will use stunning, site-specific installations in the Coachella Valley to explore themes that relate to the environment and Indigenous communities. You can dive even deeper into those themes during Native Film Fest—a March festival that heralds a whole lineup of springtime cultural events, from the La Quinta Art Celebration (March 3-5) to the Joshua Tree Music Festival (May 18-21).
---