Fall into your happy place in Myrtle Beach

Some beach towns shut down after Labor Day — but not Myrtle Beach. Thanks to its laid-back atmosphere and myriad activities along its famed "Grand Strand" 60-mile shoreline, this welcoming South Carolina resort town keeps the fun going long after summer ends.
There are still the obvious coastal draws of sun, sand and lazy rivers, but this isn't just a destination for beach bums. Outdoor enthusiasts, foodies, families, golfers and arts lovers all will find a way to get their fix in Myrtle Beach. Read on to discover how you can pack the most fun possible into your vacation.
Outdoor enthusiast
Just because the calendar says it's fall doesn't mean the temperature cools down immediately. In Myrtle Beach, there are 60 more days of summer, as both the air and sea temperatures hover in the 60s and 70s through October. 

Fall means perfect weather for biking at the 3,500-acre Huntington Beach State Park or the seven miles of mountain biking at Horry County Bike & Run Park. It's also a great time to kayak along the Grand Strand waterways like the Waccamaw River or the Heritage Shores Nature Preserve and the Intracoastal Waterway.
Accessible on land only by horseback or by sea via kayak, Waites Island is one of the last undeveloped barrier islands in South Carolina and located in North Myrtle Beach. Here you might catch a glimpse of bald eagles, blue herons, marsh hens, osprey and ducks in the fall.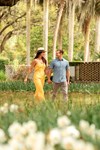 A serene paradise, Brookgreen Gardens is an award-winning National Historic Landmark that spans 9,000 acres in nearby Murrells Inlet, a fishing village 10 miles from the downtown bustle. Guests are invited to walk around the grounds themselves or to join a tour. Admission tickets are good for seven consecutive days and give you access to the gardens, the Native Wildlife Zoo, the Lowcountry Center and Trail and the Enchanted Storybook Forest.
For higher adrenaline adventures, take to the skies with Helicopter Adventures and get a bird's eye view of the beaches, attractions and golf courses that dot the area. With 10 helicopters on-site, you can choose from two-mile to 42-mile roundtrip flights and the average wait time for walk-ins is only 17 minutes.



Learn how to operate an ATV by a tour guide and then hit the muddy trails on an adventure tour with Carolina Backwoods. The tours are designed for everyone regardless of experience and cover hills, trails and open riding areas.
---
Foodies
You'll find more than 2,000 restaurants ranging from casual to fine dining in Myrtle Beach, so there's no question your appetite will be satiated. While land-based cuisine (think pizza and steaks) can easily be found here, seafood gets a starring role since fresh catches come in daily.  


If you're looking for even more seafood, that's where the annual Little River Shrimp Fest (Oct. 8-9) comes in. Appropriately enough for this little historic fishing village on the northernmost fringes of the Myrtle Beach area, the festival serves up not only shrimp of all kinds, but renowned crab cake sandwiches, mahi mahi, and more.
Later that month, dig into what's known as a chicken bog. This South Carolina staple is a pilaf dish loaded up with chicken and sausage—and you'll find some of the best about 30 miles inland at the Loris Bog-Off (Oct. 15), when home cooks compete while pros sell ready-made chicken bog—and 35,000 or so attendees leave very full and happy (did we mention the obligatory funnel cake?).

Wash down all that Southern cooking with a trip to one of the area's many breweries. Located near the boardwalk, New South Brewing has more than 10 beers on tap; try the seasonal Oktoberfest or Big Wooly Mammoth Imperial Stout. At the Grand Strand Brewing Company, you can get your toes tapping with live music on Saturday nights; on Oct. 13 and Oct. 27, you can also stroll two blocks over to the Arts & Innovation District for "Nights at Nance," free live music at Nance Plaza. Tidal Creek Brewhouse in Market Common offers 12 different beers, plus coffee for your designated drivers, along with a large breakfast, lunch and snack menu.
Whet your appetite for the Myrtle Beach region and get an insight into more local kitchens like Tidal Creek via "Chef Swap at the Beach," a cooking competition premiering Oct. 1 on The Cooking Channel. Chef Amanda Freitag, the host and judge, will pull chefs out of their resident kitchens and swap them into another restaurant, not knowing what sort of meal they'll be preparing. Chef pairings and menu categories will be revealed with each episode, but there will be 12 restaurants in total.  
---
Family-oriented
While the Myrtle Beach area is well-known for championship golf courses designed by the likes of Jack Nicklaus and Arnold Palmer (more on that later), kids will probably be more interested in the 900+ holes of mini-golf (or putt-putt as the locals call it).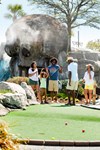 Hawaiian Rumble is an 18-hole miniature golf course that's centered around a tropical Hawaiian garden and has a 40-foot volcano in the middle of it. Captain Hook's Adventure Golf lets you wander through a skull cave and board Captain Hook's ship as you go around the course. Professor Hacker's Lost Treasure Golf has a train to take you to the first hole at the top of the mountain and then you play your way back down.

At EdVenture Myrtle Beach Children's Museum opened in 2019 with a mission to create generations of lifelong learners through museum experiences and programming. Designed for children up to 10 years old, here kids can role play as fire fighters, grocers, farmers, chefs, astronauts and more. Exhibits include a supermarket, dentist office, doctor's office, café, auto body shop, flight simulator and mission control.
Kids of all ages can get in on the fun at Broadway Grand Prix Family Race Park, which has seven unique go-kart tracks, two 18-hole mini-golf courses, an arcade, a bungee ride, bumper cars and rock climbing. The park is open through December.
If it's nostalgia you're looking for, head to the Myrtle Beach Pinball Museum, located near the Myrtle Beach Convention Center and only four blocks from the ocean. No need to bring quarters along; just pay an admission price of $12 and all games — dating back to the 1970s — are free.  
---
Golfer
If golf is your go-to for relaxation, fitness, or friendly competition, Myrtle Beach is already on your radar, what with the nearly 90 courses that call the area home. But visiting in the oh-so-mild fall, when daytime temperatures are just right, means you can stay out on the greens all day. Ditto the day after that. And the day after that.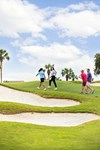 With so many courses within an easy, um, drive—and such tee-friendly temperatures—you can get in three or four rounds over a weekend. Among the spots competing for your attention: Myrtle Beach National, which boasts three courses by the legendary Arnold Palmer, who clearly knew how to show off the area's natural beauty (you'll find everything from hardwood forests to low country wetlands). Then there's Tidewater Golf Club's course, which wends around salt marshes and forests.
Robert Trent Jones designed Dunes Golf & Beach Club, which opened nearly 75 years ago and since that time, the course has hosted many PGA Tour events, USGA Championships and countless other national, collegiate and state events. While it might sound ultra-exclusive, the club does let non-members play with limited access. All are welcome to play the 6,526-yard, par-70 course at Caledonia Golf & Fish Club, located on Pawley's Island.
---
Arts & culture
There's more than country and karaoke bars when it comes to entertainment at Myrtle Beach. Head to The Carolina Opry at the Calvin Gilmore Theater; opened in 1986, it was the first and only live theater in the area for the next seven years. To this day, it remains an award-winning show that combined two hours of high-energy music, comedy and dance with state-of-the-art lighting, sound and special effects. This is not your grandmother's "Hee Haw."


Take a trip to the only art museum in Myrtle Beach, the Franklin G. Burroughs-Simeon B. Chapin Art Museum and be rewarded not only with an interesting array of works but also free admission. The museum has 11 galleries and exhibits that change throughout the year. Upcoming exhibitions include Jonathan Green's "Embracing Gullah Spirit" (Oct. 13-Dec. 31) as well as Natalie Daise's "The Greens in My Garden" (Oct. 4-Dec. 31).

Pawleys Island, the southernmost end of the Grand Strand, has always been known for its carefree, laidback lifestyle. Grab a ticket and be welcome at the Pawleys Island Festival of Music & Art (Oct. 7-22), where performers include Italian singer Giada Valenti (Oct. 7), American Idol finalist Michael Lynche (Oct. 20) and Grammy-nominated songwriter Jim Brickman (Oct. 21). There is something for everyone at this event, indicative of Myrtle Beach as a whole.
---
Ready to go? Start planning your fall visit to Myrtle Beach with these offers.