Fall for real in North Carolina

Since the advent of Facetune and filters, any experience you choose to share online is presumed—at a minimum—to be ever so slightly tweaked. And while that's not for us to judge, we can't help but notice an increased hankering for the lost art of what's real: experiences so rich, authentic and inherently sublime, you'd never even think to filter them (or yourself, in the act of enjoying them).
And that's where your next trip to North Carolina comes in, ideally soon. Whoever makes up your travel party—outdoor enthusiasts, culture lovers, off-the-beaten-path explorers or junior adventurers—they'll love what awaits … for real. Read on for 12 of our favorite cases in point.
Sink your teeth into local lore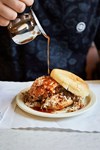 This state is so steeped in BBQ history (and sauce) that as early as the 1700s, King George's local emissary attempted to quell Stamp Act pushback by throwing a lavish barbecue. Today, the best, most authentic version of North Carolina BBQ is a subject of endless debate. For starters, there's a whole Eastern- vs. Lexington-style rivalry involving not only the preferred cut of meat, but also the preparation techniques and sauce elements.  Both regions—and others—are extremely well represented along the Historic BBQ trail. But if you're planning a fall trip, the Lexington Barbecue Festival on Oct. 28 is the best way to go all in (we would say "go whole hog," but that's actually Eastern-style).
---
Celebrate seasonal bounty
Of course, BBQ is hardly the only local foodie legend. Some are best enjoyed in season, from sweet potato pie to apple fritters, among other treats you'll find in abundance at the state's famed fall-fests.

To give you just a tiny taste, these include: the Wayne Regional Agricultural Fair in Dudley, where the food shares center stage with rides, music, livestock competitions and even some vintage farm equipment (Sept. 28-Oct. 7); Brushy Mountain Apple Festival in Downtown North Wilkesboro, where the titular crop stars in ciders, fritters, butters, pies and fragrant, fresh-picked fruit displays (Oct. 7); the NC Oyster Festival in Shalotte, where you'll find shucking, cooking and speed-eating contests, among other events that show off the state's celebrated seafood (Oct. 21-22); and the N.C. Pecan Harvest Festival in Whiteville, where you'll find a parade, pie competition and for good measure, a burger brawl (Nov. 3). 
---
Pick the most authentic pairing

Whatever your drink of choice, there's a whole homegrown scene dedicated to it in North Carolina. Wine historians will know the state in the context of its centuries-old muscadine, which you can still find at places like Duplin Winery in Rose Hill. But other varietals are thriving statewide, many of them paired with some serious mountain majesty, whether the Blue Ridge views from Jones von Drehle Vineyards in Thurmond, the Pilot Mountain views from Jolo Winery and Vineyard near Winston Salem or the Grandfather Mountain views from the aptly named Grandfather Vineyard & Winery in Banner Elk—all of which have special events happening through at least September, so be sure to check their calendar listings before you go. If you prefer your beverages brewed, don't miss the best of the state's impressive indie scene at NC Beer Month events throughout October. And if you're looking for a drink that contains no alcohol (and only minimal caffeine), consider another North Carolina-born specialty: Cheerwine cherry soda, which you'll find—among other places—at the State Fair in Raleigh (Oct. 12-22) or in its hometown, Salisbury. 
---
Hike under a kaleidoscopic canopy

As you might imagine, a state as mountainous and densely forested as North Carolina makes for some truly dazzling fall hiking conditions. The choices feel infinite, but one notable starting point would be Joyce Kilmer Memorial Forest. Named for the WWI soldier-poet who famously penned Trees, this 3,800-acre swath of the greater Nantahala National Forest has walking trails that loop through centuries-old, neck-craningly tall beauties. Not that you'll have any trouble spotting the autumnal golden, orange and red of the supersized tulip poplars, sycamores and oaks (among many other trees). If you prefer your fall foliage reflected off glassy, gorgeous bodies of water, consider the 6.2-mile Lake Shore Trail around Lake Norman, where the sweet gums, red maples, dogwoods and oaks looks all the more dramatic "in the mirror" as they change colors. Want to throw some waterfalls into the mix for good measure? Head to Little Switzerland—the so-called Jewel of the Blue Ridge Parkway—where leaves appropriately arrayed in shades of ruby, citrine and amber shroud the trail to Crabtree Falls. Side note: One of the best ways to experience actual gems in the area is the ethereally illuminated Black Light Mine Tour at Emerald Village (Aug. 5, Sept. 2 and Oct. 7, 14 and 21). 
---
Pedal through equally dazzling displays
Trails lined with fall foliage (and falls) aren't the sole province of hikers. In fact, the world-renowned biking hotspot known as "North Carolina's Land of Waterfalls" puts on its own dramatic display of scarlet, orange and gold in autumn thanks to the dense forest that covers so much ground here.

Officially known as Transylvania County, and encompassing vast tracts of public lands that include Pisgah, DuPont, Gorges and Headwaters, the area is anchored by the fun little town of Brevard and laced with trails for bikers of all skill levels. If you can't decide between biking and hiking — and for that matter — paddling, check out a spot that allows for all three under a stunning autumnal canopy: the Deep River Rail Trail State Trail.
---
Paddle through an enchanted forest 

For paddling magic of a different kind, head to Merchants Millpond State Park, where old-growth cypress trees—North Carolina icons—not only create fiery fall displays, but also come with home-grown, ethereal adornment: Spanish moss. Don't miss the part of the park known for especially otherworldly displays: Lassiter Swamp, a labyrinth of fancifully sculpted Tupelo Gum trees. 
---
Watch doc-worthy wildlife IRL

Not to be outdone by the local flora, North Carolina's fauna puts on all manner of dramatic display come fall—and for human onlookers, the result can be like watching a nature doc unfold in real time with no separation from the action. The scenes unfolding across the state range from the avian (see: the epic Wings over Water Festival, celebrating its 25th anniversary in the Outer Banks Oct. 17-22 and again Dec. 8-10) to the cervine (don't miss the rutting elks of the Cataloochee Valley, where antlered males bugle and fight for supremacy and breeding rights from mid-September to late October, but stay on the road by your car lest any of the contenders get overly aggressive). If you prefer the wildlife equivalent of a warm fuzzy, head to the Wooly Worm Festival of Banner Elk (Oct. 21-22), when the seasonally spiking caterpillar population will, among other things, participate in judged races. Truly.
---
Get your hands dirty
If you're tempted to race your own locally adopted worm in Banner Elk (as everyone is welcome to do), good for you! Getting your hands dirty is a way of getting to know a place for real and North Carolina is full of opportunities. Craft your own pottery at the famed studios of Seagrove, where every Saturday in October brings special Potters' Pumpkin Patch events. Hit up a U-pick farm for the season's tastiest apples and figs. Harvest your own oysters with the likes of Good Time Charlie's Charters out of Engelhard. You can also dig for your own gems and minerals at the aforementioned Emerald Village, among other famously rock hound-friendly mines.

---
Tune in to the local musical scene
North Carolina has been getting ever more attention as one of the birthplaces of what we now call folk music.

To catch some of the best, head to the NC Folk Fest (Sept. 8-10) in Greensboro. For other celebrations of authentic local tunes, head to Pittsboro's Hoppin' John Fiddlers' Convention (Sept. 14-16) or Oriental's Ol' Front Porch Music Festival (Oct. 6-7).  And if you can catch the beloved, homegrown string band Mipso on tour in North Carolina this September, so much the better.
---
Camp out under stellar skies 
No need to put away the camping gear when summer's over: North Carolina offers plenty of fall sites so temperate and fun that even the kiddos will be stay comfy and complaint-free overnight.

Plus, fall sees a succession of meteor showers that can make the already lovely local stargazing extra-dazzling, as you'll find in such sites as Lake Norman State Park and Hyco Lake. If you'd rather not camp but still want a gorgeous glimpse at the cosmos, head to Burnsville's Mayland Earth-to-Sky Park, home of the Bare Dark Sky Observatory. 
---
See what else is in the air

Fall is a banner season for airborne spectacles in the state. There's the Carolina Balloonfest, whose history echoes the overall aviation legacy in NC, to OBX-Wind, where you'll see (or engage in) stunning displays of windsurfing and kiteboarding; and—talk about hyperlocal—the North Carolina Whirligig Festival.
---
Surrender to the pirates in your pack
Kids, in particular, will love the rich history of piracy in North Carolina, whether you get them here in time for Blackbeard's Pirate Jamboree, complete with historically-accurate reenactment of Blackbeard's last battle (Oct. 27-28), or simply create your own trail of pirate-forward sites. Winter visitors, take note: The Graveyard of the Atlantic Museum is an amazing place to put the local history of piracy in historic context, and the site is set to reopen in early 2024 after a major renovation.  
---
Ready to go? Start planning your trip to North Carolina with these tips.