Explore Saint Lucia's adventurous side

The words "Saint Lucia" probably bring to mind scenes of verdant mountains set against natural beaches and sapphire blue waters, or infinity pools whose non-edges meld into seascapes that literally, if momentarily, steal one's breath. You might envision dinners on the beach by lantern light, luxurious oceanfront suites and days infused with a delicious sense of timelessness, where whims rather than itineraries are the things to follow. And those mental pictures absolutely do reflect the real-life blend of tropical beauty, windswept romance and thoroughly unplugged respite travelers can find on this exceptionally gorgeous eastern Caribbean island.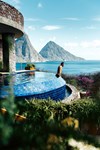 But there's another side to Saint Lucia you may not know yet — an adventurous side — and it's just as easily tapped into as the island's mellow alter ego. This volcanically formed paradise teems with opportunities to get out of the ordinary, from near-vertical hikes to jungle-shrouded waterfalls, to ziplines across towering rain forest canopy, to dives into otherworldly marine ecosystems. And there are adventures of the sensuous kind as well, like chocolate tours, mud baths and culinary escapades.
Which side of Saint Lucia you visit is up to you, but good sense says to have a little of both. Here's a deeper dive into Saint Lucia's most thrilling and engaging diversions to help you bookend your beach time.
Tropical flavors and heart-pumping scenic tours
Once you touch down in Saint Lucia (an easy feat, thanks to direct flights from eight US gateways), you'll first want to give your taste buds a sense of place by tucking into some local delicacies.
Do so with coconut water straight from the shell, fish cakes (Saint Lucians call them accras) and a cup of a spicy conch-infused lambi soup at the iconic Castries Market (ranked among National Geographic's 10 great food markets around the globe). Have an authentic, locally sourced meal (think Caribbean lamb salad and plantain gratin with coconut rum sauce) with spectacular views of the water and jutting green Pitons (that's the name of the island's famous jagged mountains) at an elegant restaurant like Dasheene. Or, if you're landing Friday night, hit the fish fry and street party, known as Jump Up, in Gros Islet. 

Once fueled and, ideally, fully digested, adventurous travelers can get the lay of the emerald land and seaglass-green sea in a number of ultra-exciting ways. Get hitched and swing from platform to platform with a rush-inducing zipline tour across the island's lush tree canopy.
There are a variety of such tours available, some of which include an aerial tram ride (for a lingering view of the sights you rushed past on the zip line) and a guided rain forest hike. During the "grounded" part of the exploration, a naturalist guide will identify and explain Saint Lucia's unique flora and fauna, pointing out native animals along the way as well. If you're lucky, you may spot a jacquot, a native endangered parrot; or a funny little agouti (related to the guinea pig, they look a bit like tail-less squirrels). 

To cover even more ground, hop on an ATV and follow a seasoned guide across lush mountainous nature trails, rural farming areas and gorgeous beaches, with stops at historical sites and buildings. These tours are not just thrilling — they're a great way to see otherwise inaccessible areas of the island and to gain a broad understanding of Saint Lucia's landscape, culture and history.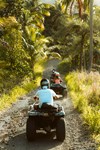 Or take a birds-eye view to see even more. Ascend thousands of feet in a helicopter to see Saint Lucia's waterfalls, rivers, valleys, beaches, mountains, fishing villages, nearby Pigeon Island and even coral reefs beneath the bright turquoise water. Your expert pilot will narrate the tour and point out must-visit spots along the way, so this high-flying experience is both an exhilarating and practical way to kick off your Saint Lucia vacation. 
Water-based thrills
Saint Lucia's waters are so utterly gorgeous, one could easily be content to simply stare at them meditatively from the sand, a private plunge pool at a pampering resort or from the deck of a sunset cruise. But for those who feel driven to go deeper, the bathwater warm waters (we're talking circa 80 degrees Fahrenheit on average, no matter when you visit) promise much more than an incredibly pleasant swim.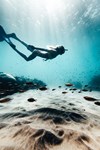 Indeed, countless snorkel and dive sites can be found all around Saint Lucia. The Anse Chastanet Reef, located in front of the beach and resort of the same name, is recognized as one of the best snorkel and dive spots around, and it can easily be accessed from shore. Starting at depths of 5 feet, the reef is home to striped damselfish, skinny needlefish, technicolor parrotfish and comically elongated trumpetfish, among others. At the end of the reef's shallow-water plateau, it falls away to depths from 20 to 140 feet, inviting divers of all skill levels to explore. 

There's another stellar site at the National Marine Reserve off Sugar Beach, right between the towering Pitons. This reef offers one special advantage for snorkelers who'd like to take the adventure to the next level but don't have time for a certification course: SNUBA. This hybrid of snorkeling and scuba uses a special breathing regulator that's connected to an air supply at the water's surface, allowing users to explore at depths of up to 20 feet. Those looking to try the experience can book it at Sugar Beach, a Viceroy Resort.


Want to play on the water instead? Kitesurfing is an exhilarating way to glide, jump and just about fly across Saint Lucia's waves, with ample winds reaching the island nine months out of the year (November-July). The north and south ends of the island are the best spots to maximize your air time, and for those new to the sport, multiple water sports centers offer lessons and equipment rentals. If you're still working up the courage (or upper-body strength) to get "lofted" (that's kiteboarding lingo for being lifted into the air by a strong gust of wind), exploring by sea kayak, standup paddle board or even water taxi are all gratifying, lower-key alternatives. 
Nature escapes
Not surprisingly, considering its famous jutting peaks, Saint Lucia is a hiker's dream, and it has trails for those in ultra-marathon shape as well as those simply looking to take in as much natural beauty as possible.
For an easy, yet hugely satisfying excursion, try the Tet Paul Nature Trail. This loop is a bit more than a half-mile in distance and can be completed in under an hour, and yet pays dividends for the effort via stunning views of the Pitons and Vieux Fort, the southernmost town on the island. If the day is exceptionally clear, you may even spy Martinique, St. Vincent and Maria Island from the summit. Included with the modest entry fee are the services of a local guide, who will escort you through the nature preserve and even to a working organic farm on the premises, pointing out medicinal plants and local fruits (guava, avocado and soursop, for example) along the way. You may even be treated to a sample, if your timing is right. 

There's the short but challenging Mount Pimard, a 1.7-mile out-and-back trek whose trailhead is just steps from Rodney Bay's shops, restaurants and popular Reduit Beach. Over the two hours it takes to complete, the trail will bring you to meet local anglers at secluded Pebble Beach, at which point the ascent intensifies (ropes are handily placed at especially arduous parts to help you hoist yourself up), ultimately leading to a vantage point with sweeping views of the Pitons, Rodney Bay and nearby Pigeon Island. 
Or for a hike that comes with bragging rights, set your sights on Gros Piton. Scaling the taller of Saint Lucia's famous twin peaks entails an often grueling 3-mile hike that can take between four and six hours. At the two peaks you'll reach at the top, you'll literally look down on the other Piton, plus see the south of the island and the ocean stretching out before you. Bring a guide for safety, and of course a camera to prove you made it to the top of one of Saint Lucia's most iconic landmasses.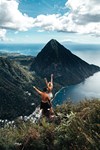 You can also traverse scenic points of the island on horseback, thanks to nearly a dozen stables that offer lessons and tours for travelers. From serene rides on the shoreline to canters across lush green grasses, there's hardly a more memorable (or photogenic) way to take in the beauty of the island.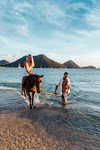 Sensory explorations
Saint Lucia is literally a feast for the senses, and beyond the great views, the wind in your hair and the warmth of the water, there's more to soak in. Cacao trees thrive on the island, and Saint Lucia's been exporting the resulting beans to Europe for centuries. Recently, though, growers have been retaining a portion of the harvest, to the benefit of locals and, well, you.

As its name implies, Hotel Chocolat has fully embraced Saint Lucia's chocolate heritage, and offers a "Tree to Bar" experience that takes visitors through every step of chocolate production. After strolling through the cacao groves in the rain forest, learning about ethical production practices and even tasting cacao pulp from a freshly-cut pod, guests will become newbie chocolatiers and produce their very own chocolate bar. On the other hand, those who would prefer to celebrate Saint Lucia's chocolate connection in a more passive way can simply purchase a hand-made bar (or a dozen) at the onsite shop, or order ready-made chocolate delicacies — from cacao mac and cheese to cacao-infused cocktails — at the restaurant and bar. 

Many local spas also offer cacao-infused treatments, including facials, massages, wraps and scrubs. (More than just smelling good, the beans are said to be beneficial to skin, thanks to their high antioxidant, mineral and amino acid content.)
But as enticing as the idea of a full-body immersion in the heavenly bean may be, it's far from the only coveted beauty treatment for which Saint Lucia is known. Number one on that list? The mud baths at Sulphur Springs. At the base of the semi-dormant Soufriere Volcano (it continuously emits bursts of smoke and steam, but last erupted in the 1700s), you'll find a picturesque, bubbling and oh-so-muddy wellness complex complete with hot springs, the famous mud baths and a 50-foot waterfall for washing off. People from around the globe visit the pools for the purported healing, detoxifying and inarguably fun experience.

If you're more apt to tie on an apron than roll in the mud, there's a sensory adventure for you as well — Cook Like a Lucian, a hands-on culinary class taught by a talented local chef. Students learn to make traditional island specialties like salt cod with local vegetables, chicken cooked in caramelized brown sugar and fried plantains, all using traditional techniques and with plenty of tasting along the way. The best part? You get to feast on all your "Lucian" creations at the end of the lesson — and take your delicious new knowledge into your home kitchen after your trip.

Complete your flavorful exploration with a Kabawe Krawl — a guided tour of the island's bars, whereby you can sample local libations and check out an array of hot spots across the island in one exciting evening. Among the 19 participating venues, you're bound to discover a few you'll want to visit the next time you're in town. 
---