Explore America's best beaches and more in this Florida vacation haven
St. Pete/Clearwater is popular among top 10 list-makers for its unmatched mix of standout features—its gorgeous white-sand beaches, scenic waterfront parks and preserves plus sophisticated city happenings, to name just a few. Heck, even the weather favors this paradise on the Gulf of Mexico; St. Petersburg holds the world record for most consecutive days of sunshine (768 to be exact).

And it's more than a scenic stretch of sand. With a host of seriously impressive museums and cultural institutions, enticing restaurants and local craft breweries, it's a vacation destination that works overtime to please all kinds of travelers. Within an easy drive of two airports (St. Pete/Clearwater and Tampa), this rich coastal region gives you every reason to go now. Read on for more of what to see and do, or book a discounted stay now if you're the type who learns by doing.
The finest sand in the land
Imagine yourself on an ideal beach. If your vision includes powdery white sands extending as far as the eye can see, jewel-colored waters and golden rays of sunlight spilling over the gentle waves, you'll be heartened to know your dream beach exists IRL in St. Pete/Clearwater. 

Beyond just looking good, the Gulf waters are invitingly warm—typically in the 80s during summer and fall.  You may even spot a dolphin or two jump on the horizon while you're wading. There's little wonder these sands are frequently ranked among the best in the US by major travel publications, visitors and even the coastal geologist known as "Dr. Beach."  
Buzz-worthy shores
For a classic beach day that pairs a picturesque setting with easy access to amenities, Clearwater Beach and St. Pete Beach are both top choices. Wake up with a soul-soothing stroll along the Beach Walk in Clearwater Beach, cup of joe from local favorite Caffeinated Bakery in hand. Complement a day of swimming and sunbathing with a Jet Ski or parasailing adventure, or practice your serve on the volleyball courts. And wander down to 1,080-foot Pier 60, a prime spot for fishing and panoramic Gulf views. 

St. Pete Beach is also a lively stretch of sand, with room for every kind of beach-goer, from sun worshippers to kite surfers.
Secluded sands
In addition to its popular, amenity-rich beaches, St. Pete/Clearwater has an abundance of quieter shores, where shorebirds often outnumber people.
Fort De Soto Park, southwest of St. Pete, is home to several quiet, gorgeous beaches. Hike, bike and kayak in this scenic park, which stretches across five islands. Then take the ferry to Egmont Key to continue your eco-adventure. 

Just south of St. Pete Beach, Pass-a-Grille Beach offers a laid-back escape on the southernmost point of the barrier island—close enough to civilization that you can walk to an ice cream shop or clothing boutique. 
Caladesi Island State Park (accessible only by boat) and Honeymoon Island State Park (connected by a causeway), both off the coast of Dunedin, are just a few more spots to score deliciously quiet beach time in soothing natural environs. 
Maximize your time in the sunshine by choosing one of the many beachfront hotels along the area's 35 miles of coastline. Browse a curated collection of hotel deals here. 
Sunsets to savor
Yes, sunset is a true event on the western-facing shores of St. Pete/Clearwater, and deciding where to celebrate the nightly spectacle can be a tough task.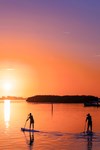 Consider taking a new approach every evening of your trip—a sunset sail or paddleboard adventure one night, a funky beach bar the next and a romantic beach picnic planned around the following night's show. And don't head home without catching the day's end at Pier 60 on Clearwater Beach, which hosts a nightly sunset celebration with artisans and entertainers.


A dynamic, welcoming city
You could call it a beach destination with brains, but that would only begin to describe what St. Pete's downtown area has to offer. 
Yes, there are world-class museums to explore, covering themes from fine art to history, but there's also an eclectic mix of indie shops and galleries, eye-popping street art, exciting dining and nightlife to dive into. Time your visit to coincide with an engaging event or festival, or simply perch at a local café for a while to get a sense of the area's happy, inclusive vibes.
An art scene that spans genres and generations
When you're mapping out your St. Pete/Clearwater itinerary, you'll want to reserve at least a day to explore St. Pete's Central Arts District. Located on Central Ave. between 3rd and 7th Streets, this hotbed for creativity is a feast for the eyes with plentiful murals, indie galleries and working art studios that invite visitors in for live demonstrations. 

And if your belly gets jealous of all that feasting, there's a great assortment of dining options, too, from seafood spots to Thai. Nighttime brings performances, like live music at the Floridian Social Club or musicals at the American Stage Theatre Company.
Memorable museums
St. Pete's Dalí Museum is home to a vast collection of the renowned surrealist's works, and visitors come from far and wide to experience its mind-bending contents. 

The Museum of Fine Arts—St. Pete's oldest and largest art museum—hosts a broad permanent collection representing Monet, O'Keeffe, De Kooning and other masters. There are also numerous glass art museums and galleries to admire, including the Chihuly Collection, the Morean Arts Center and the Imagine Museum. 

The Florida Holocaust Museum, The James Museum of Western and Wildlife Art and the new Museum of the American Arts and Crafts Movement are just a few more standouts among the diverse and thought-provoking venues to explore.
Can't-miss events
The creative energy also seeps into the local events calendar, where you'll find music festivals, Pride celebrations, food and wine tours, art festivals and farmers markets happening throughout the year. 
Time your visit for one of these, or simply show up for the monthly St. Pete Second Saturday ArtWalk, whereby studios stay open late and welcome visitors to engage with local art and artists. Or, if you prefer the idea of bending yourself like a piece of surrealist art, try Yoga at the Dalí, a vinyasa class held the third Sunday of every month at the Dalí Museum. The waterfront views add to the high-vibing experience.
Once you've explored St. Pete, roam a bit farther afield to wander Dunedin's shop-filled Main Street, sample authentic moussaka and baklava in the Greek community of Tarpon Springs (check out the famed sponge docks, too) and browse eclectic finds in artsy and quirky Gulfport. 
Parks & Preserves
The gorgeous beaches may get top billing in St. Pete/Clearwater, but there's lots more to experience outdoors. Expansive public parks and pristine nature preserves—home to unique plant species and fascinating fauna—practically beg to be explored. 

Also endearing are St. Pete's public green spaces—especially neighboring North Shore and Vinoy parks, with their abundance of shade trees and exceptional Tampa Bay views. The former is a family favorite for its playground, while the latter attracts fitness fans with its winding waterfront walking path. Shorefront Coachman Park in Clearwater is another must-visit for its lush green spaces and compelling year-round lineup of concerts and festivals. 
Water & wildlife
Thanks to the sunny weather that graces St. Pete/Clearwater literally 99% of the time, every season is a good one for playing on the water. 
Spot tree-climbing crabs as you paddle through dense mangrove tunnels at Weedon Island Preserve on the eastern shores of St. Pete. Or, for a unique nighttime adventure, head to Get Up and Go Kayaking near St. Pete Beach to try an LED-lit glass-bottom kayak tour and see underwater ecosystems in a new light.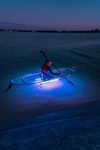 Satisfy your inner speed demon with a jet ski rental on Clearwater Beach. Sporty types can try their hand (well, ideally both hands) at windsurfing or kitesurfing with a lesson from Elite Watersports in south St. Pete. 

Though it's highly recommended, you don't have to get wet to get a sense of St. Pete/Clearwater's natural beauty and animal life. Boca Ciega Millennium Park offers a serene nature escape, with a boardwalk that brings visitors through seven different ecosystems, past beautiful, mature live oaks to a 35-foot observation tower. With the abundance of bird life here—including herons, ospreys and even roseate spoonbills—it's little wonder that this park earned a spot on the Great Florida Birding Trail. As its name implies, Wall Springs Park in Palm Harbor is home to a natural spring, which visitors can take in from its boardwalk and viewing area.
Family-friendly attractions
There's no doubt kids will enjoy the mural art, water sports, nature escapes and, of course, the beaches of St. Pete/Clearwater. But to top off their family vacation delight, the area is also brimming with activities aimed squarely at tickling their senses, sparking their curiosity and eliciting their priceless giggles. 
From close encounters with marine mammals to a hands-on kids' museum to pirate ship sailings, it's hard to imagine a better vacation spot for your little mateys. 
The peerless St. Pete Pier

Families will find a one-stop-shop for fun, learning and leisure at the 26-acre St. Pete Pier District, opened in 2020. The dog-friendly, largely over-the-water landmark attraction includes a strollable waterfront promenade, outdoor kiosks, restaurants and the interactive Tampa Bay Watch Discovery Center (think touch tanks, aquariums and expert-led wildlife demonstrations). 

There's an on-site splash pad where kids can gleefully escape the heat, plus a recently expanded Spa Beach for all-ages swimming, lounging and paddling. (The pier's small beach is for humans only, but there are plenty of dog-friendly beaches in the region if you've got a fur baby in tow.) 
Love local marine life
If you've got an aspiring marine biologist or dolphin-lover in your household (and let's be real, who doesn't love dolphins?), the recently renovated and expanded Clearwater Marine Aquarium is a must-visit. The rescue and rehabilitation facility now has a new dolphin habitat with more room for these recovering animals to swim and play. There's also extra space for admitting injured sea turtles, pelicans, otters and other wildlife in need of care. 

Book a behind-the-scenes tour to get a firsthand view of what animal rehab entails, how experts prep their adorable patients' meals and to see the dolphins' habitat up close. Or try the 60-minute eco-boat cruise to learn about dolphins and other local wildlife while navigating through their natural habitat. 
Family fun at sea
How would your young ones like to climb aboard a real-life (well, at least like real-looking) pirate ship to embark on a fun and silly sailing adventure? Captain Memo's Pirate Cruise in Clearwater Beach offers just such an experience. The kid-pleasing outing is overseen by a jolly crew of seafaring rapscallions who double as face painters, treasure hunt organizers, storytellers, water pistol purveyors and dance music deejays.

There are more swashbuckling adventures to be had at John's Pass, where the Royal Conquest pirate ship offers a similarly immersive and entertaining experience.
If your children have outgrown character cruises, there are many other ways to get out on the water as a family. From dolphin watch cruises complete with snorkeling excursions, to thrilling self-drive speed boat escapades and even private yacht charters, you can choose your own nautical adventure on the sparkling waters of St. Pete/Clearwater.
Kid-pleasing attractions
If your traveling party includes toddlers and young children, a stop at St. Pete's 23,000-square-foot Great Explorations Children's Museum will induce some delighted squeals. 

Presided over by a loveable green dino named Morris the Explorasaurus, the museum includes exhibits like an augmented reality sandbox, a multi-media art studio and an immersive pretend-play farm. There's also a kid-sized supermarket and a "newsroom" where children get to see themselves in action on the big screen. The cherry on top is the sky-high colorful indoor playground at the museum's center. 
Gorgeous gardens
Pair a visit to this kids' paradise with a trip to Sunken Gardens next door—in operation for more than a century—and you've easily got the makings of a well-rounded family outing.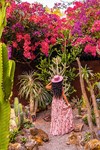 There are more than 50,000 tropical plants and flowers to admire in this 4-acre botanical oasis. Gaze at the resident flamingos, watch koi swimming through lily pad-topped ponds and zen out to the sights and sounds of flowing waterfalls and fountains. The stroller- and wheelchair-friendly paths take less than two hours to meander in its entirety, so young families can see it all before a meltdown sets in.

Creative Cuisine & Bodacious Brews
Eats with waterfront seats
Not even a fine sauvignon blanc pairs better with a seafood dinner than a gorgeous water view does. Of course, you can have all of the above at the numerous waterfront restaurants in St. Pete/Clearwater.

Classic choices include Doc Ford's Rum Bar & Grille, which serves Caribbean-inspired dishes and drinks at the St. Pete Pier; Castile on St. Pete Beach, whose menu includes cross-cultural creations like jerk chicken alfredo; and Frenchy's Rockaway Grill on Clearwater Beach, the prime spot to get a table that's literally perched in the sand.
Beyond these sought-after coastal eateries, there's a whole host of inventive dining spots to be tasted in downtown St. Pete. Nordic- and Asian-fusion Lingr launched recently, and to much acclaim. (Having Top Chef alum Jeffrey Jew at the helm surely didn't hinder the excitement.) 
The Gulp Coast
Craft beer fans will meet their match in this place where more than 35 local breweries collectively form what's known as the Gulp Coast Craft Beer Trail. 
Take your pick of three brewtastic itineraries to sample small-batch beers from the north, central or south regions. Try Tarpon Tavern in Tarpon Springs or Green Bench Brewing Company right in downtown St. Pete. 

If craft cocktails are more your speed, head to Burnt Ends Tiki Bar, where tasty bar bites like pulled pork Hawaiian sliders and chile garlic smoked wings go down easy with Hemingway daiquiris, Jamaican rum-infused Jungle Birds and more than a dozen other colorful cocktails served in show-stealing tiki mugs.  
No DD? No worries. You're sure to find a low-key beach bar—like Bongo's Beach Bar & Grille in St. Pete Beach or Palm Pavilion in Clearwater—a short walk or Uber ride from your hotel.
---