Take an Earth-First Getaway in California's Truckee-Tahoe

At the edge of the Sierra Nevada Mountains, just 12 miles north of Lake Tahoe, there's a gem of a town that offers more than easy access to its famous neighbor. Truckee-Tahoe is a haven for nature lovers, with hundreds of miles of scenic trails through the Tahoe National Forest and opportunities for water activities on its namesake river. It's also got a charming historic and cultural downtown district.
Importantly, Truckee is a town that's taking an active role in sustaining the natural beauty of its forests, trails and waterways — and in nourishing its inhabitants with incentives that benefit local businesses. Through its efforts, Truckee-Tahoe has become something of a quiet leader in the sustainable travel space.
In keeping with this mission, travelers would do well to explore Truckee in the spring and early summer months, before high season brings volumes of visitors. It's a win-win-win: less taxing on local resources and the environment; more enjoyable for travelers as there are fewer crowds to contend with; and beneficial for the local economy, as it pumps in dollars when local businesses need them most.
Here's how to take a green getaway in Truckee-Tahoe — where sustainability and carefree fun intersect in wide-open spaces.
Go Green at Festive Local Events
Those looking for a fun-filled getaway that skips the pretense of resort living will appreciate Truckee-Tahoe. The events calendar here is aimed at locals as much as it is tourists, so you'll get to rub elbows with the friendly folk who call this region home if you're in attendance. And there's a lot to attend in this vibrant, plugged-in place. 


The season kicks off with the Made in Tahoe festival May 28-29, showcasing the work of local artisans, chefs, organizations and entertainers. Truckee-Tahoe is big on the local theme, and for good reason: supporting local businesses fortifies the local economy and the earth. By reducing the need to ship goods from across the country or the globe, locally-focused commerce also reduces carbon emissions. So you can feel doubly good as you sample local brews, goodies and wares at the festival. 
There's more fun with a purpose starting in what's locally (and aptly) known as "Jam-Packed June." On June 4th, Truckee Day combines a barbecue-fueled block party with a community-wide street cleanup. Truckee Regional Park serves as the center of the festivities, with food and local live music starting post-cleanup at noon.


The Truckee Tahoe Gravel Race invites gravel riders (a form of cycling that combines road- and mountain-biking) of all ability levels to ride up to 68 miles of scenic dirt roads that snake through the Tahoe National Forest. Those who aren't quite ready for the competitive race can still participate (for free!) via a 26-mile, untimed ride. There's even a 1-mile loop for especially little riders, so there are plenty of ways for active, outdoorsy families to take part. Even if you don't own a gravel-ready bike, you can celebrate in the great outdoors at the post-race party, where there will be local bands, eats and beer.  
Truckee Thursdays street festivals kick off June 23. There's a reggae fest celebrating the summer solstice June 24-25. There are free concerts in the park every Wednesday starting July 7, events for endurance runners, beer lovers and even one that combines hiking with performance art. You've simply got to visit the events calendar to begin to wrap your head around all the feel-good, sustainable, outdoorsy and fun events going on in Truckee-Tahoe starting this spring. 
Take a Day Trip to Lake Tahoe
Truckee has a decidedly different character and vibe from the Lake Tahoe resort areas — and stays in Truckee's hotels and vacation rentals come at a more affordable price tag. Still, Truckee's proximity to "the Jewel of the Sierra Nevada" is a bonus that cannot be overstated. A day trip to the lake is a convenient — and rewarding — endeavor, with opportunities for lounging and swimming at one of the sandy public beaches, kayaking or paddle boarding around the craggy, forested shores or fishing the sapphire blue waters. 


One of Tahoe's best beaches is Sand Harbor Beach, located on the lake's North Shore (a.k.a. the one closest to Truckee). There, you'll find a visitor center, picnic tables and even a cove for SCUBA divers. Whatever water activity you choose, you'll be setting out into one of the highest-elevation (6,245 feet), deepest (1,644 feet) and most beautiful lakes in the country. 


Naturally, Tahoe has plenty of scenic trails to hike as well. Monkey Rock trail on the north shore is favored for its moderate difficulty level, stunning lake views and the chance to take a selfie with the trail's namesake primate-shaped rock carving.


Or if you're up for a challenge, venture to the Mount Tallac trail on the Lake's south side for a 9.5-mile roundtrip journey that pays off with staggering views of Lake Tahoe, Fallen Leaf Lake and the Tahoe Basin in its entirety. Once you're at the top, you'll surely agree that taking "only" pictures in a place this stunning is plenty. 
Grab a Conscious (and Delicious) Bite
Truckee's local restaurants share in the town's commitment to more sustainable living as evidenced by the Bring Your Own Box (BYOB) initiative. Through this program, diners can cut down on disposable packaging (78 percent of which is attributed to restaurants, per food industry researchers) by taking to-go food in a reusable green box for a $5 buy-in.
Bring the box back to another participating restaurant and exchange it for a sanitized one the next time you dine. You can keep the green living momentum after your Truckee-Tahoe trip by using the container for lunch on the go, or to take leftovers home from restaurants. Green tip: Amplify your efforts by bringing reusable cutlery, too. 
Now for the fun part: What to put in your green box? Try the Tokyo wraps with Asian slaw and pickled vegetables at Japanese Maki Ali; some curried cauliflower and potato samosas from Red Truck food truck; or a bacon, onion and Gruyere stromboli from Sierra Bakehouse (open Fridays only). Truckee newcomer RMU (Rocky Mountain Underground) — serving wine, cocktails and curious menu items like bison meatloaf and poutine — is one more of the seven diverse eateries who are signed on with Truckee's BYOB program.


RMU is not the only new entrant on the Truckee dining scene. Italian-focused Great Gold (the ruby beets and burrata salad sounds particularly scrumptious) and health food haven Fuddhism — where plant-based menu items take center stage — are also brand-new to town this year. Green tip: Making plant foods a larger part of your diet pays dividends in fighting climate change.


Truckee is also home to restaurants where the words "to go" are never said. Trokay is an excellent example. The world-class modern gastronomy restaurant serves a prix fixe, multi-course meal — nay, multi-course experience — that might include dishes like seared diver scallop with celery root and passion fruit; wild halibut with saffron and Meyer lemon; and Valrhona chocolate with kaffir lime for dessert. 
If you're craving music with your meal, on the other hand, head to Moody's in the historic Truckee Hotel. The '50s supper-club-style establishment serves up simple, seasonal cuisine (think brick-oven pizza and pastrami sandwiches) and, starting in June, features jazz acts on the weekends.    


Truckee-Tahoe is also an ideal place for a green dining experience with an equally green view. Just pack your reusable box with some local, organic groceries or goodies from the Saturday farmers market and head out for a picnic at Stampede Reservoir, Rainbow Bridge or one of Truckee's many other scenic spots. 
Or sample local brews in the great outdoors at the Alibi Aleworks beer garden, where an IPA brewed with Lake Tahoe water and infused with notes of melon and passion fruit is a house favorite. The Good Wolf Brewing Company, Truckee Brewing Company, 5050 Brewing Co. and Donner Creek Brewing are all additional hot spots where you can sample local libations.
Going Green at Every Turn
It's easy to get around Truckee-Tahoe while leaving only footprints — and we don't mean carbon footprints — thanks to Truckee-Tahoe's numerous scenic trails. Truckee's got 21 miles of scenic paved paths, and even more to explore by bike. Many walking paths and forest trails are approachable for almost any fitness level. The Ridgeline Nature Loop, for example, is one of the gentlest, at just one flat mile in length.


Donner Lake Memorial State Park (yes, it's named in memoriam of those Donners, who spent an unfortunate winter here in 1846), on the other hand, has more than 8 miles of trails. The paved Truckee River Legacy Trail is both a beautiful and useful route, bringing walkers or riders right into the heart of downtown Truckee, and offering aerial views of the Truckee River all the while. 


Beyond hikes and bikes, there will soon be even more exciting and energy efficient ways to get around Truckee. Electric bike (or e-bike) rentals will be making their debut this summer, rendering a carless trip downtown or to the public piers at Donner Lake an easy feat. TART Connect, a free, app-based, on-demand 12-passenger shuttle bus is also launching this summer.
In addition to these helpful technologies, Truckee will also be launching a fleet of helpful humans: "Sustainable Truckee Ambassadors." These local guides will be available from Memorial Day weekend through the summer to point visitors in the right direction, answer questions, recommend things to do, see or eat and share wisdom on environmental stewardship. 
You can become a helpful human yourself, if you're so inspired, by joining Truckee's voluntourism efforts. Visitors are invited to jump in feet first by joining a community cleanup on the first Saturday of the month, or donning hard hats to help the Truckee Trails Foundation improve the local network of trails and bikeways. You can also simply download an app to become a Citizen Scientist and help researchers keep tabs on the condition of Lake Tahoe while you're in the area.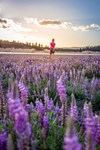 Green tip: Want to arrive in Truckee in fittingly eco-friendly style? Take the California Zephyr to the Truckee Amtrak station from Sacramento, Reno, or even as far east as Chicago. Riding this famous and historic line isn't just greener than traveling by car — with its breathtaking mountain and forest vistas, it's undoubtedly more scenic. And once your train comes in, you'll be able to walk to everything you need (hotels, restaurants and shops), thanks to the station's central downtown location — or catch the TART Connect shuttle to other areas.
Shop Local & Sustainable
Whether you're in the market for vintage boots, unique home decor finds, a new pair of skis or a fresh-baked scone, Truckee's downtown has a locally-owned shop or eatery to tickle your fancy — and many of these businesses sell goods that are locally made or upcycled, meaning fewer fossil fuels and other resources are used up on their journey to your (reusable) shopping bag. 


Indeed, Truckee-Tahoe is so focused on helping local businesses thrive that they've launched an initiative that makes buying local during your trip a complete no-brainer. With the Sustainable Truckee Early Summer Lodging offer, you'll get a $100 gift card to spend at 47 participating local businesses when you stay two nights or longer. All the more reason to take a mountain getaway you can truly feel good about this season. 
---
Ready to go? Book your early summer getaway in Truckee and receive a $100 Sustainable Truckee Gift Card to spend during your trip.