The Caribbean Getaway That Checks The Bucket-List Boxes

When Travelzoo members searched for the Caribbean more than any other international region in the second half of 2020, the big question wasn't why. That warm, turquoise water—close enough to feel accessible, distant and dreamy enough to feel like a true escape—is the ideal place to dip a toe back into global travel. But the bigger question—where?—has one answer that's even more compelling than you may realize: The Dominican Republic. 
Beyond the abundance of swaying palms, sugary sand and transparent sea, there are attractions both ancient (Santo Domingo's UNESCO-designated 500-year-old city center, for example) and utterly modern (the most notable being the free health plan that covers you in the event of in-country exposure to COVID-19). In between, you'll find everything from whale watching in Samaná to paragliding in Constanza to island-hopping off Punta Cana.
For more on the best reasons to go, keep reading—then brush up on the latest traveler's protocols and start planning your Dominican getaway.
There are so many ways to enjoy the water, you'll lose count
With approximately 1000 miles of coastline to its name, the Dominican Republic is an aquaphile's dream destination, where you could spend an entire vacation dipping into one screensaver-worthy swim site after the next. But these waters are famous for far more than their transparency and tint. The kaleidoscopic creatures that live beneath the surface—and the assorted reefs they call home—lure snorkelers and divers to such sites as Catalina and Saona islands off the nation's southeastern tip. (Saona is also a protected turtle nesting site, with impressive numbers of hawksbill, green and leatherback turtles turning up on its shores between November and March.)

If kitesurfing is more your thing—or you've wanted to give it a try—Cabarete is the place to go. Widely considered one of the world's top spots for the sport, this northern coastal town has hosted everyone from international kitesurfing champions to total beginners because the conditions cater to all levels. Windsurfers, surfers and stand-up paddlers gravitate to Cabarete, too.

Or maybe you're someone who likes to get out on the water without necessarily getting in it. If so, boat trips of all kinds await, from the see-through kayaks you can take for a spin around Punta Cana to the angling charters you can book from the old fishing village of Bayahíbe. But the most famous kind of boat trip you can take in Dominican waters is so epic, it deserves its own entry—so keep reading. 
---
Whale sightings are no fluke
Every year, thousands of North Atlantic humpback whales mate, give birth and nurse in Samaná Bay off the nation's northeastern coast between December and April (though peak season tends to be January-March). So, if you book quickly, you can still catch this year's spectacle.

The epicenter is the Marine Mammal Sanctuary, protected waters since 1986, where strict limits on the boats able to enter make for comfortable whales and incredible sightings. You're likely to see everything from newborn calves to watchful mothers to showy, 40-ton males that routinely leap, fin slap and lobtail to impress prospective mates. 
Perhaps not surprisingly, some enthusiasts travel to the Dominican Republic for this reason alone and book multi-day, naturalist-led cruises through the waters around the sanctuary (also known as Silver Bank), where carefully regulated swim sessions with the whales are a possibility—and one of the most bucket-listy experiences you can have. In fact, Good Morning America dispatched ABC News chief meteorologist Ginger Zee to check out the scene in 2019, and the resulting video may be all the travel inspiration you need.
---
Social distancing takes on dreamy new dimensions here
Even a see-and-be-seen hot spot like Punta Cana—one of the most searched destinations for 2021 (and one of the easiest to reach, thanks to several direct flights from the US)—comes with room to spread out along the fabled 30-mile coastline. 
If you're looking for real castaway vibes, however, you'll find them at remote hideaways throughout the country. One of the most beloved is Dominican Tree House Village, a series of open-air, thatched-roof cabins tucked into a tract of jungle in the Samaná province. Perched in the trees—and connected by a series of rope bridges and forest paths—these human-scale aeries come with netted beds, hammock chairs and in some cases, outdoor showers. Though the "village" also has a pool, fire pit (complete with swings and tropical cocktails) and yoga pavilion, you may also want to get out to explore the surrounding nature—excursions include ziplining, snorkeling and waterfall tours on horseback.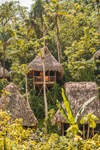 Then again, with a quarter of the country occupied by national parks and scientific reserves, "getting away from it all" can take whatever form you want—whether that means communing with the misty pines of Pico Duarte (the Caribbean's highest peak, more than 10,100 feet above sea level) or the flamingos and alligators of Lago Enriquillo (the region's lowest and largest lake, almost 150 feet below sea level).

Side note about Pico Duarte: If you don't want to do the required multi-day trek to get there, you can still enjoy the region—aka the Cordillera Central or Dominican Alps—with a stay in Jarabacoa, a gateway to all manner of mountain biking, rappelling and rafting adventures (and just a beautiful place to chill out).

Of course, mountains aren't the exclusive domain of the Cordillera Central. Another legendary peak worth escaping to is Puerto Plata's Mount Isabel de Torres, accessible by cable car and blessed with preternaturally lush vistas. While you're in the area, don't miss the botanical gardens, the Charcos de Demajagua (a series of 27 jungle-shrouded waterfalls) and Cayo Arena (a tiny coral islet and snorkeling heaven).
---
You'll have a vacation of historic proportions
Though exceptional new resort openings tend to grab travel headlines here (and not without cause, as you'll see in the next section), the ancient local heritage can be just as much of a draw.
For starters, some of the oldest amber fossils on earth hail from the Dominican Republic. Indeed, the world's first known amberized salamander met its fate here about 20 million years ago, when it seems to have fallen into a pool of resin after losing a leg to a predator. To see a whole menagerie of these resinous fossils, visit Puerto Plata's Amber Museum, where the superstar may well be the mosquito in amber that's said to have inspired Stephen Spielberg's Jurassic Park.
As a bonus bit of history, the museum is housed in a 19th-century mansion—another kind of relic that's beautifully preserved in Puerto Plata. Here, you'll find a whole collection of these Victorian estates—all wooden filigree, pastel paint and gingerbread motifs—along the narrow streets of the historic city center.

Of course, the much older city center—and one of the most famous in not just the Dominican Republic, but throughout the hemisphere—is Ciudad Colonial of Santo Domingo. "After Christopher Columbus's arrival on the island in 1492, Santo Domingo became the site of the first cathedral, hospital, customs house and university in the Americas," according to UNESCO. "This colonial town, founded in 1498, was laid out on a grid pattern that became the model for almost all town planners in the New World."
 


With much of the neighborhood still intact, it's the embodiment of living history. And though just walking around is worthwhile (and particularly romantic at night), stop to check out at least a few of the early 16th-century landmarks, from the Cathedral to the cobblestoned Calles Las Damas to the Fortaleza Ozama.
---
You'll find fabulous new openings and reimagined old favorites
In a part of the country that's long been known to outdo itself—Punta Cana—a new kid on the block is generating buzz: Serenade Punta Cana Beach & Spa Resort by Best Hotels. The latest addition to the all-inclusive scene serves up cushy accommodations on Cabeza de Toro Beach (not least, the Luxury Swim Out rooms with direct access to the pool).

Not to be outdone, a series of old favorites on the Dominican hospitality scene are revealing multimillion-dollar refreshes, from Secrets Royal Beach Punta Cana to Hotel Casa Colonial Beach and Spa in Puerto Plata to Bahia Principe Grand El Portillo. Among all the new features—pools, spas, water parks—perhaps the most indicative of the times are the tech touches that allow for safe distancing.
Even so, the nation itself remains so warm and welcoming, you can't help but feel its embrace—if only figuratively. 
---
Ready to go? Start planning your escape to the Dominican Republic with these tips.