Dieting's a Trip: How to Stay the Course on Vacation
The very best things about summertime-cross-country road tripping are, in order of ascending wonderfulness:
Windows down, music up
Sunrises
Sunsets
"World's Largest Artichoke" and/or UFO sightings
That thing where you stick your hand out the window and undulate with the wind
Car karaoke
Books on tape
Snacks
You heard me. From the redwood forests to the gulfstream waters, this land was made for me and a bag of Bugles. (And Twizzlers Pull 'n' Peels. And jalapeno string cheese. And In-N-Out. And Dairy Queen. Etc.) Cruising Americana is an incredibly majestic experience, bursting with sights to be seen and adventures to be had. So why is it that for some reason, I can't seem to fully take in the beauty and wonder of our vast, glorious, ever-changing landscape without a mouthful of kettle corn to top it all off?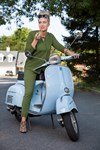 Dieting on vacation is hard. Whether it's a long drive, a business trip, a European holiday or a week at an all-inclusive resort (especially that one), it's almost impossible to keep with your healthy eating and weight loss goals when you step out of your regular day-to-day.
And boy, am I feeling the pressure this time. As the newbie author of the just-released "Calorie Accounting" -- the only hilarious diet book ever -- I'm about to hit the road for a 21-day cross-country book tour in a rented minivan. This is fantastically exciting, but I can't very well read passages aloud from a diet book looking like I swallowed a Pizza Hut on my way to the Barnes & Noble. So. I've got to practice what I preach.
Here's what I'm vowing to do to hold myself accountable -- calorie accountable -- while I'm away on tour:
1. Stay connected! So long as I have Wi-Fi, I have control. Almost every fast food joint peppered along the interstate will have its nutritional information posted online. Check out the menus while the mile markers roll by, and aim for low calorie counts -- breakfast under 250, lunch under 350, dinner under 550. A few good ideas start at Subway -- their salad options range from 60 calories to 230. That's peanuts! (But don't add peanuts. Those have a lot of calories.)
2. BYO-Whatever! For the above salad options, you can bet your bottom dollar those calorie counts don't include dressing -- which can easily triple your once-conservative numbers if you're not paying attention. There should be room for a cooler in my minivan ... I'm going to bring my own lo-cal dressings and accouterments to make my mobile meals happier and healthier. Personal favorites: Wish-Bone Salad Spritzers (a calorie a spritz!) and Athenos Fat-Free Feta Cheese (30 calories for a pretty decent chunk!) Also, can't go wrong with Babybel Light Cheese snacks ... 50 calories per! (Okay, you guys figured me out: I'm kind of a cheese freak.)
3. CAR-dio! I won't get much of a chance to hit the gym (read: light jogging while captivated by marathons of "Keeping up with the Kardashians") while I'm on the road, but moving my moneymaker is important in maintaining my daily calorie budget! I plan on ferociously car-dancing, aggressively singing along to Taylor Swift, and occasionally heading to the back seat of the minivan for pushups, sit-ups, planks, and bicycles. I might also do bicep curls with those really big bottles of SmartWater.
4. Go green! I don't plan on bringing a juicer with me on tour, but I've recently discovered that Starbucks carries a delicious, fresh, cold-pressed green juice ("Sweet Greens and Lemon") that's only 100 calories a bottle. There's a Starbucks on every corner in every city in the whole world. In a way, I legitimately have no excuse -- I never "need" to order a salty caramel Frappuccino again. (Even these ridiculous "mini" Frapps are a good 150 cals a piece.) I'm going to stock up and go crazy green! It might mean more rest stops, but that means more Starbucks, and that means more green juice, and ... wait ... is this me falling perfect victim to the Starbucks New World Order? Oh well.


5. Every night is not a party. This is more a vow to "don't" than it is a vow to "do." Even though this book tour is such a celebratory victory lap of hard work and happy relief -- my own blood, sweat and tears materializing into an incredibly awesome, beautiful, hilarious end-product (if I do say so myself, and I do), I must remember that I am not Paris Hilton, and my tour appearances are at well-to-do bookstores and not Vegas nightclubs. I want to celebrate the release of this book every minute of every day, but if I do that with bubbly, I will bubble up like a balloon (a balloon animal to be exact, and a balloon elephant to be exacter.) I will remember that cans of seltzer keep me just as effervescently happy as cans of Sofia sparkling wine (that's a lie but I'm going to live it), and will toast appropriately and responsibly on most nights. Because if I imbibe, I just eat cheese. Stay strong, Levy.
There you have it. I've made my plan, and I'm determined to stick to it. It's not like I expect to keep losing any LBs while I'm away, but if I can keep from gaining, it'll be a total win. I'll let you know how I held up when I get back from my book tour in a few weeks…in the meantime, come and say hi! I'd love to hear how your summer diet adventures (or misadventures; we're all in this together) are going, too!
Here are my upcoming dates for my Calorie Accounting readings, signings, Q&As and meet-n-greets:
New Orleans: Friday, May 29 at 7 p.m., Hi-Ho Lounge
Houston: Saturday, May 30 at 2 p.m., Barnes & Noble West Oaks Village
Austin: Sunday, May 31 at 6 p.m., Barnes & Noble The Homestead
Scottsdale: Tuesday, June 2 at 6:30 p.m., Barnes & Noble Pima & Shea
Phoenix: Wednesday, June 3 at 7 p.m., Barnes & Noble Desert Ridge
Silverlake: Thursday, June 4 at 7 p.m., Skylight Books @ Red Lion Tavern
Santa Monica:  Saturday, June 6 at 10 a.m., Barnes & Noble Third Street Promenade
San Francisco: Monday, June 8 at 6 p.m., Pause Wine Bar
Portland: Tuesday, June 9 at 7 p.m., Annie Bloom's Books
Kansas City: Thursday, June 11 at 7 p.m., Barnes & Noble Zona Rosa
Cincinnati: Friday, June 12 at 5:30 p.m., Kaze OTR
West Chester, Ohio: Sunday, June 14, at 2 p.m., Barnes & Noble The Streets of Westchester
Orland Park, Ill.: Wednesday, June 17 at 7 p.m., Barnes & Noble Orland Park Place
Chicago: Thursday July 9 at 6:30 p.m., City Lit Books
See you out there!!