Coastal Getaways You Can't Afford to Miss

Beautiful weather is finally here, bringing with it visions of windswept trips to the coast. But for those in land-locked areas like the Midwest, limited availability for direct, affordable flights may put a damper on travel dreams, especially amid rising inflation.  
The low-cost airline Sun Country, however, offers something of a vacation lifeline to these travelers. If you're flexible on your travel dates, you can find fares that save hundreds of dollars with Sun Country. And with many nonstop routes from Minneapolis to destinations up and down both coasts (plus beachy spots in the Caribbean and Mexico), the hardest part will be choosing where to go.


Whether you're looking for a getaway steeped in history, buzzing with metropolitan atmosphere, rich with natural beauty — or you just need a beach in your life — we've rounded up some of the top trending coastal destinations Sun Country can get you to, without blowing your budget. And as a bonus, we're highlighting low-to-no cost attractions in every destination.
Portland, Maine: History, Lighthouses & Lobster
The coastal city of Portland, Maine is ripe for visiting in summer, when temperatures are mild, rain is rare and the local events calendar bubbles over with street markets, food fairs and free outdoor concerts. Sun Country offers four flights weekly roundtrip from Minneapolis, allowing for plenty of flexibility for a New England coastal getaway.

Wander around the Old Port Historic District, lined with quaint red-brick storefronts and cobblestone streets, and it will feel like you've stepped back in time. Soak up Portland's natural beauty with outdoor activities that cost little-to-nothing—like a day trip to the beaches of Cape Elizabeth. Once there, you can visit one of the many lighthouses along the shore of Casco Bay (if you can peel yourself off the warm sand, that is). If you're a seafood fan, be sure to enjoy some famed Maine lobster—but if you're not, Portland's got a "killer" food scene (per Boston Magazine) with something for everyone.    
Savannah: Southern Charm, Enchanting Strolls and a Storied Past
With twice-weekly nonstop flights from Minneapolis, Sun Country can also transport you to Savannah, an endearing, easygoing city full of history, idyllic Spanish moss-covered trees and great food.

Fuel up with Southern specialties, like chicken and dumplings, cornbread cake or shrimp and grits at one of the celebrated restaurants on the city's namesake river. A spring or summer trip will put you right in time for peach season, so the cobbler you have for dessert will be extra flavorful. Peruse local shops and eateries as you stroll the open-air City Market, which dates back to the 1700s—or for a spookier foray into the past, try one of the famous local ghost tours.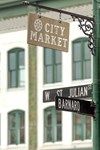 You might also find a familiar sight at Chippewa Square, where the famous bench scenes for "Forrest Gump" were filmed. With Savannah's location right near the coast, time in the sand and surf are an essential part of any trip.

Tybee Island is just 18 miles from downtown and is a must-visit for its five golden-sand public beaches, plus an uninhabited island (Little Tybee) that can only be reached by kayak, jet ski or boat tour. Georgia's barrier islands are also known as a favorite nesting spot for loggerhead sea turtles. If you visit during the summer nesting season, you may get lucky and spot one of these protected animals laying her eggs in the sand.  
Jacksonville: Ocean Air, Coastal Cuisine, and Vibrant Culture
If posting up in the sand surrounded by warm, salty sea air sounds necessary after a long winter, Sun Country's affordable flights to Jacksonville—and its 22 miles of sandy beaches—can help make that happen. There are many lounge-ready locations to choose from, but expansive, surf-able Jacksonville Beach and more intimate Neptune Beach are some of the local favorites.

This year is an ideal one for a visit, since "Jax," as the locals call it, is celebrating its bicentennial. You can celebrate and learn about its 200 years of history via special tours and events running all the way into 2023. 

Flying into Jacksonville is also a great way to reach Amelia Island, a mere 30-mile drive away. The "Isle of the Eight Flags" (so called since eight countries have claimed it since Native Americans first settled there more than 1,000 years ago) is known for its tranquility, native wildlife and 13 miles of soft-sand beaches. Whether you aim to stay in Jacksonville, Amelia Island or both, there are many hotel options to suit any budget. 
San Diego: Sun, Sand and So Many Sights  
San Diego is a highly sought-after destination, and Sun Country is one of the few airlines that offers direct flights from the Midwest. Even more exciting, their fares to "America's Finest City" cost significantly less than the competition.

While it's not known as a low-cost city, San Diego offers plenty of easy-on-the-wallet activities, like visiting one of the many beaches along the Pacific Coast. One can't-miss is La Jolla Cove and Children's Pool.

Bring a picnic, watch surfers in action and see the cove where seals and sea lions are known to congregate—it's quite a sight! And with so many attractions to see around the city's diverse neighborhoods (not least Balboa Park, home to 17 museums and the world-famous zoo), a hop-on hop-off tour that covers transportation and entrance to some local attractions is a terrific way to save.  
Vancouver: Energetic City Life, Outdoor Adventures and Stunning Views
Among Sun Country's international destinations is Vancouver, Canada. Almost anywhere you turn in this bustling city, you'll find incredible views of the water and mountains. With many colorful neighborhoods, there's much to see. Check out Gastown, with its indie art galleries and whistling Steam Clock, for example; and the largest Chinatown in Canada. There are also green spaces everywhere, including Stanley Park, Vancouver's first and largest urban public park (it's 20 percent larger than New York's Central Park, in fact), which stretches along downtown's northwestern edge. There you'll find beautiful forested walking areas, two swimmable beaches, two lakes and a heated outdoor pool, among other draws.

Hop on the bus (Vancouver's got great, low-cost public transportation) to Granville Island, another staple of the city, which houses the famous Public Market. Here you can spend hours browsing its assortment of fresh food and handmade goods. Grab dinner (perhaps some classic Canadian poutine) and head to Sunset Beach to wind down after a day of exploring. As its name implies, this is a beautiful place to watch the day turn into night as the sun sinks behind the coast. (Money-saving bonus: Thanks to the current exchange rate, your dollar goes further in Canada.) 
Cancun: A Dreamy Caribbean Getaway
Pair Sun Country's affordable non-stop flights with a relaxing stay in Cancun, Mexico this summer, when hotel prices are at their lowest. Known for its all-inclusive resorts, Cancun is an ideal destination to let down your hair and unwind.

Spend your days on beautiful beaches surrounded by turquoise waters, or get in some rounds of golf on one of the many courses. And if you're looking to explore off the resort, visitors love Playa Norte on Isla Mujeres. There you can take an ocean adventure via a boat tour or a snorkeling excursion in the crystal-clear waters. Or take a day trip to the Mayan ruins of Chichén Itzá or Tulum. Of course, no one would fault you if you opted to spend the day (or days, even) soaking in the sun on Cancun's famous welcoming white sands. Either way, it will be hard not to leave Mexico recharged. 
---
Ready to go? Check out Sun Country's great fares and start planning your coastal getaway now.