Choosing your own adventure in Belize
A vacation in Belize is much like one of those "choose your own adventure" books you had as a kid.
Want to take a hand-cranked ferry across a river to see a Maya city that towers over the jungle? Curious to see a kaleidoscope of colorful fish while you snorkel or scuba dive in the world's second-largest barrier reef? Up for hiking through the world's only jaguar reserve to see a hidden waterfall, trying your hand at cave tubing or sampling a local hot sauce that's labeled "Beware?" While Belize is smaller than the state of Massachusetts, it is home to a tremendous amount of opportunities to get your thrill on.
Or, do you want to forgo all this adventure and just enjoy "island time" on a sandy beach next to impossibly blue water? With 240 miles of Caribbean coastline, more than 450 cayes and a number of world-class resorts, you can go off the grid and chill out.
The good news — Belize has all of this and it's easy to visit. Alaska Airlines flies nonstop to Belize City from Seattle and Los Angeles, two of the 12 U.S. airports that have flights to Belize. The Central American country that borders Mexico and Guatemala is on the Central time zone (no jet lag), uses English as its official language and even pegs its currency to the U.S. dollar.
Here are seven can't-miss ways to go wild, mild or any way you choose on your Belize adventure.
Visit an ancient city
Once the heartland of the ancient civilization, there are hundreds of Maya sites scattered around Belize. And this history lesson comes with the bonus of getting your daily allotment of steps in.
Even today, the tallest building in the country is the Canaã "Sky Place," the 1,000-year-old main pyramid at Caracol, ascending 143 feet to peek out from the jungle canopy. Thought to be one of the regional powers of its day with over 100,000 residents, the site covers nearly 25,000 acres deep in the heart of the Chiquibul Forest Reserve in the Cayo District of western Belize. The city is only partially unearthed, and remains a hidden gem due to its remote location — a 2.5-hour drive through the jungle from San Ignacio.

Western Belize is where you'll find several of the country's many Maya cities, including Xunantunich, a one-time ceremonial site with six major plazas sitting atop a ridge overlooking the Mopan River valley. You'll need to cross that river on a hand-cranked ferry to access the site, which includes the 130-foot-tall "El Castillo", a pyramid with well-preserved sun god masks. The steep climb to the top of the temple is worth it for the incredible views.
Farther north along the New River is Lamanai, one of the longest-occupied Maya cities from its original settlement around 900 B.C. until the arrival of the Spanish in the 16th century. Here, you'll find ancient temples and plazas alongside the ruins of Spanish churches and a colonial sugar mill surrounded by dense rainforest. Take a water taxi to visit and you'll be treated to glimpses of birds, iguanas and crocodiles lounging on the river banks.
Have a wild time
Plan on spending plenty of time in the great outdoors while in Belize -- the country is 70% forest, after all. Keep an eye (and ear) out for wildlife while you explore, especially if you make it to one of 100+ protected areas throughout the country.
A great place to start is at the Cockscomb Basin Wildlife Sanctuary in the Stann Creek District (not far from Hopkins or Placencia, if you are staying in one of those beach towns). This is the world's only jaguar reserve, with 128,000 acres of rainforest for the large cats to roam. But nocturnal jaguars are notoriously tough to spot; a guided night hike is your best bet if you're hoping for a sighting. During the day, you'll want to focus instead on seeing some of the 300 bird species found in the park, while enjoying the soundtrack provided by frogs and howler monkeys. If you're up for a strenuous hike with a big reward at the end, set out on the Tiger Fern Falls Trail, which ends at a gorgeous waterfall (with tremendous views along the way.)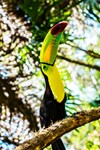 If you can't get enough of those howler monkeys, then find your way to the Community Baboon Sanctuary in the northern town of Bermudian Landing. (Howler monkeys are called "baboons" by the Belizeans. The sanctuary was set up in 1985 with the help of seven local Kriol villages to preserve the primates' precious habitat. Today, you'll find a museum where you can learn about the rainforest, the monkeys and other animals, as well as take guided tours through the sanctuary.
Try new flavors
Belize is a blend of cultures, a mix of Mestizo (Spanish and Maya), Kriol (British and African) and Garifuna (Carib, Arawak and West African). You'll find these influences and traditions ever present in the country's cuisine, whether you're enjoying street tacos in the North or a savory meat pie in Belize City or hearty Garifuna seafood soups in the South.
You'll find adventurous suggestions on must-eat dishes from foodie websites, but your meals in Belize will definitely include one or more of  these staples: rice and beans (note that beans and rice is a completely different dish here), fry jacks (fluffy fried dough often served with breakfast), hudut (a coconut-based fish soup) and "black dinner" (a savory soup also known as relleno or chimole, served with corn tortillas or coconut rice).
Whatever you try, make sure to sample the ubiquitous hot sauce on your table. Chances are, it'll be the sweet habanero heat from Marie Sharp's Pepper Sauce, with flavors from that range from fruit-based (mango, grapefruit and others) to Fiery, Beware or Red Hornet. How much you put on your food depends on how adventurous you choose to be. (If you love the taste, Marie's is sold at local grocery stores in the States.) Wash it down with a local Belikin beer or a cocktail made with One Barrel Rum (bonus points if you visit the distillery for a tour and tasting).
After all that, it's time for dessert. We hope you like chocolate — the Maya "food of the gods." You can join a chocolate-making tour, learning from local farmers as you follow ancient Maya traditions of drying, roasting and grinding cacao beans with the mano and matate into a pure chocolate paste. From there, it can be combined with spices, honey, butter or milk, and enjoyed as a drink, a dip for sweetened corn tortillas or molded into a chocolate bar.
Feel festive
Many of Belize's favorite festivals revolve around food, including the annual Chocolate Festival held each May in Punta Gorda in southern Belize. The three-day event celebrates all things chocolate, with plenty of sustainable sweet treats available from local chocolatiers along with music and family-friendly activities. The celebration culminates on the final day at the nearby Maya site of Nim Li Punit with the sacred Deer Dance that tells the story of the relationship between the people and the land.


Then there's not one or two, but three different lobster festivals on the calendar. These summer crustacean celebrations draw people from across the world to the beach towns of Caye Caulker, Placencia and San Pedro on Ambergris Caye. (Pro tip: Plan ahead as hotels can book up months in advance.) Spiny lobster season starts in June, and the festival menus put lobster into just about every dish imaginable — grilled kebabs, fresh ceviche, savory soups, mac and cheese, rice and beans — alongside beauty pageants, live music, street fairs and beach parties. If you're a fan of the shellfish, be selfish and put this on your bucket list.
Go beneath the surface
Being in Belize's beach towns puts you in perfect position to enjoy the crashing Caribbean waves and warm weather, but some of the country's best experiences can be found by going underwater.

The 185-mile Belize Barrier Reef is the second largest in the world, with more than 500 species of fish, turtles, dolphins, manatees, sting rays and nurse sharks gliding past colorful coral. In the last decade, the reef has been home to a very successful coral regeneration project that has helped keep the ecosystem healthy. Shallow depths along the atolls and the clear warm water makes Belize an excellent snorkeling spot. When underwater in any of the marine reserves or even Shark Ray Alley (if you are brave enough), use reef-safe sunscreen and remember to look, not touch.
Go to extremes
If you want to go really deep on your Belize adventure, then scuba diving is a must. There are drop sites across the Reef that cater to newly certified beginners and experts alike. The Great Blue Hole was made famous by Jacques Cousteau and is a site "to dive for" among pros. This sinkhole surrounded by coral in the Lighthouse Reef Atoll is 1,000 feet across and more than 400 feet deep. Descend past reef sharks to see stalactites and caves hidden in the vertical cliffs. For those who can't take the plunge, aerial tours are available for a memorable view from above.

Inland, Belize's many caves offer their own kind of under-the-surface adventure opportunities that range from easy walks to adrenaline-pumping expeditions. One of the most popular places is The Nohoch Che'en Caves in the Cayo District, known locally as Caves Branch. Here you and your tour group plop yourselves on tubes and float through to the other side of the cave, with only head lamps illuminating the way. On the other end of the activity spectrum is Actun Tunichil Muknal, aka ATM. This physically demanding caving experience requires a hike, a swim and a climb as a tour guide takes you past Maya artifacts and skeletal remains.
Go slow
After all that adventure, you'll need some time to relax. The good news is, you're in a place where "no hurry, no worry" is the mantra and everything runs on "Belizean time." (In other words, don't rush things, it'll happen when it happens.)

While some use it as a base for snorkeling or jungle adventures, Placencia's 16 miles of beautiful golden-sand beaches are more than enough to entice visitors to what used to be a sleepy Kriol fishing village. (Even today, the main street is a four-foot-wide sidewalk.) The laid-back vibe continues with barefoot luxury resorts and beach bars.
The north islands of Ambergris Caye and Caye Caulker, where signs remind you to "go slow," attract visitors year-round to lounge on their palm-fringed white-sand beaches, take in killer sunsets and indulge on impossibly fresh seafood. The idyllic Insta-ready islands are two of the best places to experience the unique challenge of doing a lot of very little at all.
---
Ready to go? Search for a great fare to Belize on Alaska Airlines, and earn points toward Alaska's Famous Companion Fare by using the Alaska Airlines Visa card. Find more adventures and inspiration on the Belize website.