Beyond cool: My cruise to nowhere aboard Celebrity's newest ship

When I first told friends I was going on a cruise to nowhere, I was understandably met with some skepticism. After all, what's a vacation without a destination? But what I quickly learned was that when it comes to cruising, it's all about the journey. And luckily for me, the new Celebrity Beyond ship provided a weekend full of experiences, so I never even thought about stepping foot on solid ground.
A whole city on a ship
As a New Yorker, I'm used to having constant access to all things nightlife and entertainment. And while this ship is a fraction of the size of Manhattan, its offerings are surprisingly vast. In addition to its whopping 32 food and drink venues, it also hosts variety acts, live bands, stand-up comedy and game shows all within walking distance—essentially, the New York experience, but on a ship.
Though there was an entire program of activities both hand-delivered to our rooms and listed prominently on the Celebrity Cruises app, I preferred to create my schedule the New York way: Wander aimlessly until I found something that spoke to me. When I saw signs for "The Jazz Joint at the Club," I was fully expecting to walk into a live jazz band performance, but what I experienced was so much more. Walking into the dimly lit theater was like stepping into a rambunctious speakeasy in the 1920s, with larger-than-life performances that spanned singing, dancing, acrobatics and other specialty acts.


Walking around that same floor, I naturally gravitated toward the live music playing in the Grand Plaza, conveniently positioned within The Martini Bar. When there wasn't a live band playing a mix of crowd-pleasing covers, bartenders would periodically put on a performance of their own, complete with dancing and flashy drink-mixing tricks that inspired guests to get out of their seats and dance along with them.
One memorable margarita (or two)
From raw bars to cocktail bars, the ship has something for everyone, including spicy margarita snobs like myself. For years, I've been on a mission to find the best one—and I may have found it on deck 5 at The World Class Bar. My favorite pastime quickly became sitting on the plush golden couch by the bar and sipping on an Azteca, a fresh lime and tequila drink that packed a spicy kick without overwhelming my palette.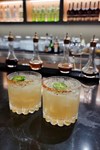 The ship's "Beyond Signature" drink served at the Sunset Bar also joins the ranks of noteworthy cocktails offered onboard. Featuring a blend of coconut, lychee and passion fruit, the rum drink provided guests with a little taste of an island despite never actually visiting one all weekend.
Drinks aside, the Rooftop Garden Grill was the perfect setting for an outdoor dinner post-sunset. Being able to feel the fresh air and look up at the stars while we dined above the water was a feeling I'll never forget—nor was the thrill I got from leaving the table without ever signing the check, thanks to the all-inclusive nature of cruising.
Onboard must-seas
Seemingly every nook and cranny of the Beyond ship was a photo opportunity. With leaf-shaped chairs and webs of greenery throughout, the garden-themed sitting area in Eden was a hot spot for guests looking to lounge in style. I posted up on a hammock overlooking the water and made sure to snap a few photos to send to friends on dry land.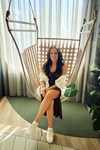 Possibly the main attraction aboard all cruise ships, though, are the pools, and the Beyond had a variety to choose from—each with its own charm. The plunge pool was a great spot for a photo opp, since the entire outer side of the pool was enclosed in glass. With its contained structure, the solarium was the ideal area for lounging and snacking without worrying that a gust of wind would blow your hair into your face as you took a bite of food. And, as expected, the main pool was the place to go for all the action—if you wanted to join a group dance class or accompany other pool-goers enjoying '90s pop songs while splashing about in the shallow end, this was your onboard hangout.


The Magic Carpet is another must-see spot for its unobstructed views and sheer ingenuity. This "floating platform" moves from Deck 2 all the way up to the top of the ship, reaching heights of 13 stories above sea level. From skipping out on every bill to hovering over water in a vessel seemingly detached from the ship, I was getting quite the adrenaline rush all weekend.
Home away from home
But perhaps my favorite space on the ship was my cabin, which was a 243 square-foot Edge Stateroom with Infinite Veranda. The bedroom opened to an outdoor area with two chairs positioned toward the open sea. All that separated me from the outside was a retractable window that lowered to shoulder level with the touch of a button.   


Some of my favorite experiences on the ship were the quieter moments that took place in my room: Waking up to a view of the sea; looking out at the stars before bed. Not to mention, being able to watch the horizon and feel the fresh air on my face helped alleviate some of my seasickness on the first night—a major help while I waited for the Dramamine to kick in (side note: Proactively take seasickness medicine, even if you're typically fine on ships).
Though this wasn't my first time on a cruise, it was my first time in a balcony cabin, and now it definitely won't be my last. As I lounged in a pair of cozy PJs on my private balcony with a coffee in hand, I swear in the far-off distance I caught a tiny glimpse of an island. That's when I realized this cruise to nowhere was already everything I needed to be a happy traveler.