Beyond Barcelona: Explore Spain's Catalonia region

Barcelona has long been a beacon for travelers, known for iconic sites like La Sagrada Familia, Las Ramblas and Parc Güell as well as its incredible meals. But if you've only explored Barcelona and not the rest of Catalonia, a lively region in northeastern Spain, then you're missing out on a cultural experience full of delicious food and drink, incredible history, outdoor adventure and art that will delight your eyes at every turn.  
Fly direct from the U.S. to Barcelona from 10 airports, spend a few days exploring the city, and then embark on a road trip through the Catalan countryside.
Barcelona 
Even if you have a window seat as you fly into Barcelona, the second-largest city in Spain, it's worth getting a panoramic lay of the land via the Montjuïc cable car. Avoid the line by booking your tickets online and then hop aboard. The ride itself takes about five minutes and takes you from the Parc Montjuïc stop directly to Montjuïc Castle, an old military fortress dating back to 1640. At its perch nearly 568 feet on a hill, the castle offers incredible sights as well. The return journey includes an optional stop at the Mirador de l'Alcalde or Mayor's viewpoint.


Once back at sea level, stroll around the narrow medieval streets of the Gothic Quarter, or Barri Gòtic. The oldest part of Barcelona, this area is full of old buildings and churches. In the nearby l'Eixample district, admire Catalan Art Nouveau buildings. The most well-known of the city's Art Nouveau artists is Antoni Gaudí, whose works can be found throughout the city and include Casa Milà (also known as La Pedrera), Casa Battló and Torre Bellesguard. Whether you take the subway or walk to different sites, you'll have plenty of options to stop for tapas or paella well into the night.
In your travels, head over to the decommissioned Hospital de Sant Pau Art Nouveau; surrounded by gardens and less crowded than many other attractions, it's bound to be the most beautiful hospital you've ever seen. Enjoy art of a different kind at the Picasso Museum; this year marks the 50th anniversary of Pablo Picasso's death as well as the 60th anniversary of this museum.  

While Barcelona is home to golden sand beaches popular with tourists and locals alike, you can also find a quieter area just a few miles south of the city. Vilanova i la Geltrú, an old seaside town full of ancient buildings and monuments, offers less crowded beaches as well as opportunities for sailing and paddleboarding.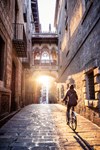 Go a little further south and you'll come to the Penedès wine region, which produces more than 95% of Spain's sparkling wine, cava. (This Catalan word denotes the underground cellars where wine is aged.) The Catalonia region features 12 different wine country areas, but this is the largest of them all. More than 75% is produced within the single town of Sant Sadurní d'Anoia.    
---
Head north to...

...Costa Brava for coastal views, medieval towns and seafood
Drive time from Barcelona: 90 minutes

Dotted with medieval villages, immaculate coves, powdery beaches and soaring cliffs, the Costa Brava ("rugged coast") does not disappoint. This area stretches north from Barcelona to the French border.
Experience all the different topography of Girona by walking along the Camí de Ronda, part of the Mediterranean Trail. The coastal path is a short walk that takes about 20 minutes and dips into Platja Gran beach in Platja d'Aro along with the cove at Cala del Pi. For serious hikers, there is both a linear path (which takes two days) and a looped path (which takes eight days). While there are some completely flat stretches, there are many narrow parts, as well as multiple inclines and declines, no matter which path you take.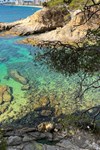 Along the Camí de Ronda, you'll come across the medieval villages of Pals and Peratallada, which are both carved into the rock and separated by about three miles. With their narrow cobbled streets and stone buildings and archways, it's easy to transport yourself in time. Pals is even still surrounded by a wall built to protect against pirates.   
While Pals is known for its rice production, Palamós is a fishing powerhouse that excels in its seafood (seriously, there are 532 marine species native to this area). There's even a Fish Museum, Museu de la Pesca, where visitors can learn the history of the industry, look at artifacts and even watch (from behind glass) the day's fish auction where agents and brokers bid on the fresh catch of the day. Pay homage to the sea and stop at beaches like Cala s'Alguer and Cala Foradada while in the area.

---
...Catalan Pyrenees for outdoor adventure and picturesque churches
Drive time from Barcelona: 3.5 hours

Stretching from the Atlantic Ocean to the Mediterranean Sea, the Pyrenees Mountains separate Spain and France along a 408-mile border. A wide variety of outdoor activities throughout the year — everything from skiing to cycling to white-water rafting. More than 200 lakes can be found in Aigüestortes i Estany de Sant Maurici National Park, the only national park in Catalonia and one of 15 in the country.



There are a number of hiking trails to take from the town of Tírvia. Hire a nature guide and maybe you'll spot chamois, a goat-antelope with short-hooked horns that is native to the region. While here, try local dishes like vianda, a local soup made with chicken, pork, blood sausage, bacon, noodles, cabbage, potatoes, beans and pears.

Declared a UNESCO World Heritage Site, the Churches of the Vall de Boi are located in the Catalan Pyrenees. The Vall de Boi is a steep valley and its set of nine early Romanesque churches is the densest concentration of Romanesque architecture in Europe. (These churches used to be decorated with murals, which were removed and are now found at the National Museum of Art of Catalonia in Barcelona). Other monasteries and churches to visit in the mountains include Monestir de Sant Joan de les Abadesses and Catedral de Santa Maria & Museu Diocesa.
---
Head south to...
...Costa Daurada for local delicacies, Roman ruins and Gaudí history
Drive time from Barcelona: 90 minutes
Mountain villages, ancient history and scrumptious dishes can all be found along the Costa Daurada ("golden coast"), which is the area south of Barcelona down to Valencia. While here, try the wild boar, a regional delicacy, which can be found on menus smoked, fried or roasted. For dessert, don't miss the menjar blanc, or blancmange, a rich, almondy pudding whose origins date back to medieval Catalonia.  
Visit Tarragona, the only Catalan city to be declared a UNESCO World Heritage Site. Here you can walk around Roman ruins like the Tarragona Amphitheatre, where gladiators would battle wild animals. Built in the second century, its stands were carved directly from the underlying bedrock. Expect soaring ceilings and exquisite stonework at Tarragona Cathedral, the largest one in Catalonia. Located at the highest point in the city, it dates back to the 12th century.    


Two things may bring you to the city of Reus: a love of Gaudí and a love of vermouth. In Gaudí's hometown, visitors can go to the Gaudí Centre museum, as well as see landmarks from his childhood. Though Reus doesn't have any buildings by Gaudí, this city contains the largest number of Catalan Art Nouveau work outside of Barcelona. As for the vermouth, Reus has been the epicenter of Spanish production since the 19th century, so order a "vermuteo" or two on your trip. For the true fan, the Museu del Vermut (Vermouth Museum) holds more than 6,000 items in its collection.  
---
...Deltebre for wetlands, wildlife and some serious rice
Drive time from Barcelona: 2 hours
On the mouth of the Ebro, Spain's longest river, Deltebre is the gateway to one of the most important wetlands in the country. Celebrating its 40th anniversary this year, the Ebro Delta Nature Reserve is the largest wetland area of Catalonia and is positively full of life. Climb inside a kayak and start exploring this ecosystem.  


Birds are the main wildlife to see while you're padding around and it's estimated that the 50,000 to 100,000 birds here represent more than 350 different species. The more than 500 plant species here include reed beds, eucalyptus trees and one important staple, rice.

Be sure to eat the local rice while you're here. The six varieties of Ebro Delta rice were given Protected Designation of Origin status and are recognized around the world for their quality. In Catalan dishes, the rice is usually accompanied by fish and potatoes or rice with cabbage, green beans and turnips. In the Delta area specifically, rice is mixed with mantis prawns, cuttlefish and pepper. Rice pudding also tends to be on the menu here.
---
Priorat for scenic views and wonderful wine
Drive time from Barcelona: 2 hours

Come for the rugged scenery, stay for the wine in Priorat. Here is where some of the finest wines in Catalonia are made; this is one of only two wine regions in Spain to qualify as DOCa, their highest qualification level for a wine region. (Rioja is the other one.) The majority of Priorat red wines are made from Garnacha and Cariñena grapes, and they have intense fruity flavors.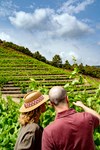 Wineries can be found throughout the region here, so stop and sample at places like Perinet Winery, Devinssi Winery, Trossos del Priorat and Cellers de Scala Dei. If you decide to buy a bottle or two to take home later in your travels, just look for the Priorat Qualified Designation of Origin sticker.
Priorat is home to the 22,837-acre Serra de Montsant Natural Park, which overlooks the wine region and is a great place for hiking, cycling, climbing and spelunking. Keep your eyes peeled for animals like greater horseshoe bats, Spanish ibex (wild cats), golden eagles and peregrine falcons.

Round out your trip by visiting Siurana, one of the most picturesque villages in the area and the last Muslim stronghold in Catalonia. Positioned on a cliff, it is one of the most remote spots in Catalonia and a perfect place to watch the sunset.
---
Ready to go? Start planning your trip to Catalonia now.