Our A-to-Z Guide to Spring Training in AZ
From mid-February until the end of March, Arizona becomes baseball central as 15 teams seize the 75-degree days to shake off the winter rust and get back in the game before legions of fans. Within an hour's drive of downtown Phoenix, you'll find as many as 10 Cactus League games a day.
But even the most diehard of spectators will find pockets of downtime. So it'd be a big swing and miss if you didn't sneak off and explore the surrounding area: Seriously, the unreal landscapes, cultural riches and award-winning eats add up to a stellar bonus vacation.
Assuming you've got the baseball covered, we've pulled together an A-to-Z guide to our between-game favorites -- each manageable in a day or less.
Arizona-Sonora Desert Museum
Less a museum than a vast, open-air terrarium that you're part of, this beloved Tucson institution puts you face-to-face with desert creatures great and small, from mountain lions and bighorn sheep to scorpions and Gila monsters (of course, safely). Walking from one habitat to the next, you'll continually revise your position on who's cutest: river otter, prairie dog or javelina. Prepare for serious debate on the matter within families. And don't miss the drive through Saguaro National Park on your way to or from the museum.

Barrio Café Gran Reserva
The wizard behind some of Phoenix's best Mexican fare -- and a longtime favorite of America's fooderati -- Silvana Salcido Esparza has just become a James Beard Foundation semifinalist for Best Chef in the Southwest. Try her chiles en nogada to see why.
Copper Museum
The nation's leading producer of copper, Arizona is perhaps an unsurprising spot for a multi-gallery tribute to the metal. But what is surprising, if we're being honest, is how much cool stuff you'll find at this new Clarkdale museum. The elaborately wrought, century-spanning contents of the distillery and winery collection, for example, will make your next Moscow Mule mug look painfully meh.
Desert Botanical Garden
Though the main attraction -- that is, almost 150 acres of stunning desertscape -- is reason enough to visit this Phoenix legend, you'll have extra incentive during spring training: The Botanical Garden's 2018 Desert Night Cinema series kicks off March 15 with a screening of "The Sandlot". The suggested dress code for this movie and picnic under the stars? Cuffed jeans and baseball T's, naturally (black-rimmed glasses provided at the door).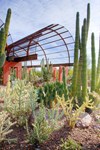 Echo Canyon Trail
This tough but reasonably short path to the top of Phoenix's iconic Camelback Mountain (an hour roundtrip if you're really cruising) grants you city and desert views to rival your bragging rights.
Frank Lloyd Wright
Whether you're a fan of the fabled architect -- or of architecture in general -- his winter home, Taliesin West, is a Scottsdale must-see. Choose from eight tours of this National Historic Landmark, which range from die-hard (the Behind the Scenes tour) to achingly romantic (the Night Lights). And for an extended Wright night, stay at the famed Arizona Biltmore -- now a Waldorf Astoria hotel -- where he served as consulting architect.

Grand Canyon
Okay, if you're in town for the baseball, now's not the time to attempt your epic backpacking or rafting trip through the proverbial big hole in the ground. Still, you are in the Grand Canyon State, as nearly every license plate will remind you, so you'll constantly be tempted to hustle up there. The good news is that the South Rim is about four hours away -- a long day trip, to be sure, but doable (and done by many). There are even shuttles and organized tours from Phoenix.

Hotel Congress
A year shy of its 100th birthday, this Tucson mainstay is still where the cool kids go, whether to eat (at the award-winning Cup Café), drink (at the storied Tap Room) or rock out (you'll find a full lineup of live music at Club Congress during Spring training). You can also sleep here, amid such vintage touches as -- hold the line! -- working rotary phones.
Indian Fair & Market
This early March Phoenix tradition is such a big deal, more than 10,000 people attend annually to immerse themselves in the work of hundreds of amazing Native artists, both visual and performing. But even if you're not here right in time for this year's 60th anniversary edition (March 3-4), you can still experience one of the nation's best collections of Native American art at the fair's sponsoring museum, the Heard.
Jerome
Ninety miles north of Phoenix, atop an old copper mine, you'll find what's been known alternately as "the largest ghost town in America," "the wickedest town in America" and "America's most vertical city" (complete with an old jailhouse that has slid down a slope over time). Whether any of the three superlatives is-- or was ever -- true, Jerome is an eminently Insta-worthy place to spend a couple of hours.
Kaibab National Forest
Stretching from northern Arizona up to Utah, this flora- and fauna-filled expanse could easily be more than a day trip if you weren't here for baseball, but the southern border (near Flagstaff) is easily accessible from Phoenix, as is one of the forest's loveliest draws: the all but empty Sycamore Canyon Scenic Drive to the state's, ahem, second largest gorge.

Lift tickets
There may be no crying in baseball, but skiing? Sure! You can still hit the slopes -- or just ride the panoramic vista-blessed lifts -- at the beloved Arizona Snowbowl (about 2.5 hours from Phoenix).

Montezuma Castle National Monument
Hidden in the Mesa Verde hills, not even two hours north of Phoenix, sits one of the country's first designated National Monuments: the Sinagua cliff dwellings known as Montezuma Castle -- still a stunner, nearly a millennium post-construction.

Navajo tacos
When the deliciousness commonly known as Indian fry bread wraps itself around local beans, cheeses and/or meats, this Arizona delicacy ensues. Of course, where to find the best specimen is a matter of debate, but you can never go wrong at Cameron's Trading Post, the riverside hotel/restaurant/Native American craft emporium an hour from both Flagstaff and the Grand Canyon's South Rim. Alternatively, stalk the Emerson Fry Bread truck for carne asada tacos (among other treats) as it makes its way around the Phoenix area.
Observatories
The skies over Arizona are legendarily, well ... stellar. Thus the world-renowned observatories that dot the state. Three to consider: Flagstaff's Lowell Observatory, where a little discovery called Pluto was made; Tucson's Kitt Peak, site of the National Optical Astronomy Observatory (and of the loveliest spring wildflowers you'll see if you go before sundown) and Safford's Mount Graham International Observatory, where you'll find -- among other big guns, galactically speaking -- the Vatican Advanced Technology Telescope.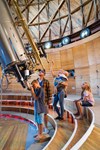 Pizzeria Bianco
Whether or not Bronx boy turned celebrity chef Chris Bianco serves up the absolute best pizza in the nation -- as many a food writer and cheesy dough enthusiast has proclaimed -- you should at least give yourself the opportunity to judge for yourself at this Phoenix legend.

Queen Creek
A suburb of Phoenix with a farm community feel, the San Tan Mountains' Queen Creek is home to excellent hiking and horseback riding -- but also to an olive mill that's become a destination unto itself: Aptly named the Queen Creek Olive Mill, this olive grove/oil producer/restaurant offers famously tasty tours and tastings.
Route 66
Cutting across the northern part of the state, much of this hallowed road is within two to three hours of Phoenix -- but arguably the bucket-listiest portion is Winslow. Yes, you could easily be -- cue the music -- standing on a corner in Winslow, Arizona. And even if a girl -- my lord! -- in a flatbed Ford doesn't happen to slow down to take a look at you, you can still pose alongside the now iconic statue of Glenn Frey, with perfectly legible Route 66 signage in the frame if you stage the shot correctly.

Sabino Canyon
Whether you take the tram ride or hiking trails through this cactus- and (in spring) flower-filled wonderland outside Tucson, you'll feel transported. Even for locals who've gone daily since the dawn of time, the oasis in the Coronado National Forest is pure magic.
Tombstone
At three or so hours from Phoenix, Tombstone may be a bit of a schlep -- but a worthy one for fans of Wild West lore. You may have heard of a certain Wyatt Earp? Follow in his footsteps here -- right to the O.K. Corral, where you can watch reenactments of the mythic gunfight.
UNESCO City of Gastronomy
The first American recipient of this UNESCO designation, "Tucson has the longest agricultural history of any city in the United States of America," according to the revered body that bestowed the honor in 2015. The town has subsequently captured the imaginations of foodies everywhere -- and is totally working the heritage ingredients that got it there. You'll find some of the most flavorful examples at Downtown Kitchen and Cocktails, Welcome Diner and Barrio Bread, whose loaves are Insta-gold.

Vistas
Sedona is best known for vortexes -- energetic hot spots amid its ravishing red rocks -- but those hiking trails tend to be more crowded. Seek out less well-known (but equally stunning) views from spots like Merry Go Round Rock, Yavapai Vista and Schuerman Mountain Vista -- especially at sunrise or sunset -- and you may have the drop-dead gorgeousness all to yourself.

Wine trails
To the shock of pretty much everyone, Arizona has several of them. Good ones to boot. With limited time, though, you'll want to head straight for the trail that blends prettiness and tastiness in equal measure: Verde Valley, where you should try -- among other things -- a Water to Wine trip (you kayak along the Verde River to your tasting at the end). One more local favorite: Chateau Tumbleweed.
Xavier, as in San Xavier del Bac Mission
The so-called White Dove of the Desert, this 18th-century Catholic mission often seems an ethereal Baroque apparition outside Tucson. While the exterior views alone are certainly worth the trip, go in if you can (the mission is open to the public daily, except during special church functions) to see the intricately wrought interior spaces.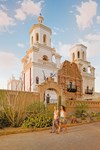 Yuma Territorial Prison Museum
Yuma Territorial Prison State Historic Park offers a fascinating and improbably picturesque slice of Wild West life that you can still find on the banks of the Colorado River, where some 3,069 prisoners (some of whom actually built the cells) lived over the course of 33 years around the turn of the last century.
Zia Record Exchange
A Phoenix legend that takes you back to the days of "High Fidelity" and "Pretty in Pink," this is the place to dig for that treasured LP or book you didn't even know you were in the market for.