A handy guide to summer along Michigan's Thumbcoast

Credit: True Colors Creative
If Michigan is a "mitten," then the area north of Detroit is better known as the "Thumbcoast." This 140-mile stretch of shoreline along the blue waters of Lake Huron, the St. Clair River and Lake St. Clair forms part of Michigan's eastern border with Canada. And if you need a summer road trip idea that packs a lot of options into a short drive, this area gets two thumbs up (pardon the pun).
You can soak up some sun on the beach or spend a day out on the blue water, shop unique boutiques in downtown spaces and sip a craft beverage or two as you watch freighters pass by (a local pastime you'll find yourself enjoying too).  

Read on for some of the highlights that come with a road trip along Michigan's Thumbcoast.  
Begin at what's known as the "heart" of the Great Lakes 
The southern end of the Thumbcoast begins about 50 miles north of Detroit, where Lake St. Clair (known as the "heart" of the Great Lakes thanks to its shape and importance) meets the St. Clair River. Situated between the two is Harsens Island, a quaint community accessible by ferry (with service from Algonac). Spend a relaxing afternoon island-side, where you can enjoy shopping and dining options like the Harsens Island Schoolhouse Grille, a restaurant housed in a former schoolhouse building circa 1934.

Once back on the mainland, hop onto M-29 to follow the river north. Enjoy the novelty of seeing Canada just on the other side of the water as you visit these river-side spots. After about 15 minutes on the road, you'll come to Marine City, historically known as a ship-building center. If you want to spend the night and explore the area, consider The Heather House, a Queen Anne Victorian-style home completed in 1885 that's been converted into a bed and breakfast complete with river views from a wrap-around porch.  
Beach, dining and shopping are within walking distance when in town. Antiquers will particularly love the plethora of shop options here, like Back Porch Antiques located on Broadway, offering items from the 1800s to the 1970s. 

Less than 10 miles north is St. Clair, a town made for sunny summer days. Head to Palmer Park, where shady trees and grassy areas make for a great picnic spot, paved pathways lead to art sculptures and a boardwalk running along the river is ideal for a leisurely stroll. The park provides easy access to nearby restaurants. Just across from the boardwalk is War Water Brewery, named in homage to the historic military struggles over the Great Lakes region, serving up rotating beers on tap like their White Knuckle Witte and a range of food options from poutine to sushi. 
Head toward this maritime middle 
Next up is Port Huron, situated where the St. Clair River meets Lake Huron, the second largest of the Great Lakes. The self-proclaimed "Maritime Capital of the Great Lakes" offers unique sightseeing opportunities. Port Huron Museums hosts some of these sights, including the HURON Lightship, which acted as a portable beacon for ships passing through the Great Lakes until it was retired in 1970. Summer is an especially good time to visit the Fort Gratiot Lighthouse, the oldest operating lighthouse in Michigan, as it's open daily through mid-September. For a great view of the area, climb the 94 iron steps to the top of the lighthouse tower. And for just 10 cents per person, you can hop on the Blue Water Trolley, which will bring you by most of the town's focal points. 

If the lake views give you a hankering for a day at the beach, two options are close to the Fort Gratiot Lighthouse. Next door is Lighthouse Beach, and Lakeside Beach is just a few miles north. Both offer bathrooms, playgrounds and picnic tables in addition to an inviting stretch of sand. The current near the St. Clair River is stronger at Lighthouse Beach, so families with little kids should opt for the Lakeside Beach, where a splash pad is another big draw.
After traveling this far up the river, by now you've likely seen the imposing freighters floating by you. Locals consider freighter watching a beloved activity and ideal way to spend an afternoon. Grab a table outside at Freighters Eatery & Taproom to spot these massive cargo ships while sipping on a cold beverage or two. It's also within view of the Blue Water Bridge, an international border crossing between the U.S. and Canada that spans the St. Clair River. 

As you venture along the Lake Huron coastline, you might come across sunken treasure around Port Sanilac (well, if you're in a diving suit, that is). The Sanilac County Underwater Preserve protects shipwrecks along the shore, making it a popular spot for divers. Double Action Dive Charters offers experiences for divers of all levels. 
Arrive at the top of the thumb 
Upon leaving Port Huron, begin driving on M-25, where about 30 miles north is Harbor Beach (the thumbnail area, figuratively speaking) featuring the greatest hits of any lakeside Michigan town—a sandy beach, a historic lighthouse, fishing opportunities and a landmark (in this case, 1,015-foot) pier. If you're in town between July 5-9, you'll be able to catch their annual Maritime Festival. Attend events for the whole family like a lighted boat parade, a car show and sand castle building.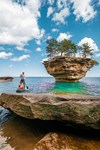 And finally, arrive at the tip-top of the thumb in Port Austin where thanks to its geography, you'll see a unique vantage point for both sunrises and sunsets. And while the entire Thumbcoast provides opportunities for nature and water adventures, Port Austin is home to some notable highlights, like Turnip Rock, a geological formation that, well ... looks like a turnip. This popular landmark is located off the coast of private land, so it's only accessible by water. Port Austin Kayak offers rentals and a trail map for those who want to go on this paddling excursion. The Turnip Rock Trail can take up to four hours, and will also bring you by sea caves and (the aptly named rock formation) Thumbnail Point.

For those who prefer to stick to land, head to Port Crescent State Park, just west of town. The park includes beaches along three miles of Lake Huron shoreline; a campground; plus fishing, hiking and birding opportunities. The state park is also one of Michigan's dark sky preserves, so after you've seen the sun rise and set, enjoy the night sky (and perhaps even a meteor shower).
---
Ready to go? Start planning your Thumbcoast road trip with these accommodation options.