A guide to easy island hopping in coastal Georgia

The word "Georgia" is nearly synonymous with juicy peaches, legendary hospitality and rib-sticking Southern cuisine — but only travel insiders and geography buffs know the state is also home to 14 islands. Only four are accessible by car, three of which are clustered together in a lovely little enclave known as the Golden Isles. Known for their unspoiled natural beauty, St. Simons Island, Sea Island and Jekyll Island are the names of these drivable island outposts, but they've also got a boat-access-only sibling, Little St. Simons Island, and a mainland anchor, Brunswick.


What these barrier islands' existence means for beach-hungry travelers is an easy, road-trippable island-hopping getaway full of beautiful, lounge- and swim-ready natural shores. But like any good road trip, this one has surprises in store — think intriguing historical sites, flavorful meals starring the day's fresh catch, rare wildlife sightings and immersive adventures on the water or the trail.
Buckle your imaginary seatbelt and follow along on this Coastal Georgia road trip — then get planning for the real thing.
St. Simons Island: golden sands, quaint shops & spirited trees
The largest of the barrier islands at 18 square miles, St. Simons Island is characterized by the broad sands of East Beach and the vibrantly lit skies above its shoreline, all blissfully uninterrupted by tall buildings or other modern interferences. The water temperature hovers around 80 degrees in spring and summer, so you will want to do more than just look at the mellow surf.


You can easily bike right up to the beach (and even on the beach, thanks to the hard-packed sand), but if you're driving, your best bet for free parking is Coast Guard Beach, where you'll also find showers, restrooms and picnic tables for public use. During certain hours, dogs are welcome on the beach, so your furry friend need not hang out at the pet-friendly hotel all day. 
Another fixture of the island is the St. Simons Island Pier on the south end, where you'll spot numerous anglers casting their lines and, if you're lucky, pods of dolphins frolicking in the St. Simons Sound. The walk is made all the sweeter when paired with a homemade waffle cone stuffed with Moo Cow Ice Cream, just one of the many eateries you'll find in and around Pier Village, just inland from the pier. The quaint, old-timey village is also home to locally owned boutiques, galleries and gift shops ideal for an afternoon of souvenir shopping. 


Just east of the pier is a historic lighthouse; walk through the structure's history at the onsite museum, then climb to the top for lovely views of the sea and surroundings.
Another way to get to know this laid-back island haven is through its trees. No botany degree needed here as some of the most special ones are obvious, if you look closely. In the bark of about 20 oak trees scattered about the island's public spaces, you'll find hand-carved tree spirits peering out from the weathered wood.


These spirits were created by a father-son artist duo who say their work reveals each tree's soul. With guidance from this map, you and your crew can track down each mournful carving over the course of a scenic bike ride. Tip: If your hotel doesn't include bike rentals, this service delivers e-bikes (including helmets, locks and more accessories) to your door.
Of course, in a place surrounded by water and marshland, soaking in the "spirit" of St. Simons Island by sea is perhaps even more fitting. There are numerous ways to get out on the water — renting a kayak, canoe or standup paddle board; chartering a fishing boat or even a yacht.


But one of the easiest, most relaxing and rewarding is hopping on a sunset cruise. String of Pearls is a recently restored boat that departs from St. Simons Island's Golden Isles Marina every evening, and creatures like bottlenose dolphins, roseate spoonbills and pelicans are often spotted from its decks during the golden hour. 
St. Simons Island is a well-rounded choice when it comes to picking your home base in the Golden Isles, thanks to its nostalgic, beachy charm and plentiful amenities. Stay options abound, but The Inn at Sea Island's location at the center of St. Simons Island makes it a choice to consider.


Complimentary bicycle rentals make for easy-breezy exploring, and the hotel's golf package, which grants guests access to the top-notch courses at Sea Island (a private island that is otherwise only accessible to guests of its luxe hotels — more on that next), makes The Inn a favorite among links-lovers. There's also a virtual golf lounge (full bar included) in the hotel lobby, so enthusiasts of all ranks can practice their swings over a round of drinks. 
Sea Island: 5-star R&R, top golf and equine outings
One of two private islands in the Golden Isles, Sea Island (accessible to resort guests only) is the one you visit when a luxurious experience is in order. It's home to The Cloister, a Forbes 5-Star hotel whose elegant Spanish-style facade and numerous airy balconies and terraces are outshone only by the sky-high ceilings, dark wood furnishings and infinitely Instagrammable spaces inside.


Then there's The Spa at Sea Island (also a Forbes 5-Star honoree), where signature treatments like the Sea Minerals Body Mask and the color- and sound-imbued Somadome Meditation Pod Session are on the (extensive) menu. If you'd rather steam, soak, sauna and sunbathe at your own leisurely pace, day passes for access to spa amenities are also available for guests of the resort.


Dining is also an indulgent affair on Sea Island, though relaxed bites by the beach, pool or at the lanes (there's a throwback bowling alley on site and it serves up mouthwatering Bavarian pretzels) are on offer, too. Rustic Italian cuisine with a Southern spin (like duck ravioli with heirloom apple and parsnip-brown butter puree) is what you'll find on the menu at Tavola — and they've got an enticing selection of artisanal pizzas as well (think fig paste, sage oil, housemade sausage and roasted forest mushrooms).


And at Southern Tide, you'll dig into towers of just-caught seafood — wild Georgia shrimp, crab, oysters and fish, for example — while gazing at the waters from whence the bounty came, thanks to the restaurant's prime beachfront location and enviable alfresco seating options. 
For all its leisure opps, there's plenty to do on Sea Island for those who are so inclined. Horseback riding across the sand and marshland, backwater sunfish sailing lessons, pickleball, tennis or squash games and, of course, golf at the resort's three championship courses are among the numerous diversions available to guests of the resort.


And for early risers — and anyone else excited enough about sea turtles to peel themselves out of bed before sunrise — there's the Sea Turtle Dawn Patrol (available June-August to coincide with nesting season). On this eco-adventure, you'll join the Sea Island Nature Center team to carefully and respectfully search for nesting females, eggs and possibly even tiny, days-old hatchlings making their way toward the sea.
Jekyll Island: Sea turtles, Gilded Age landmarks and beachside eats
If you're not staying on Sea Island, you still have an incredible opportunity to witness sea turtle nesting season on Jekyll Island via the Georgia Sea Turtle Center. The rehabilitation center provides care and eventually release for loggerhead, endangered green and critically endangered Kemp's ridley sea turtles that have been found injured along the coast. There are also staff-led evening turtle walks visitors can join for a fee.


The southernmost of the Golden Isles is also a place for contemplation of the past and of the island's continued natural beauty. It's home to what's arguably the best-known hotel in the whole region: The Jekyll Island Club Resort. Dating back to 1888, this "clubhouse" was once the summer home of Rockefellers, Vanderbilts, Pulitzers and other Gilded Age elite.


It's since been lovingly restored and updated while retaining its Old World elegance — and continues to welcome guests into its hallowed halls today. The hotel puts guests right in the center of the island's historic district, and a complimentary shuttle runs to guests to its sister property, Jekyll Ocean Club Resort, with a private beach, restaurants, bar and a pool deck to give the best of both worlds. (Of course, if beach time is the number-one priority, the oversized suites and prime beachfront at the Ocean Club may just convince you to book there. The shuttle runs both ways, after all.)


The island's policy of exclusivity dissolved in 1948 when it opened as a state park (it still maintains this status, so there's a small fee to enter), but the best of this place has been preserved — namely, its unspoiled nature and much of its historic architecture.
In addition to soaking in the serenity of its beaches, you can enjoy this unique place by booking a guided trolley tour of the island's historic cottages (including Indian Mound, which once belonged to oil tycoon William Avery Rockefeller Jr. and his wife Almira) and landmarks.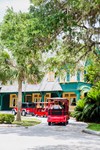 The tour includes entry into one of the cottages, and there are other tours that give a more extensive look into specific structures across the district. There's one for Faith Church, for example, where you can take in the unique architecture and intricate stained glass of the gothic-revival-style chapel once frequented by members of the Jekyll Island Club.      

Though the park's now open to people of all means, its beaches still offer million-dollar views. Driftwood Beach is rightfully among the most photographed, due to the numerous pieces of uprooted, sea-weathered trees that continually wash up on its eastern-facing shores.


The wood-strewn shoreline makes it a better spot for sightseeing and picknicking than swimming, so when a dip is in order, opt for Oceanview Beach Park at the center of the island instead. You'll also find an easy-access parking lot, restrooms, showers, ADA-accessible amenities and picnic pavilions by the sand. Leashed dogs are welcome, too.
Another spot for gorgeous views, this time of generous swaths of precious, water-purifying marshland, is the Jekyll Island Guest Information Center at the entrance to the island. The center houses a two-story viewing platform and a cute gift shop, in addition to friendly staff eager to provide information on the island's attractions and activities.

The vistas can carry into mealtime at Baja-Mexican restaurant Tortuga Jacks, Jekyll Island's only oceanfront dining spot, located smack in the middle of the island's eastern shore. There's ample outdoor seating at the colorful tables set under an oversize chickee hut, and the wicker lantern-lit indoor space looks out at the dunes, too.
The sea views are a choice accompaniment to plates of fish tacos, shrimp diablo and "chimi cheesecake" (that's cheesecake wrapped in a tortilla and deep fried) for dessert.


You can compensate for an especially rich dinner with a ride across the island's 20 miles of paved bike paths, which are well maintained and satisfyingly scenic, winding past woods, beaches, riverfront and the Historic District. If you're the type who prefers pedaling to a destination over a meandering ride, take the loop trail from the south to the north side of the island, where the path intersects with Clam Creek Road. This way winds through a mixed oak and saw palmetto forest, between the namesake creek and salt marsh, leading to the waterfront Clam Creek Picnic Area which also has a fun fishing pier.
Tip: If you find yourself falling for Jekyll's picturesque north end, consider planning a camping adventure at the island's campground, set right next to the Clam Creek Picnic Area. And if you're traveling with the kids, Summer Waves Water Park (open select dates May-September) is a cool-off spot everyone will appreciate.
Little St. Simons Island: precious marshland, private tours and abundant birdlife
Pick a day to ditch the car during your island-hopping adventure and take a day trip over to the Golden Isles' private island nature sanctuary. All of the Golden Isles have an element of seclusion, but the unaltered, driftwood-strewn sands of Little St. Simons Island take this to the next level.


Access this rugged, unspoiled haven and learn about its diverse eco-systems (salt marshes, natural canals and old-wood coastal forest, for example) by booking a tour with an expert naturalist guide. To get there, you'll board the ferry at Hampton River Marina on the north end of St. Simons Island for a 15-minute ride across the tranquil, verdant marshes.


Spend some time exploring the island's plant and animal life — the graceful, near-translucent white bells of staggerbush flowers, for example; and the herds of tawny-furred rabbits capering through the high grass. Hike through primitive trails with your guide before settling down by serene Norm's Pond for an organic, hyper-local lunch (as in, many of the ingredients are grown on the island).


Those who wish to completely unplug can book a stay at The Lodge on Little St. Simons Island, an all-inclusive eco lodge and the island's only lodging option (indeed, it comprises the island's only buildings, as well). The Lodge offers guided surf-fishing excursions with equipment rentals for those who are inclined to angle, and while catch and release is encouraged, guests are permitted to keep one fish per day to be prepared by the island's chef for dinner that evening.
Birders will find their bliss on this isle, where more than 250 species have been spotted (including Red Knots, Roseate Spoonbills and American Oystercatchers).


For the most dedicated of avian enthusiasts, the Lodge hosts spring (April 20-27) and fall (Sept. 25-29) Birding Days, when guest ornithologists join the naturalist team on the island to identify and elaborate on feathered friends during seasonal migrations. The island also hosts sea turtle programming (beach walks, presentations and post-hatch nest inventories) during its Turtle Days, running from mid-July through August. 
Brunswick: poem-worthy sights, homespun flavors and porch concerts
As you're hopping around these nature-rich, beach-blessed islands, don't forget to set aside time to explore Brunswick, perched just across the St. Simons Sound on the mainland. The port city, founded in 1771, has its own historic district, including the Romanesque-style Brunswick Old City Hall, whose imposing form, elaborate terra cotta friezes and gargoyle-adorned corner columns render it rather magnificent.


You can see this and a variety of other significant Brunswick architecture and sites with a walking or biking tour. Or, for a more pastoral view within the city limits, head to Marshes of Glynn Overlook Park, which offers gorgeous views of the salt marshes that inspired the famed Sidney Lanier poem for which the park is named. It also has a fishing pier and picnic tables.


Grab some uber-fresh, seasonally-inspired and homemade prepared foods at Schroeder's Market and enjoy an open-air meal at said park or at the marina (a top choice for catching sunsets). A can of Brunswick-born Silver Bluff Brewing Company's Golden Isles IPA makes the perfect pairing. 


Brunswick's events calendar is as bustling as its shrimp docks. First Fridays bring a block party in the historic district, with live music, special discounts at local shops and car shows, and most other weekend nights usher in free concerts in one of the public squares. The Mayfair Festival (Mary Ross Waterfront Park, May 13), however, is worth planning your trip around.


The long-running tradition includes fresh seafood vendors, kids' art and craft activities, games, live music and a boat procession during which local vessels will get their blessings. If you can't make it until fall, consider planning for the PorchFest grassroots neighborhood music festival (Nov. 12), where locals perform — you guessed it — on their front porches for anyone who cares to come by.


And don't worry about getting the cold shoulder as you drift among among the locals: they're famously friendly, and the average high in November is a lovely 71 degrees. 
---
Ready to go? Download the free Golden Isles Visitor Guide and plan your trip.