A getaway in living color: Puerto Rico's South and West regions

Anyone who's traveled to Puerto Rico knows the island's beaches, nature and culture reward visitors with an outsize sensory-heightening experience for the low effort it takes to get there. As a refresher, passports aren't required for U.S. residents, and there are more than 120 daily nonstop flights to Puerto Rico from major U.S. cities.
But the opportunities for immersion in Puerto Rico's aquamarine waters, legendary rhythms, flavor-packed dishes and colorful local life extend far beyond the popular capital, San Juan.
Whether you've never been to Puerto Rico or you've made many happy returns, including the less-traveled South and West regions in your next getaway means having more glistening shoreline to yourself. It means diving into authentically prepared plates of mofongo, lechón asado and jiggling tembleque alongside locals; taking in landmarks (manmade and naturally occurring) most travelers miss; riding (or watching) some of the most surfable waves in the Caribbean; and dancing elbow to elbow with soon-to-be friends till the wee hours. 

Here's how to "Live Boricua" across Puerto Rico's South and West regions on your next island getaway.
Go South: Artful architecture, seaside eats, hot springs & waterfalls
Puerto Rico's southern region is characterized by historic architecture lit up in cheery shades of coral and yellow; restaurants that pile plates with the fruits of the island and the sea; and natural attractions with the power to soothe sore eyes and — according to some — many other ailments.
Of course, the first order of business is arriving, and there are two common ways to do so. The first is by flying into San Juan International Airport (SJU) and then taking a scenic 50-mile drive through the Central Mountain region, eventually pulling into the coastal city of Salinas where your southern region exploration will begin.
The second is taking a direct flight from New York (JFK) or Orlando (MCO) right into the city of Ponce (PSE) — known also as "the Pearl of the South" for its multitude of draws. Either way, renting a car will make it much easier to move between cities, nature spots, museums and off-the-beaten-path attractions, and booking your wheels is as simple as it is stateside. (Note: Rideshare apps are available in some, but not all, of the South and West regions' cities.)
Ponce

One way to systematically make the most of your time in the South region is to begin with several days in Ponce (pronounced "Pon-say" in Spanish) and then work eastward through its unique coastal neighbors. In a city known for its standout buildings (more on that shortly), it's not surprising that the lodging options are diverse — from boutique inns decked with eye-popping colors and Andy Warhol prints, to familiar name-brand hotels and sprawling resorts. Vacation rentals are also plentiful and affordable, with options ranging from cozy apartments to entire seaside homes.

Once unpacked, get the flavor of Puerto Rico's second-largest city with a stroll through centrally located Plaza Las Delicias. As its name implies, the 350-year-old square is a "delight" to behold, with grand fountains shooting skyward and regal statues presiding over the paths, plus lovely landscaped flower beds and trees.
Also adding to the beauty is the pale periwinkle form of the Catedral Nuestra Señora de la Guadalupe (Cathedral of our Lady Guadalupe) at the center of the park. Originally built in the late 1600s and reconstructed after earthquake and fire damage, the cathedral has a striking interior — awash in uplifting yellow, Santorini blue and intricate stained glass — giving travelers a good reason to plan a visit around its limited open hours.

Right next door is another, extraordinarily different landmark site: Parque de Bombas. Its black and (appropriately) fire engine-red stripes have likely beamed out at you from an Instagram page (or several) as the former firehouse is one of the most photographed spots on the island. It's also a museum, preserving the instrumental history of firefighting in the city. 
Walking around this scenic, exceptionally pedestrian-friendly part of the city is an experience that pairs incredibly well with ice cream. When the mood strikes, try King's Cream, set across the street. You don't have to write that name down; just ask the locals when you're near the Plaza and it's almost a sure bet they'll steer you toward the cute, no-frills storefront. The creators of the confections have been in the homemade ice cream biz for more than a half century — so each heaping portion contains a little bit of Puerto Rican history, along with fresh tropical fruits like coconut, guanábana (soursop) and tamarind.

But if you're the type who can't eat dessert first, even on vacation (go on, be bad!) Lola Eclectic Cuisine just north of the Plaza will deliver your required nourishment with pizzazz — as reflected both in the chic, diner-made-sexy interior (think bold checkerboard floors and velvet fuchsia walls) and the inventive fusion menu. Case, or rather cases, in point: wagyu burgers with truffle goat cheese, paella-stuffed Cornish hen and vegan-ready portobello mushrooms in a piquillo pepper cream sauce. 

For an up-close look at a regal 1930s-era Spanish Revival-style palace, book a tour of Museo Castillo Serrallés, set about 2 miles north of the city center. Built by the Serrallés family of Don Q rum fame, the meticulously landscaped property also features a butterfly nursery and a meditation-ready Japanese garden complete with koi ponds and pagodas.
Or for a cultural experience that celebrates Puerto Rico's rich coffee-growing history, take a short drive north into the mountains to walk the "grounds" so to speak at Hacienda Buena Vista, a 19th-century coffee plantation. A 1-hour tour gives you a look at the manor house, functional antique machinery (you might even be treated to a demonstration) and natural riches of the property, including a river and waterfall.
Before you leave the city, make sure you've taken full advantage of the buzz-worthy dining scene that in and of itself makes Ponce worth visiting. El Rastro has an ever-changing menu of "creative cuisine" (handmade gnocchi, Manchego mac 'n' cheese and seared pork belly are recent standouts) plus dreamy libations (think ice-cold hibiscus-infused cocktails garnished with gold-dipped blackberries).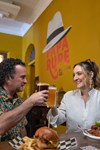 For curated brews (crafted in Santurce, San Juan and Aguadilla, among others) and casual yet artful bites, try Papa Rupe Brewing. The Thai chicken wings and homemade flan are not to be missed. If you're staying downtown, you're in luck: these and many other notable dining and nightlife spots are scattered around the city center, so you can easily walk to your next delicious meal. 
Tip: If you've got the time, you can also take a low-cost, 10-minute catamaran ride to Cardona Island — an uninhabited oasis for unplugging, snorkeling and picnicking — available from the Paseo Tablado La Guancha boardwalk in the Playa Barrio section of the city. 

Juana Díaz
Just east of Ponce is the town of Juana Díaz. This quaint locale is the site of Puerto Rico's largest and most important annual Three Kings Festival (Jan. 1-6), and one can pay homage to this jewel in its crown by stopping to see two monuments erected in honor of the wise men. There's even a small museum bearing art, folklore and photography related to the story and celebration.

But its Three Kings festivities are not Juana Díaz' only claim to fame — it's also a hot bed of natural wonders. The Cueva Lucero (Lucero Cave), for example, is both a cultural and historical phenomenon, accessible by scheduling a guided tour through the Juana Díaz tourism office (787-213-5311). Paths through the massive cave rise and fall like geologic waves, frozen in time, and messages from past travelers — most importantly, ancient petroglyphs — can be spotted on the cave walls as well.
You'll need permission from the tourism office to hike through another natural attraction, too: Bosque Rocoso de Piedra (translated as the Rocky Forest), striking rock formations that jut out of the landscape like pallid, rigid trees. 

Juana Díaz holds another nature experience with an accessible, yet slightly quirky, point of entry: the Salto de Collores waterfall. It's set just off a main road, and on private property, but if you wait at the gate (or give a little honk) the owner will allow you through Monday to Saturday, 8 a.m. to 5 p.m. (there's a fee for parking). There's a swimmable natural pool at the base of the falls, and a grassy space for picnicking.
For a meal that's as "salt of the earth" as the town's natural attractions, stop at La Cocina de Jannelys to refuel. The interior has a farmhouse-meets-folkloric feel, and the hearty plates of steak, empanadas, mofongo, maduros and other homemade specialties earn it a steady stream of regulars among locals. 
Coamo
Local legend has it that the hot springs of Coamo are in fact the Fountain of Youth that Juan Ponce de León sought when he made landing in Puerto Rico more than 500 years ago. The pools are fed with natural thermal spring water heated by magma from a dormant underground volcano. Temperatures range from mildly warm to intensely steamy, and visitors credit the mineral-rich water for alleviating a wide range of ailments.

You get a lot of zen for your buck here; the entrance fee is just a few dollars, and covers the use of changing, shower and restroom facilities. Massages and other spa therapies are also available onsite (reservations recommended) for those in need of a little extra relajación.
It's not uncommon to feel an intense hunger post-cleanse, which can be resolved handily at La Ceiba Bar and Restaurant near the springs. The menu includes local specialties like sorullitos de maíz (corn fritters that are crispy on the outside and buttery-soft on the inside); sampler "flights" of saucy mini mofongos stuffed with a variety of proteins; and seafood salads piled high with frutti de mare and brightly colored fresh vegetables.

Portions are generous, providing plenty of fuel for continuing your exploration on toward Iglesia San Blas De Illescas — a vivid-white cathedral in Coamo's central plaza. With roots harkening back to the 17th century, it's one of the oldest churches on the island outside San Juan. 
Salinas
If you're driving in from San Juan, Salinas is the first coastal town you'll reach after your drive through the Central Mountains (in which case, you may wish to make your exploration in reverse order, traveling westward through Coamo and Juana Díaz toward Ponce). 
The town is nicknamed "Pueblo del Mojo Isleño" or the village of mojo isleño in honor of a tomato, pepper and garlic sauce created there many decades ago. The sauce is typically used to top seafood dishes, and you can try it this way at many seaside restaurants that offer ocean views as succulent as the local dishes — Ladi's Place, El Roble and El Balcón del Capitán, just to name a few.
Salinas is also home to an Olympic training center (the Albergue Olímpico German Rieckehoff Sampayo) that opens its family-friendly water park from late spring to summer — good to keep in mind in case the kids need to let off some steam after some time in the car.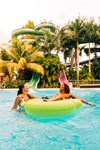 But perhaps the most outstanding features of Salinas are its nature-given attractions. Among these is Las Piedras del Collado, twin mountain peaks known cheekily to some locals as Las Tetas de Cayey for their resemblance to a part of the female anatomy. You can hike up on your own or even scale the rockface with the guidance of a local tour company. Regardless of how you arrive, prepare to be floored by the expansive (understatement of the year) views of the lush emerald mountains and valleys that unfold on all sides. 

You can also make the most of Salinas' seaside location by booking a boat or jet ski tour of nearby cays, including Cayo Matías, a mangrove islet with a secluded beach. 


Go West: Epic surfing, salt flats, stunning sunsets & seafood
Many Puerto Ricans give a longing sigh at the mention of the island's western region, thanks to its unique coastal beauty and famously chill vibes. The west is truly alive with color, from the pink of the salt flats, to the cerulean blue water, to the fiery orange of the sunset skies. 

Just as in the south region, there are two ways to get to the west. The first is by flying into San Juan and making a 2-hour drive across the northern coast into Aguadilla. The second is by flying direct into Aguadilla's Rafael Hernández Airport (BQN), where nonstop service is available from New York (JFK and EWR), Orlando (MCO) and Fort Lauderdale (FLL).
Aguadilla
Once you arrive, waste no time in getting to the legendary beaches. Aguadilla is home to several, including Punta Borinquen, a secluded spot favored by locals and surfers. The coastal cliffs that flank the sandy shore also make for a particularly photogenic backdrop. 

Peña Blanca beach is a rather romantic spot, made more so by the stone steps that appear to be carved into the coral bluff leading down to the small sandy beach. Tip: If you've ever felt a twinge of envy at those Instagram photos of people gliding over the water in seaside swings, Playa Peña Blanca has one so you can strike your own carefree pose.

And on the other end of the spectrum, there's popular Crash Boat Beach. The spot gets its curious name — and its imposing fluorescent-blue and yellow pier — from its former use as a marina for the U.S. Air Force. The pilings around said pier are ideal for shore dives, thanks to the octopus, seahorses, tangs and globular frogfish that hang out around them. On shore, you'll find get-togethers of the human kind, with reggae music, local craft vendors and food stands on deck most days.
Tip: If you're staying at a beachside resort, hotel or vacation rental in late June, plan to join in the Noche de San Juan festivities (June 23). On the eve of the Feast of Saint John the Baptist, celebrants congregate for fiestas on local beaches. At the stroke of midnight, the tradition is to take at least three backward dunks into the water to cleanse all negativity from one's life. For that kind of gain, it's worth a try. 
Also not to be missed — Aguadilla's food scene. Try fish tacos, ceviche, croquetas de bacalao and mojitos with breezy sea views at Aguadilla Rooftop Experience (also known as ARTe), just for starters.  
Rincón
Surfers of all stripes (pros, body surfers, first-timers and those who'd rather "eye surf" from the shore) will be at home in Rincón — widely considered one of the best surf spots in the world. Sandy Beach is a favorite for catching a wave (equipment rentals are available), booking surf lessons, lounging or grabbing an icy cocktail at nearby beach bar Tamboo Tavern. 

More serious surfers will want to check out Domes Beach, where the gnarly waves have qualified the spot as the site of many surf competitions. (Due to the rocky bottom, the beach is not well suited to casual swimmers.) You'll know you're in the right spot when you see the namesake "dome" near the sand — fun fact, it's a 1960s-era nuclear reactor facility that's been defunct for more than 50 years.
The beach has bathrooms, walking paths, a pretty lighthouse (Punta Higüera) and multiple scenic viewing points, including some nice ones from Ola Sunrise Cafe, a beach bar known for its giant mojitos and yummy small plates. Night owls take note: After sundown, the laid-back bar becomes a hopping dance spot. 
Another beachside Rincón eatery you won't want to leave? The Beach House. From the comfy open-air seating (hint: options include bean bags) to the sweeping sea views and live local music, this place feels like a slice of heaven before the drinks even arrive. When they do, a few sips of ice-cold rum punch will put the experience over the top — and if the sun happens to be setting concurrently, forget it. You'll be scrolling through vacation home listings before the second round.
On the topic of sunsets, the western region is famous for them. So make a note of when the golden hour will strike during your trip, and be sure to find yourself near the ocean to avoid a strong case of FOMO. 
Cabo Rojo
On the southwestern side of the island, Cabo Rojo is a veritable treasure trove of intriguing nature. (Fittingly, it's also a place where you'll find numerous eco-resorts and glamping opportunities to enhance the earthy experience.) 
Many of the "see it to believe it" attractions here are housed within the Cabo Rojo National Wildlife Refuge. Hike alongside cliffs, rock formations and caves from the picturesque Los Morrillos Lighthouse to the wonder-inducing Puente de Piedra natural stone bridge. There's also a lovely beach — La Playuela, also known as Playa Sucia — for a quick dip or a seaside snooze after hours spent exploring on foot.
But arguably the most striking sights within the park are the cotton candy-pink salt flats, known locally as las salinas. Humans have been mining the lagoons for salt since about 700 C.E., when Indigenous Taíno and Arauco people began the practice, which still goes on today. (Just look at the massive white mountains of salt near the lagoons for proof).

The unique combination of algae, bacteria and salt in the altered, 18-inch-deep ponds is responsible for its bright pink hue, which fluctuates depending on rainfall, sunlight and other factors. The waters here are also a breeding ground for tiny crustaceans, making them a favored winter residence for tens of thousands of migratory birds.   
Another way to see the many colors of Cabo Rojo: Time your visit for Orgullo Boquerón — an annual Puerto Rican Pride Festival — which will light up the town from June 8-11 this year. Bars and clubs will amplify the celebratory spirit with live music, dancers and DJs, while the event's signature parade winds through the main street, El Poblado, on June 9.   
La Parguera, Lajas
Located on the southwest coast, this former fishing village is anything but sleepy. The town's boardwalk-style waterfront is peppered with restaurants, shops, bars and artisan vendors offering handmade wares. Locals and visitors take off from shore for fishing excursions, snorkel and dive trips or paddleboard rentals offered by local tour companies. 

At night, water sports enthusiasts won't want to miss the chance to kayak La Parguera's bioluminescent bay, one of only five on the planet. Microorganisms called dinoflagellates, akin to tiny underwater fireflies, light up the water with each stroke of your paddle. You can book an evening excursion with a local tour company to witness this mesmerizing biological defense mechanism.
For evening lights of a different kind, you won't have to go far. The boardwalk turns into a party hot spot after dark. 
Guánica
Embark on another bucket-list adventure in Guánica with a hike across what UNESCO calls the best example of dry tropical forest in the world. In fact, the organization designated the forest here a Biosphere Reserve decades ago in light of its ecological value.
Classified as such for their long dry seasons, dry forests like Guánica's tend to have lower canopies than those of rain forests, and you'll find everything from coastal shrubs, to evergreen trees, to cactus clusters in the park. It's also a birder's paradise, home to endemic species like Mangrove Cuckoos, Puerto Rican Emerald and Puerto Rican Pewees, among many others. And it's a habitat for hundreds of animal species, including several dozen endangered ones.

Choose from a dozen trails of varying difficulties and, if you're an especially dedicated naturalist, bring a birding checklist to see how many brightly colored, crested, spotted, tufted and bridled feathered friends you can spy. 
---
Ready to go? Check out the wide variety of places to stay in the South and West regions, and plan your trip today.