A cheat sheet for a quintessential SoCal getaway
If you were simply beamed onto the white sandy beaches, the picturesque harbor, or an art-infused street in Oceanside, California, there's little doubt that (after you got over the initial shock of teleportation) you'd stumble onto dozens of incredible ways to pass the day. In this sunny city set on the coast between Los Angeles and San Diego, there's something happening at every turn — from beach volleyball games to the playful antics of local sea lions; from the installation of eye-popping new murals to incredible restaurants repping a literal world of flavors.


That said, having some insider knowledge of the best things to see, do and eat in this vibrant city is essential if you're to make the most of your getaway. Whether you're traveling as a family, couple or group of friends, keep this cheat sheet handy both before and during your trip so you can soak in the best of the local scene and maximize every sun-kissed hour.
Oceanside for couples: fragrant farm stands, sunset sails and tap house treats      
It's easy to infuse a long weekend in Oceanside with fun and romantic activities, if you know where to look. Kick things off casually with a stroll through the Mellano Farm Stand, a family-owned shop selling locally-made jams, jellies and olive oil alongside an array of produce grown on the 375-acre farm.

In spring, the fields are blanketed with a rainbow of flowers — pink and red poppies, magenta alstroemeria and vibrant yellow sunflowers, for starters — and you can walk among the splendid rows for an extra dose of romance (and to take a frameable photo amid the blooms). Bouquets go for as little as $5 (Fridays only), so you don't have to break the bank to woo your loved one. The farm also hosts spring flower festivals (as well as harvest-themed ones in the fall), with live music, food tents and craft vendors that will delight couples and families alike.

When some beach blanket relaxation is in order, head to Breakwater Way, Oceanside's quietest beach, located south of Oceanside Harbor. Watch the surfers hang ten, have a playful game of paddle ball, or simply curl up in the sunshine for an afternoon snooze (don't forget the sunscreen or you'll wake up as red as a Mellano Farm poppy). 


Couples will also want to take advantage of Oceanside's, well, oceanside location during the golden hour. Board a plushly appointed catamaran at Oceanside harbor, enjoy appetizers and wine tasting and watch the sky light up in shades of red and orange as the sun makes its graceful egress. Cruise operator Oceanside Adventures also offers charters for private sailings (hint: excellent setting for popping the question, especially right after a pod of dolphins leaps in by on the starboard side). 

Whether or not you're toasting an engagement, a nightcap at a local bar, winery or brewery provides a lovely ending to a beautiful day. Try Local Tap House on the South Coast Highway, which, in additional to 30 taps which pour out an ever-changing selection of local brews, offers a menu of comfort food favorites prepared with a gastronomic spin that makes mouths water. Truffle butter pretzels; calamari and agave bacon tacos; and lobster and crab ceviche are just a few tantalizing examples. 


Retreat to one of Oceanside's upscale, romance-inspiring lodging options, like the the Mission Pacific Hotel, whose beachfront location, chic rooftop pool deck with a bar, attentive service and easy walkability to dozens of restaurants and attractions (including the California Surf Museum) make it a sure bet. 
Oceanside for families: beach bungalows, whale watching and barbecue brisket
When you're traveling with the kids, a whale watching cruise is bound to get more "oohs" and "aahs" than a sunset sail — and thankfully, these wildlife spotting cruises are also readily available at Oceanside Harbor, whether aboard a stylish catamaran, a party barge or a small speedboat. Oceanside Coastal Adventures is one provider, offering intimate small-group excursions for up-close viewing.


Depending on the season, you may see grey, blue, killer or humpback whales, bottlenose and white-sided dolphins and other marine mammals. Tip: for your best chance at a successful spotting, book an excursion in the wee hours of the morning, when waters are calm and whales are most active. 

Post-cruise, fuel the troops with a meal at Oceanside Harbor Village, an all-in-one tourist destination that features a variety of seafood restaurants (plus an ice cream parlor), souvenir shopping and peaceful water views from every vantage point.

If the family can't get enough of the lively harbor, great news: There are a handful of hotels within an easy walk, including the Holiday Inn Oceanside Camp Pendleton Area, an IHG Hotel; and Days Inn by Wyndham Oceanside. Or, for a uniquely Oceanside experience, rent one of the colorful Roberts Cottages — cozy and historic homes perched right on the sand, within walking distance of the harbor. If your group needs more room to spread out, you'll find beach bungalows, sprawling villas and any number of other accommodation types listed among Oceanside's vacation rentals. 

Also near the Village is Harbor Beach, Oceanside's largest and a hub for beach volleyball, kayak rentals, picnic-ready pavilions and of course good old-fashioned sand and surf. Once everyone's swum, paddled, played and otherwise burned off the picnic basket treats, it'll be time to think about dinner. For a meal packed with local flavor and guaranteed to quell even the strongest beach day-induced hunger, Heritage Barbecue in the South Oceanside neighborhood is a hot newcomer to try.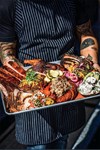 Restaurateur and head chef Daniel Castillo has been recognized by numerous news and TV outlets as a barbecue master, not least for his insistence on using the traditional offset smokers more commonly found in Texas. Oceanside's Heritage Barbecue is the second-coming of Castillo's original Michelin-recognized location, and you can taste the chef's uncompromising expertise in every smoky, tangy, juicy bite. Kid-friendly favorites include the breadcrumb-topped mac and cheese and the locally baked potato bread. Tip: Dine on the early side or call ahead, because the venue routinely sells out of favorites from brisket, to pork spare ribs to black angus tri tip.  
Before or after your meal, be sure to explore the newly revitalized "South O" neighborhood, which includes stylish boutiques, collaborative artisan retail spaces, nightly entertainment, a retro bowling alley and a nature center, among other draws. 
An Oceanside friends' getaway: surf school, mural tours, spa days and "O'side Sips"
If you're traveling with friends, Oceanside offers a long list of must-try experiences. One of these entails going back to school — surf school, that is. Whitlock Surf Experience, Oceanside Surf School and Learn to Rip (LTR) are among the companies that coach eager students on the fundamentals of the quintessential California sport.

Your chances of success will be bolstered by the consistently surfable waves Oceanside enjoys, but whether or not you manage to get up on a wave for a respectable ride, the fun is in the trying. And hey — you can always come back to build on your skills. Seasoned surfers can find rentals, gear and even custom-made surf boards for purchase at local shops (Asylum Surf, for example), and if the weather (or your energy level) isn't conducive to a big surf day, you can always surf vicariously through others at the aforementioned California Surf Museum. 

If your 360 spins, cutbacks and tube rides have left you sore post-surf (or if you just deserve it), book appointments for the whole gang at Sunny's Spa and Beauty Lounge inside The Seabird Resort. The CBD ReLeaf Body Wrap is particularly apropos, combining CBD oil, cocoon-like body wraps and infrared lamps in a treatment aimed at reducing muscle inflammation.

A nice deep tissue massage, or, for those who are feeling a bit pasty upon arrival on the SoCal coast, the self-tanner inclusive Let It Glow massage, could only compound the restorative effects. The Seabird Resort boasts an oceanfront location, four dining and drinking locales (including a farm-to-table restaurant and a poolside cabana bar) and modern, coastal chic rooms and suites — so you and your group may just want to make a night (or a long weekend) of it.

Before calling it a day, though, you'll obviously want to check out Oceanside's nightlife. One convenient way to make sure you hit the best wine bars, breweries and lounges in town is to sign up for the O'Side Sips passport program. As you and your posse move from hot spot to hot spot, you can check in to get fun prizes, like an Oceanside-branded bottle opener or a tumbler cup to commemorate your getaway. You'll also get exclusive coupons, and a bunch of coffee shops are included in the program, too, so you can earn rewards the morning after your exploits as well. 
Tips for any trip: 5 free and almost-free Oceanside activities
No matter what kind of Oceanside trip you're taking, low-cost fun is always a welcome addition to the itinerary. Here are a few must-see spots to pencil in.
The local sea lions 



Oceanside sea lions


Among the Oceanside fixtures every traveler will want to experience are the sea lions who live on Sea Lion Island (a.k.a. the docks near the Small Craft Harbor fishing pier). You'll see about a dozen of these loud, playful and sometimes comically lazy creatures on any given day. Perch yourself on a bench overlooking their "lounge" to appreciate their antics from a respectful distance. 


Take a downtown Oceanside mural tour

The Oceanside Cultural District is one of 14 districts designed by the state art's council to highlight the thriving cultural diversity and unique artistic identities of communities across California. And the explosion of eye-popping murals on the buildings downtown makes this artistic fervor wonderfully apparent.



Whet Noodle mural


From the goddess-like being on the Star Theatre building ("The Beauty of the Sea Will Always Be with Me" by muralist Skye Walker) to the pastel-hued squiggly glyphs on the side of Masters Kitchen and Cocktail Restaurant ("Expansiones Wall" by Honduran-born artist Santos), there are myriad larger-than-life works to see. Follow the Oceanside mural map to see them all (there are more than 50, so you may want to break the sightseeing up into a few days). 


Take a hike 



Guajome Regional Park 


Wander through chaparral, grasslands, woodlands and wetlands on Guajome Regional Park's 4.5 miles of trails. Or take the breezy quarter-mile loop at Buena Vista Lagoon, where you'll spy a variety of native plants and animal species (racoon, opossum, cormorants and geese, for example). Oak Riparian Park, about 10 minutes inland, features a 1.4-mile hike to a pretty lake, plus a nice playground for kids. You may need a few bucks for parking at some local trail heads, but these nature experiences are otherwise free. 


Hit the Thursday street market



Oceanside Farmers Market


Perusing the impressive lineup of vendors at the Oceanside Farmers Market (Thursdays 9 a.m. - 1 p.m.) is pure window-shopping bliss (though you'll certainly want to bring a bit of moolah so you can taste some of the toothsome, locally made wares). You'll find organic honey, just-baked treats and farm-fresh produce alongside artisan-made soaps, jewelry, clothing and more unique crafts. There's also an evening market on Thursdays (from 5-9 p.m. year-round), featuring up to 200 booths, live music and a children's activities area. 


Walk through Oceanside's history



Top Gun cottage 


Wondering how Oceanside came to be the dynamic, fun-in-the-sun California city it is today? There are traces of its history everywhere, but having a map to the most significant historical sites is the key to finding them. Walk its path and you'll find 19th-century examples of Mission Revival architecture and sites used in Hollywood-produced films, like the turn-of-the-century bandshell where Kirsten Dunst busted a move in "Bring It On" and a house used in the making of "Top Gun."

---
Ready to go? Request a visitors guide and start planning your Oceanside getaway today.