3 Days of Bay Area Bliss in Concord, California

With its combination of wide open spaces, lively downtown gathering places, an energized art scene and family-friendly attractions, Concord, California is a welcoming and relaxing destination just 29 miles east of San Francisco.
Visitors come to Concord to escape the frenzy of everyday life — to hike scenic mountain paths or to feast on Mexican specialties all along the celebrated local Taco Trail.


They come to kick back with the family at the drive-in or the water park; to admire the work of gifted local artists and artisans; and to dive into the local lore.
Here's a look at how to recharge with a long weekend in this vibrant suburban region — though truthfully, the reasons to visit could fill a much, much longer itinerary.
Day 1: Unwind Outside
There's a reason Mt. Diablo is the first image that comes to mind when Bay Area locals think of Concord. And that reason is hinted at in the thousands of 5-star reviews travelers have composed after hiking through this state park: soul-stirring views of rolling hills, cast in every shade of green and stretching for miles in all directions.


Veteran hikers will also tell you that getting to the top is half the fun, thanks to the "choose your own adventure" style network of trails offering a wide variety of difficulty levels (and even the option to drive to the top); plus opportunities to spot abundant wildlife and patches of wildflowers along the way. Experienced hikers may opt for the "Waterfalls of Mount Diablo Loop" trail, a challenging 8-mile trek that runs past a series of pretty waterfalls (more pronounced during the rainy winter and spring seasons). 


If you'd rather take a nature walk with a less formidable incline, consider Markham Nature Park and Arboretum. The volunteer-run nature park offers free admission and the chance to observe native trees as well as species from Australia, South Africa, South America and Europe along the path. A pretty creek runs through the 17-acre space as well, elevating its relaxation status into the full-on zen zone.
Concord is home to many more open space parks and public spaces — including two dog parks (Newhall Community Park, which also has great bocce courts, and John F. Baldwin) for those traveling with furry friends. Hillcrest Community Park is a favorite among families for its super-size, castle-themed playground.
But to kick the family fun into overdrive, head to Pixieland, an amusement park carved right out of a little kid's dream. Between the antique carousel, the frog-themed vertical drop ride, the not-too-scary dragon coaster and the classic fair food at the kids cafe (yes, they have corn dogs and cotton candy), you might have trouble dragon the little ones out at the end of the day. (Sorry, we had to!) Bigger kids will likely prefer the monster slides and rides at Six Flags Hurricane Harbor.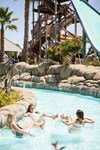 Regardless of whether you spend the day communing with nature or collecting your bearings after a series of thrill rides, Concord has several options on how to end it. If you happen to be in town at the same time as stars such as Dierks Bentley (July 28) or the Backstreet Boys (Aug. 9), get lawn seats to see a performance at the 12,500-seat Concord Pavilion, one of the Bay Area's top venues.


To see stars on the big screen under the stars, pull up to the Westwind Drive-In. The open-air theater brings digital technology to the old-timey drive-in experience, and features play equipment near the snack bar so kids can get out the ants in their pants before showtime. Tip: To compound the old-school vibes, consider making the new Elvis biopic your drive-in feature.
Day 2: Walk Through Concord's History and Modern-Day Vibrance
If your first day in town is dedicated to soaking in Concord's sun-drenched outdoor spaces, you can keep that good-time train going on your second day by centering it around Todos Santos Plaza, Concord's lively city center. Stop in the Visitor Center in Salvio Pacheco Square for information or a few insider tips before you explore.

The 2.5-acre community gathering place includes an indoor-outdoor pedestrian mall and a lovely public park with fountains, benches, lush landscaping and a large bronze statue of Don Salvio Pacheco. Pacheco received a Spanish land grant for all of Concord's Ygnacio Valley, and, in 1869, proceeded to hand out parcels of the grant to refugees of a disastrous Bay Area earthquake. This act of generosity is held to signify the founding of Todos Santos (Spanish for "All Saints"), which is now called Concord. 


Dive deeper into Concord's past with a self-guided historical walking tour that begins at the plaza and includes dozens of points of interest, including the Galindo Home and Gardens, a restored Victorian ranch house, and the Concord Museum and Event Center. The Center houses the recently dedicated Dave Brubeck Stage in honor of the late Concord native and jazz pianist, whose musical contributions also earned him "Living Legend" status from the Library of Congress.
You'll also check out the Don Salvio Pacheco Adobe. Built in 1835 by Concord's aforementioned founder, this adobe house recognized as the first building to be erected in the valley. 


Refuel with some fresh-picked produce or a homemade snack from the farmers market at Todos Santos Plaza, held Tuesdays year-round and Thursday evenings June through September.
Or, for a multi-course meal, indulge in your choice of world cuisines (Burmese, Indian, Mexican, Peruvian, Himalayan and Italian are among the options) from one of the many restaurants in and around the plaza. Parkside Grille is a favorite among locals for its fun cocktails (strawberry- and vodka-infused "Hello Kitty," for example; and the gin- and lemon-spiked "OMG,"), plus a menu that combines American comfort foods with an assortment of multicultural dishes (bruschetta, fish and chips, ahi tuna with edamame are all options). 
Once you replenish your energy stores, you'll be ready to begin your exploration into a completely different side of Concord — its thriving art scene.


Check out nine brand-new murals painted early this summer by accomplished mural artists like Concord native Arsenio Baca, who paints everything from fruit farmers to political icons in vivid color; and Oakland-based Doran Dada, whose work celebrates African history.
Also among the featured artists are Los Angeles muralist Emily Ding, whose work centers on expressive animals, plants and humans; and Bay Area artist David "Hyde" Cho, whose Concord mural is based on the five elements of Japanese Buddhism. Follow the mural map at your leisure to take in all these electrifying artists have added to Concord's blossoming art scene.


Additional local art outposts include a range of galleries in downtown Concord, Red Ox Clay Studio, which offers classes in art forms from wheel throwing to sculpture, and a comic book art extravaganza at Flying Colors Comics & Other Cool Stuff. 
Day 3: Be Wined, Dined & Entertained
You'll want to reserve at least one day to experience the libations and gastronomic pleasures of Concord and neighboring Contra Costa County towns. Indeed, you'd need quite a bit longer to sample all the reds, whites and pinks at the two dozen local wineries.


If you're pressed for time, however, Concord's own Residual Sugar makes for a good start. The wine bar features sparkling, white and red wine selections from as near as  Napa Valley and as far as western Germany. Pair a Spanish rosé or a NorCal pinot noir with tasty small plates (spiced Marcona almonds with chipotle-honey spices, please!) and eclectic cheese boards for an experience that will have your palate doing backflips.  
Make another stop at Doppio Zero to try a selection of Italian and Californian wines, plus dishes like Marechiaro — homemade squid ink tagliolini with scallops, clams and lightly spicy tomato sauce and authentic Neapolitan pizzas. Save room for masterful desserts, like the limoncello cake topped with curls of white chocolate. 


Craft beer enthusiasts will also have myriad flavors to try in Concord, thanks to the town's impressive array of breweries. Relative newcomer Side Gate Brewery & Beer Garden is already a favorite among locals for its tempting selection of lagers, pale ales, milk stouts and even hard seltzers served in an industrial-chic space (with minimalist picnic tables, exposed beams and brew tanks) and outside on an expansive patio. As a bonus, dogs are welcome inside and out.


The Aged Vanilla Stout at Epidemic Ales is lauded in local circles, and its Chemical Warfare and Red Plague are also well-liked (despite their scary names). But if you've got more time, you'll want to grab a designated driver and map out a path through the Contra Costa Beer Trail, which includes no fewer than 43 taprooms, pubs, breweries and ale houses, many of which are in a 10-mile radius of Concord.


Speaking of indulgent trails, Concord is a hub of enjoyment for yet another guilty pleasure: tacos. The locally famous Concord Taco Trail consists of nearly 40 authentic, locally-owned Mexican restaurants and taquerias, so if you're a fan of delicious fillings enveloped in crunchy — or soft — corn shells, you'll find true Bay Area bliss along this tasty trail.
Those committed to noshing at as many spots as possible will want to sign up for the local taco trail passport, whereby diners can earn swag like t-shirts, socks and — upon "completion" of all participating vendors — a coveted "Trail Master" certificate. 


Close out a hard day of taco eating with a relaxing summer music event, like Tuesday Night Blues concerts or Thursday Night Music and Markets at Todos Santos Plaza. And take heart — if you didn't earn your taco trail certificate on this visit, you'll have a good excuse to come back to Concord sooner rather than later. 
---
Ready to go? Find a Concord hotel and check out these tools for traveling to Concord.