15 reasons to go the extra mile in the Greek Islands

Crete. All rights reserved GNTO.
If you were asked to name a few Greek islands, we've no doubt that Mykonos, Corfu and Santorini would easily come to mind. Due to their proximity to Athens, some islands have become more popular with tourists than others. But if you venture out just a bit farther, you'll find that Greece still has hidden gems where the Greeks go to vacation and Americans rarely visit.
Greece's largest and southernmost island, Crete, not only offers simple (yet incredibly decadent) cuisine, but also has ancient ruins, legendary history, diverse terrain and luxury retreats. The Dodecanese islands on the eastern border of Greece are full of rich history, silky sand beaches and quiet villages, making them another ideal getaway.
Read on to discover the appeal of these 15 islands.
Crete


About halfway between Europe and Africa, Crete is Greece's largest island, so you'll want to give yourself a few days to explore. It takes about an hour to fly from Athens to the capital city of Heraklion, where you will find the Palace of Knossos from the Minoan Empire. You can also fly from Athens to Chania, an intriguing maze of narrow streets and waterfront restaurants. Getting around Crete is relatively easy thanks to reliable bus transportation from the main cities; renting a car will get you from one end of the island to the other (it takes about six hours). 
No doubt one of the main reasons to visit Crete is to eat well. From the variety of local sheep and goat cheeses to the antikristo way of barbecuing meat, Cretans use native ingredients to create mouthwatering dishes no matter what time of day it is. For breakfast, try Sfakiani pie, or Sfakianipita, which is a warm fried crepe-like flatbread stuffed with local myzithra cheese, covered in honey and topped with cinnamon or sesame seeds. At lunch, dig into the famous ofto (roasted baby goat) or fresh salads served with traditional dakos (barley rusks with fresh tomato, soft white cheese and olive oil). For dinner, try tsigaristo, lamb meat slowly cooked, seasoned and sauteed with onions, olive oil, garlic and wine. After dinner, sip on some tsikoudia (also known as raki) for a digestif.
You'll need all that fuel for hiking the 10 miles of Samaria Gorge, Europe's longest canyon, found in the White Mountains National Park in Chania. This UNESCO-protected Biosphere Reserve is home to 450 species of plant and animal life, 70 of which are endemic to Crete. Alternatively, you could go hiking at Mount Psiloritis, the tallest mountain in Crete at 8,058 feet and as legend has it, where Zeus was born. Afterward, relax and pamper yourself at one of the many luxurious hotels you can find on the island like Domes of Elounda or Mitsis Laguna Resort & Spa.  
---
Dodecanese Islands
The journey to the Dodecanese Islands in southeastern Greece depends on your final destination. For some islands, you can take a one-hour flight from Athens, Thessaloniki or Crete. Others can be reached by ferry from Piraeus or Kavala ports. Find a map of the islands here. Each island has unique reasons to visit; here are a few of our favorites.
Rhodes


The largest of the Dodecanese, Rhodes is also one of the most well-known. After a one-hour flight from Athens or Crete, lose yourself in Rhodes walking around the roughly 200 streets or alleys of the Old Town. The oldest inhabited medieval city in Europe and a UNESCO World Heritage site is full of Byzantine and Gothic churches, traditional fountains and shops. Take a stroll down the Street of the Knights and you'll come to the Palace of the Grand Masters of the Knights of St. John, built in the 14th century; be sure to look down at incredibly colorful mosaics on the floor.


---
Karpathos 

Situated between Rhodes and Crete, Karpathos manages to keep some areas remote despite being popular with tourists. (Truth be told, many visitors spend their days at one of the island's 100-plus gorgeous beaches.) Slip into the turquoise waters at Apella Beach and go snorkeling; be sure to look for Agios Loukas, a 13th-century church built into the rocks on the pathway to the beach.
Head to the mountains and walk around Olympos village, a time capsule where electricity and road access only arrived in the late 1970s; older women here still wear traditional clothing. Try some of the local wine from vineyards around the villages of Othos and Volada or sample the local goat cheese (Manouli). Active travelers can try their hand (literally) at 150 rock climbing sites, go hiking, scuba diving or windsurfing on this second largest island of the Dodecanese. Get here via a flight from Athens or a four-hour ferry from Rhodes.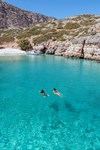 ---
Astypalaia




Shaped like a butterfly and dotted with fishing villages and windmills, the island of Astypalai (or Astypalea) is a peaceful retreat with no crowds, despite being only an hour flight away from Athens. Here you can find quiet beaches with hardly any other people sunbathing, dine on fresh seafood dishes and visit the Roman baths of Tarara, an archaeological site where the floor is decorated in mosaics. During the summer months, you can fly here from Athens, otherwise the ferry from the port of Piraeus is about 8 hours.


---
Leipsoi 

Only accessible via an 8.5-hour ferry from Athens, Leipsoi, or Leipso, is small enough to be explored by foot and its traditional village life provides a respite from the party atmosphere found on some other Greek islands. According to Greek mythology, Odysseus was shipwrecked here and the nymph Calypso refused to let him go for seven years. Likely story in this paradise, where the scent of oregano and thyme fill the air and the rhythm of the waves will lull you into your own dopamine-induced cocoon.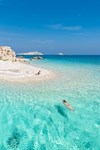 ---
Chalki 
A short ferry ride from Rhodes and the smallest inhabited Dodecanese island with only 500 people, Chalki, or Halki, gets its name from the copper mines that made it famous. (Chalkos means copper in Greek.) Head to Nimborio to see the dove-white Church of Agios Nikolaos, full of murals and whose bell tower is the tallest in the island chain. In the courtyard, the ground is paved with choclakia, black and white pebbles arranged in impressive mosaic patterns.


---
Kalymnos
Kalymnos is one of the wealthiest islands in Greece, which it owes to the sponge fishing industry that was prominent here until the late 1980s. Most of the older men on the island were sponge divers, and you'll still see sponge sellers around town. (Many former residents also moved to Tarpon Springs, Florida in the 1950s, for the sponge fishing industry there.) Today, this island with a rugged landscape is known as a top climbing spot in Europe, no matter your skill level. Scuba diving is popular here, thanks to an impressive seabed as well as shipwrecks and caves to explore. It's about a one-hour flight from Athens to Kalymnos.


---
Symi
There's nothing like seeing land after a ferry ride, and Symi, or Simi, welcomes visitors with brilliantly colored houses stretching up the hills. Unlike the whitewashed walls on other Greek islands, as you pull into port here after a 1.5-hour ferry ride from Rhodes, you'll see yellows, reds, blues and greens creating a postcard-perfect hello. Whether you come to explore the monasteries, the Venetian castle or the museums, you might come across one of the more than 120 Byzantine wine presses that are scattered around the island. Only 11 of them have been restored, but it's enough to give the island its high-quality wines, so sample a few. Be sure to try garidaki symiako, a local deep-fried shrimp dish, as well. 


---
Kos
Popular with tourists thanks to its sandy beaches and thumping nightlife, Kos is also important to modern medicine. This is the home of Hippocrates, the father of medicine. In addition to visiting the ancient healing center of Asklepieion which was based on his teachings, you can actually see the 2,500-year-old tree under which he taught his pupils. Cycle around town, visit the thermal springs or visit a 14th-century seaside fortress, Neratzia Castle. Flights to Kos take about an hour from Athens or three hours from Crete.


---
Nisyros
According to Greek mythology, during a battle between the sea god Poseidon and the giant Polyvotis, the island of Nisyros was cut from Kos to trap the giant underneath. That tumultuous start may explain why today this volcanic island is still active beneath the surface (don't worry, the last eruption was around 25,000 years ago and people live on this island). Head to the Volcanological Museum first to learn the science and then go walk on the actual calderas. The easiest way to get to Nisyros is a one-hour ferry from Kos.


---
Leros
What Leros lacks in sandy beaches, it more than makes up for with its lush pine forests and crystal clear bays and coves around much of the island. When you get to Lakki, however, you'll be struck by history. The Italians occupied the island for 30 years, and Lakki has Italian rationalist art deco architecture (there's even a summer mansion that Mussolini built for himself as well as an Italian naval base). History buffs who want to learn more about the 1943 Battle of Leros can head to the War Museum, housed in an old military tunnel built by the Italians, which has guns, bombs, helmets, uniforms and other artifacts. If you go diving off Leros, expect to find a veritable museum of World War II shipwrecks, second only to Normandy. Hop on a one-hour flight from Athens to explore Leros.


---
Tilos
Close to Rhodes and Kos, Tilos is probably the most off-the-beaten path of the Dodecanese. (Depending on your point of view, that's a good thing as nudism at the beach is popular here.) The island will surprise you in terms of its attractions as well. Tilos was once home to dwarf elephants, the last ones to be in Europe, until about 3500 BC; head to the Elephant Palaeontological Museum to see these fossils and other excavations from Charkadio cave. You can only reach Tilos by ferry and the closest route is a 2.5-hour journey from Rhodes.


---
Kasos
The southernmost island in the Aegean Sea, Kasos holds on to traditional Greek life, but also lets loose with its festivals. Chances are you might get a chance to see traditional musical instruments and dancing (not to mention kite making) as festivals are held for marriages, baptisms and birthdays as well as feast days for patron saints, local anniversaries and historic events. While on the island, visit the six churches in Panagia, which, according to legend, were built to drive away the fairies that lived in the area. You can reach Kasos via flights from Crete, Rhodes and Athens, or take a one-hour ferry from Karpathos.


---
Kastellorizo
Brightly colored houses (think oranges, blues and yellows) dot the coast of Kastellorizo, or Megisti, making the port an enticing place to stay. Tear yourself away and grab a water taxi to see the phenomenal Blue Cave, where you have to lie down in the boat to enter the impossibly small opening to see the mirror-like blue water reflecting the azure color on the cave walls. The best way to get to Kastellorizo is via Rhodes, either by direct flight or a nearly 4-hour ferry ride.


---
Patmos
With a 9-hour ferry ride from Athens ahead of you, you don't go to Patmos on a whim; you go there for a purpose — or a pilgrimage. This secluded island is where Saint John was exiled for his religious beliefs and where he ultimately wrote the Bible's Book of Revelation in a cave. Visible from every part of the island as it sits high on the hill above the capital, Chora, the Monastery of Saint John the Divine has been around since 1088. Fortified with tall, thick walls, towers, ramparts and a heavy gate, the monastery is home to numerous treasures. Special permission is required to visit its library and its thousands of religious documents.   


---