15 Incredible Caves to Explore in America

Grab your Indiana Jones hat and jump in the jeep -- we're going exploring. Though there's no treasure to steal, there's plenty to discover beneath the surface in the thousands of miles of underground caves across the United States. From rare, intricate rock designs in South Dakota to America's largest underground lake in Tennessee, these 15 caves are your ticket to getting to know America below the surface.
---
Mammoth Cave (Kentucky)

Actually a cave system and not a singular cave, Mammoth Cave National Park is home to the more than 400 miles of passageways -- the world's largest known cave system. The cave system is located within the Green River valley, and its winding chambers, pools, and limestone labyrinths are equal parts beautiful and eerie. Ten different tours offer guests the opportunity to explore the decorated, historic and dripstone areas. The cave complex is especially well known for its natural entrance and Gothic Avenue, a passageway filled with historic stone monuments and signatures from 19th-century visitors. Visitors can reserve tours online.
Photo by Beatrice M  [CC BY 2.0], via Wikimedia Commons
---
Meramec Caverns (Missouri)

A magnificent seven-layer space, this limestone cave in Sullivan, Missouri, is believed to have once served as a hideout for Jesse James and his criminal gang. Today, the caverns are a popular tourist attraction, known for colorful formations and a large underground lake. Highlights of the caverns include the Wine Table, a rare cave structure formed completely underwater, and an LED light show projected across the formations.
Note: Meramec Caverns were recently reopened following a voluntary closure to investigate contamination concerns. As of publication, tours are not being offered in the back section of the cave, as they are still working to remedy the issue in this part.
---
Carlsbad Caverns (New Mexico)

Formed from sulfuric acid erosion of underground limestone deposits, the Carlsbad Caverns are tucked into the Chihuahuan Desert and include 119 known caves. Visitors are free to take a self-guided tour of the Big Room cavern chamber, the 750-foot Natural Entrance trail, sea ledges and deep canyons. If you'd rather explore with the guidance of a park ranger and explore additional areas, including those only accessible via ladders and lit by handheld lanterns -- reserve a cave tour online or over the phone. Special events and programming include Bat Flight Tours, offered May through October, when bats exit the cave at dusk daily, and special centennial celebrations held throughout 2016.
---
Ruby Falls (Tennessee)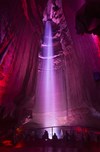 Set in Chattanooga, Ruby Falls is best known for its active 145-foot underground waterfall located within Lookout Mountain. But while the waterfall may be the highlight of Ruby Falls, it's far from the only feature to explore in this limestone cave; visitors can also view stalagmites, columns, drapery formations, flowstone and twisted stalactites (called "helicites").
---
Wind Cave (South Dakota)

As indigenous animals roam the plains above ground, the Wind Cave's unique geology dazzles visitors willing to take the plunge beneath the surface. This cave is particularly renowned for its speleothems, or cave formations, formed from calcium deposits as a byproduct of limestone water erosion. The most famous speleothem in this location is boxwork, which presents in a honeycomb pattern. Wind Cave is home to the most complex and widespread formations of boxwork in the world -- many of which can be viewed from the park ranger-guided tours.
---
Kartchner Caverns (Arizona)

This popular cave is the crown jewel of the larger Kartchner Caverns State Park, which offers camping, hiking trails, and picnic tables in addition to guided underground tours. The many speleothems in Kartchner Caverns -- some dating back 200,000 years include "Kubla Kahn," Arizona's largest rock column. As a living cave, this underground spectacle is constantly changing.
Image: Mike Lewis via Wikimedia Commons
---
Luray Caverns (Virginia)

Located in Virginia's Shenandoah Valley, the Luray Caverns feature a series of winding rooms that include 10 story high rock formations, intricate calcite deposits and pools. Must-see interest points include Saracen's Tent, formations of folded stone; Giant's Hall, large champers fill tall columns; Dream Lake, a body of water that creates optical illusions; and Tatiana's Veil, made of a white crystallized limestone known as calcite. Visitors will also enjoy the Stalacpipe Organ, a musical instrument that draws its sounds from the stalactites throughout the caverns.
---
Niagara Cave (Minnesota)

Formed from an underground stream, the Niagara Cave is located in Harmony, Minnesota. The family owned and operated cave is noted for its underwater waterfall, 450-million-year-old fossils, and rock formations of various sizes and styles. Niagara Cave is also home to an underground wedding chapel, where more than 400 ceremonies have been performed. The attraction hosts hourlong tours seven days a week, as well as occasional nighttime lantern tours announced online.
---
Natural Bridge Caverns (Texas)

Named for a limestone slab bridge at the entrance, the Natural Bridge Caverns attraction has evolved into a popular tourist destination. Formed by an underground river thousands of years ago, the Natural Bridge Caverns feature multiple layers of limestone compacted at different points in the cavern's history, as well as rock formations including stalagmites, stalactites, flowstones and chandeliers spanning every inch of the cave. Highlights include the colorful ribbon of rock adorning the walls and thin, hollow stalactites known as soda straws.
---
Fantastic Caverns (Missouri)

America's only ride-through cave, Fantastic Caverns is especially well-suited for families, the elderly or those who cannot partake in more strenuous walking tours. Jeep-drawn tram tours offer views of the rock formations while still preserving the delicacy of the natural materials inside the cave. Tours are just under and hour long and follow the path of the river that helped shape the caverns into what they are today.
---
Jewel Cave (South Dakota)

It's no surprise that one of America's most gorgeous caves is located in a state known for its one-of-a-kind landscapes and undisturbed natural beauty. A designated national monument, Jewel Cave is the third longest cave in the world and features more than 180 miles of formations and passages. The cave's unique features include the namesake jewels (calcite crystals), as well as boxwork, flowstone and the cave bacon, a long ribbon drapery.
Image: By Dave Bunnell via Wikimedia Commons
---
Blanchard Springs Caverns (Arkansas)

Another evolving living cave, it's a remarkable example of what nature is capable of. The space is divided into two main rooms: the Cathedral Room, spanning the space of more than three football fields, and the Coral Room, filled with pure white calcite.
---
DeSoto Caverns (Alabama)

DeSoto Caverns, part of an expansive family fun park, are supplemented by a variety of fun-filled activities, including water golf, an outdoor maze, archery, water balloon competition, and more. Guests can bundle tickets for guided cavern tours with other on-site attractions and meals. Those planning a vacation trip to DeSoto Caverns can camp on property either with an RV or tent.
Photo Credit: DeSoto Caverns
---
Craighead Caverns (Tennessee)

Home to America's largest underground lake, the Lost Sea, Craighead Caverns offers natural beauty at every turn. Tours begin with a guided walk through the caverns, where visitors can learn more about the cave's history and explore the cavern rooms and rock formations. This includes a series of rare cave flowers, a particularly notable series of blooming rock deposits. After the walking portion of the tour, guests embark on a glass-bottom boat trip across the four-acre Lost Sea. For those visiting with a large, organized group, Craighead Caverns also offers a Wild Cave Tour that includes access to additional sections, as well as an overnight stay underground.
---
Ohio Caverns

Located near West Liberty, the Ohio Caverns were cut from an underground river thousands of years ago. Visitors enter the caverns through a sinkhole and explore the two miles of passageways, where they can view the famously colorful cave and white Crystal King formation. The cave is particularly notable for its prevalent dual formations (rare combinations of iron-oxide and calcium crystals) and numerous stalactites and stalagmites.
Lead image: Mammoth Cave by NPS Photo
---
Ready to explore? With our new hotel search, featuring more than 3,000 carefully selected hotels, find and book deals when you need them.