15 Experiences Every Traveler Should Have in Ireland

Ireland enthralls -- it's no wonder visitors return again and again. In fact, many of our deal experts have either lived there or spent many of their vacation days exploring the breathtaking landscape. So, whether you're a first-timer or an
Emerald Isle
veteran, here are 15 experiences we think every traveler should have in Ireland.
1. Get lost & ask locals for directions
No great travel stories start with, "we never once got lost and everything worked out perfectly." Have no fear about losing your way in Ireland: in fact, consider it a rite of passage and don't be shy about asking locals for directions. The Irish are among the world's friendliest and most hospitable folks. In fact, many will pause whatever they're doing to graciously walk you to your destination rather than just provide verbal instructions for getting from point A to B.

---
2. Hike to the Cliffs of Moher
The Cliffs of Moher are among the most cinematic sights in a country full of them. That said, the cliff side path at the Cliffs of Moher is actually part of the Burren Way, a walking trail that runs 123 kilometers through County Clare. One of our favorite experiences was parking in Doolin, a village near the cliffs, and then hiking to the Cliffs of Moher via the Cliffs Coastal Trail. The hike is 8 kilometers and will take roughly 2.5 hours. The best part besides the breathtaking and dramatic scenery along the way? There is a
shuttle
that can take you back to Doolin once you're done so you don't have to walk back! Also, once you're at the Cliffs of Moher, if you're a bit more adventurous and can handle the rugged terrain, our deal experts recommend taking the "
left" or "red" path
, which allows you to go out of the rope area a bit and experience a different view.

---
3. Listen to live music in Galway
One of our favorite things to do in
Galway
(a harbor city on Ireland's west coast) is to meander along Shop Street, the main pedestrian zone. It's scenic and historic and everything you imagine when you picture yourself wandering down a cobbled street in an Irish town. The sound of accordions and fiddles in the air will get your feet stepping a little faster, and they should take you to our favorite pubs to hear traditional live music: Taaffes and Ti Coili.

---
4. Visit in winter
When is the best time to visit? Well, it's hard to argue that the most pleasant months (and highest price tags) are May, June and July. BUT, bargain shoppers with a heavy coat can find great deals through winter. Here are four things we love: 1. The cozy pubs. There's nothing like settling down for a hot whiskey or a pint of Guinness next to a warm hearth on a chilly winter night. 2. It's not really that cold: Ireland boasts a moderate climate, so it very rarely sees extreme warm or cold. According to Frommer's, "Rain is the one constant in Irish weather, although a bit of sunshine is usually just around the corner." 3. Great deals: Nonstop airfare to Ireland in the summer can cost upwards of $1000 for a flight out of New York City. One of our deal experts paid just more than $500 for a nonstop flight in January. (Think of all the Guinness that extra $500 can buy.) Hotel stays also average 25%-30% higher in summer. 4. Avoid the crowds: In the summer travelers are advised to arrive as early as possible to the most famous attractions, in winter, our deal experts were able to hike along the breathtaking paths at the Cliffs of Moher without dodging hordes of other tourists.

---
5. Explore a galaxy far, far away ...
The UNESCO World Heritage Site of
Skellig Michael
(County Kerry) was visited by Vikings and in the 6th century a small group of monks retreated here, but it wasn't until "Star Wars: The Force Awakens", that the island welcomed one of its most famous visitors to date, Luke Skywalker. The Skelligs are only accessible by boat and multiple tour companies offer packages to the breathtaking site, though travelers should note this trip isn't for the faint of heart. "But for those up to the challenge, it's a privilege to experience this stark serenity untouched by the modern world." (Tourism Ireland)

---
6. Have a pint at one of the tiniest pubs in Ireland
Behind an unassuming door on Dawson Street and down a spiral staircase is one of the smallest pubs in Ireland. While not a place to come with a large group, The Dawson Lounge in Dublin is located just off St. Stephen's Green and is a perfect pit stop for a one-of-a-kind pint.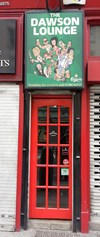 Flickr/SteHLiverpool
---
7. Travel by rail
What better way to take in the scenery than it passing by you from the comfort of a train ride? From Dublin, it's easy to set off to the other sites, even for those who don't want to navigate Ireland's winding country lanes on the left side of the road. If you book your tickets online (irishrail.ie), then you can reserve your seats ahead of time. Otherwise, you just have to find an open seat once you get on the train. Trains between major cities (Dublin, Cork, Galway) run almost hourly. Open return tickets allow for lots of flexibility: Check out any final sights in the morning then head to the train station whenever you're done without worrying about making a specific departure time.

---
8. Spend a day in Belfast
Start your day at St. George's Market, one of Belfast's oldest attractions. It's a short walk from Central Station. The market sells everything from fish and fresh fruit to antiques, but do note, it's only open Friday, Saturday and Sunday. Then, book a black cab tour. The fleet of cabs will take you and your group on a 1.5-hour guided tour of the city, specifically the Belfast political murals. We found it to be an incredibly thought-provoking journey that provided great un-biased commentary along the way. Lastly, don't miss visiting the Titanic Center where the
RMS Titanic
was built and book in extra time to board and tour the
SS Nomadic
.

---
9. Take a "Game of Thrones" tour
Even if you're not on the edge of your seat wondering what will happen to Jon Snow in Season 6, one of our deal experts said the "Game of Thrones" tour with
McComb's Coaches
was hands down one of the best things she's done. Be sure to pack a camera, umbrella, raincoat and sunglasses, as you'll experience all seasons on the six-to seven-hour tour.

---
10. And then walk in the footsteps of Giants
County Antrim is chock-full of take-your-breath-away scenery including one the most recognizable UNESCO World Heritage Sites in western Europe: the Giant's Causeway. The Causeway was created by millions of years of volcanic and geologic activity. Or, if you prefer, by mythical giant Fionn mac Cumhaill as a series of steps to transport him to Scotland.

---
11. Cycle the Wild Atlantic Way
The untamed west coast of Ireland is dramatic, majestic and full of adventure. For those feeling extra adventurous, our deal experts recommend hiring a bike for the afternoon and cycling part of the route. The Sky Loop Road, overlooking Clifden Bay to the south and Streamstown Bay to the north, is just 16 kilometers and relatively flat. Regular or electric bikes are available for rent.

---
12. Get to the Aran Islands
Specifically Inisheer (Inis Oirr). If you're looking for a truly remote experience, this is the smallest and most eastern of the three Aran Islands. The entire island is only 3km by 3km, so you can walk the whole thing easily and feel that you have the entire world to yourself. The north side of the island is home to sandy beaches and views of Connemara, while the eastern shore has a shipwreck our deal experts found fascinating, as well as stunning views of the Cliffs of Moher. Getting to the islands is easy. Ferries depart daily from Rossaveal (Ros a Mhíl) just outside Galway city.

---
13. Drive the Dingle Peninsula
Rick Steves says "the peninsula is just the right size for a day-long driving or cycling tour (it's about 30 miles around — and a much harder pedal than drive)," and we agree. Since we've already biked the Sky Loop Road, we'll stick to driving in Dingle. Our deal experts recommend two can't-miss experiences on the peninsula. The first is the Gallarus Oratory, one of the country's best-preserved early Christian churches. "Built between the 7th and the 9th centuries A.D., its walls and roof are made entirely from dry stones without mortar—yet the interior stays remarkably dry," says Frommer's. The second is arriving at the Cross at Slea Head (on Slea Head Drive) just before sunset to watch as the day melts into the sea.

---
14. Climb Croagh Patrick
Not only was this hike one of the best things our deal experts experienced in Ireland, it was also much more challenging than they anticipated. We recommend bringing a walking stick, solid hiking boots and a sense of adventure. As you can see, the view from the top is totally worth it.

---
15. Visit the Guinness Storehouse in Dublin
We highly recommend the Guinness Storehouse in Dublin – even if you don't absolutely love Guinness. The tour is interesting and informative, and ends in a bar at the top of the museum that is shaped like a glass of Guinness. You get a complimentary glass of Guinness, and one of our deal experts swears it's the best pint of Guinness that she's ever had.

Ready to explore Ireland? These deals will take you there.