14 Reasons We're Packing for Portland Right Now

Portland's winter weather can be rainy and gray, but that doesn't dampen our enthusiasm for this city that is approachable, quirky and innovative.
It's going to rain, so plan for it. While the city's famed rose gardens and outdoor markets close January and February, the good news is Portland has plenty going on. There are craft breweries, concerts, tax-free holiday shopping and events happening all the time -- free ones too.
Here's why we're packing for Portland right now.
1. It's not your average city.
Portland is just a little bit different than anywhere else you've been before, and it fully embraces the things that keep it weird -- from pedestrian-only bridges over the Willamette River to tours of the infamous underground Shanghai tunnels to Christmas tuba concerts to the vintage outfits on passersby. The city's quirky personality even inspired the hit show "Portlandia," which explores the fictional lives of eccentric Portlanders.
And to top it all off, locals don't use umbrellas even on the rainiest of days; but you can use one, since you're a tourist and all.

---
2. There's live music nearly 24/7.
Portland is the birthplace of bands such as the Decemberists and the Kingsmen. This indie music hub houses intimate venues and pop-up shows that give the city a rockin' soundtrack seven days a week. Check out the schedule of the Crystal Ballroom, a Portland legacy for more than 100 years. Over the years it's seen the likes of Jimi Hendrix, Tina Turner, Billy Idol and James Brown.
Don't miss the Portland Jazz Festival (Feb. 16-26), a musical potpourri featuring Grammy Award winners including Branford Marsalis, Kurt Elling, John Scofield and the Yellowjackets.

---
3. It's the best beer city in America.
Portland is as serious about beer as Napa is about wine. And with more than 65 microbreweries -- more than any other city in the world -- it's no wonder Lonely Planet named Portland the best beer city in America. Fend off the winter cold with bold ales at the Holiday Ale Festival (Nov. 30 - Dec. 4) where you can sample more than 50 craft beers including exclusive releases like HOLLA-Day Ale.
February's a big beer month here. There are limited-edition collaboration beers at 16 breweries all month long during Collabofest; it kicks off with a one-day festival at Base Camp Brewing on Jan. 28. You can also get a backstage pass to the city's breweries on the Zwickelmania Oregon Brewery Tour (Feb. 18).

Portland even has brew-and-view movie theaters, so you can watch everything from recent releases to cult classics with handcrafted beer and pub grub in hand. Start at one of McMenamins' properties -- they've transformed local landmarks into artful entertainment centers and they've done it well.
---
4. Holidays are cheaper with tax-free shopping.
Portland's claim to fame is being sales-tax-free, perfect for getting the holiday shopping done. Browse through unique handmade crafts at Crafty Wonderland (Dec. 10-11) or the weekend Portland Saturday Market -- the market is even open daily Dec. 17-24 for last-minute shoppers. Or hunt for vintage pieces and vinyl along North Mississippi and Williams avenues.

For bigger purchases head to the urban four-block mall at Pioneer Place or to Oregon's largest mall, Lloyd Center -- there's even an indoor ice skating rink.
---
5. It's seriously festive.
Start the holiday season off with the annual tree lighting at Pioneer Courthouse Square on Nov. 28. There event features a 75-foot-tall tree, four tons of lights and three bands including a sing-a-long with Thomas Lauderdale of Pink Martini.

The festivities don't end there. Light shows run all winter long from evening displays with 1.5 million dazzling lights at the Oregon Zoo (ZooLights is Nov. 25 - Jan. 1) to the largest Christmas choral festival in the world at The Grotto (Festival of Lights is Nov. 25 - Dec. 30) to the free Portland Winter Light Festival (Feb. 1-4) with outdoor contemporary light-based art installations along the waterfront.
---
6. There's fresh food on every street corner.
Surrounded by fertile farmland, Portland is brimming with fresh produce and inspired chefs who often allow their weekly farmers' market hauls to dictate their menus. The city streets house more than 600 food carts, operated by chefs dedicated to perfecting everything from jambalaya to pierogies to Thai chicken -- great options for warming up on a rainy day. If you're eyeing a specific food cart, check the hours online, as some are open only until mid-afternoon.

---
7. Really, really good coffee.
Portland takes its coffee culture very, very seriously. There's almost literally a coffee shop around every corner and one of the most beloved is Stumptown Coffee Roasters. Since 1999, Stumptown has kept Portland on the coffee map with its bottled cold brew, espresso and Costa Rican, Ethiopian and Indonesian blends. A cup of hot coffee here costs about $1.50 with no sales tax!

---
8. Doughnuts or Donuts? Either way, you can't go wrong.
Blue Star or Voodoo? It's Portland's own pastry rivalry. Once you take a bite of these outrageous creations you'll see why. Decide for yourself with a taste test of Blue Star's signature blueberry bourbon basil doughnut and one of Voodoo's creative concoctions like the Maple Bacon Bar.  Lines can be long for these two iconic Portland bakeries. If you're in a doughnut-mood and don't want to wait, try one of the family-owned shops with small batches at Coco Donuts or Pip's Original, with its award-winning honey and sea salt doughnuts.
---
9. A block of books.
At 68,000-square-feet, Powell's City of Books is the largest independent new and used bookstore in the country. It's an entire city block of books. And if you can't find the right book here, well, the store can just print it and bind it courtesy of a self-publishing printer.

---
10. Rainy days are meant for the museum.
From science playgrounds to a retired navy submarine to "After Dark" events that pair science talks with tasty adult beverages, the Oregon Museum of Science and Industry doesn't have an age limit. It's made up of three auditoriums, including a large-screen theater, a planetarium and exhibition halls focused on the natural sciences, technology and industry.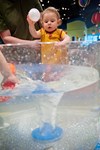 Looking for art exhibits? You're in luck. The largest collection of Andy Warhol works ever displayed is at the Portland Art Museum.
---
11. You won't have to leave the city to sip local wine.
City trippers get the full effect of Oregon's wine country in Portland. Sure, the Willamette Valley and its 500-plus wineries are just an hour away, but there are more than a dozen urban wineries right in downtown. It all started back in 1999 with the city's oldest winery, Hip Chicks Do Wine. And now the popular trend continues at the Southeast Wine Collective, which houses 10 wineries side-by-side -- it's the easiest place to compare Oregon pinot noirs.

It's easy to take home wine too. Members of the Alaska Airlines Mileage Plan can check a case of wine (six or 12 bottles) at no cost on any domestic flight leaving from Portland.
---
12. Relive your youth at old school arcades.
The advent of the Xbox, Playstation and the Internet has changed the social landscape of video game playing across the world. Well, everywhere except Portland. Throughout the city you can participate in the remains of arcade culture at places such as Ground Kontrol by playing classics like Pac-Man, Mortal Kombat and NFL Blitz. And don't forget your ID, because of course there's beer here too.

---
13. It's 90 minutes from the ski slopes.
The snow-capped peaks of Mount Hood are 90 minutes east of Portland. The mountain, Oregon's tallest, boasts three ski resorts: Meadows has 85 runs for every level of skier, Timberline is a national historic landmark popular for it's rustic lodge, and Skibowl is the closest one to downtown Portland.
Skibowl is also a nighttime favorite with skiers and boarders as it has the largest night-skiing terrain in North America and the world's only cosmic zip line, which flies above slopes decked out with black lights and party-pumping DJs.
---
14. Gorge-ous nature is everywhere.
It's an easy day trip to the surrounding forests and rivers from the city. Iconic Multnomah Falls, made even more gorgeous when it's partly frozen, is a 45-minute drive from downtown.

The picturesque Columbia River Gorge is less than an hour away. The gorge is famous for kiteboarding -- try it if you dare. Better yet, head to one of the breweries with uninterrupted gorge views in the nearby city of Hood River -- the best way to see nature in the rain.

---
Ready to go?
Winter is when we see some of the best hotel deals of the year in Portland. Holiday and midweek rates are often lower, so extend your weekend an extra night or two so you can explore even more.