These 13 Experiences in South Africa Will Make You Say 'Wow'

Our Deal Experts that have visited South Africa return with amazing photos and incredible stories, as well as this advice: Don't wait any longer to see it yourself.
This is a land where diversity takes center stage -- diversity of experiences, cultures (11 official languages), adventures, tastes and wildlife. And, the continued strength of the U.S. dollar means South Africa is extremely affordable right now for American travelers.
With so many things to see and do that will make you stop and say "wow," here's where we suggest you start.
1. Safari
While we can describe the surreal experience of a sunrise game drive in an open-air jeep with the mist burning off the sprawling plain and elephants on the horizon, it's something you have to experience for yourself.

South Africa is home to a wide variety of safari experiences, and opportunities to see the so-called Big Five (lion, elephant, rhinoceros, leopard and cape buffalo). Kruger National Park in the northeastern corner of the country is the best-known safari spot, but there are game reserves dotted throughout the country. Many South Africa vacation packages will include at least one safari stay, with sunrise and sunset game drives each day. (This is when the animals are most active.)

You'll choose between safaris in a national park and a private game reserve. The national parks are usually less expensive and may have a wider range of accommodations. Private game reserves are often more luxurious and offer more flexibility on safari (off-road driving to get closer to the animals and night game drives). Many lodges are fully inclusive -- meals and game drives are already part of the price.
In between the three- to four-hour game drives, you can relax at the lodge -- enjoying big meals, a dip in the swimming pool or a bush walk with a ranger. At night, enjoy a boma dinner around a communal campfire. Don't forget to look up -- the stargazing is also breathtaking.
---
2. Cape Town
A regular on many lists of world's best cities, Cape Town doesn't disappoint.
First and foremost, the setting is straight out of a postcard.

Don't make the mistake of shortchanging Cape Town to get to your safari. As South Africa's "Mother City" and a longtime trading post, Cape Town is home to a mixture of cultures from Europe, Asia and Africa. You'll see this in the architecture and taste it in the food.
Spend your days shopping for keepsakes and artisan goods in local markets such as the Green Market Square, relaxing on the beach in Camps Bay, walking among the tranquil flora of the Kirstenbosch Botanical Gardens at the base of Table Mountain or drinking tea on the V&A Waterfront while you watch sailboats cruising in and out of the harbor.
---
3. Table Mountain
Pick out a picture frame in one of Cape Town's many markets -- then climb atop Table Mountain to take a photo to hang in that frame on your wall back home.

You can take a cable car from Cape Town and be at the top of Table Mountain in about five minutes. The ride alone can be worth the price for the stunning aerial views as you climb more than 3,500 feet from sea level to "see level." Once at the top, more than a mile of trails and lookouts allow you to view Cape Town and the Cape Peninsula from a variety of vantage points.
The mountain can often be shrouded in cloud cover (called a "table cloth" by some), we suggest taking advantage of the first clear day to reach the summit and fill up your Instagram.
---
4. The Winelands
Stellenbosch and Franschhoek, just outside of Cape Town, are South Africa's best-known wine regions, with vineyards and wine estates that date back centuries to the Dutch and French settlers. Stop and get your bearings (and some delicious food) in the college town of Stellenbosch, with oak-lined streets and whitewashed buildings, and Franschhoek, known for some of the country's best restaurants.
Most visitors will travel the Cape Route 62 wine trail -- said to be the world's longest -- sipping shiraz, pinotage and chenin blanc along the way.
A private guide from Cape Town can be more affordable than you think and can take you to wineries that you might've missed on your own. Another popular option is the Franschhoek Wine Tram, a hop-on, hop-off tour that takes visitors to wine estates throughout the Valley.
We recommend stopping at Groot Constantia, one of the original wine estates, and Vergelegen for posh picnics served under shade trees. If the wines and food pairings don't wow you, the scenery and hospitality will.

---
5. Robben Island
The prison home of Nelson Mandela for 18 of his 27 years of captivity is a humbling reminder of South Africa's freedom struggle. You can walk in the footsteps of Mandela, see his tiny jail cell and learn about the hard labor endured by the prisoners of the apartheid regime.
It's a visit that's moving and memorable, and it really frames the remarkable nature of the nation's resurgence since these dark days. Consider this: Three of South Africa's presidents served time as political prisoners on Robben Island, including current leader Jacob Zuma.
Robben Island is a short boat ride from Cape Town and tickets sell out weeks in advance, so this is one thing you want to make sure you plan ahead.

---
6. The Cape of Good Hope
A short drive from Cape Town is another wow moment -- the Cape of Good Hope, so-named by European explorers sailing around the southern tip of Africa. Standing here, staring out at the Atlantic and Indian oceans feels like you're at the end of the world.
Cape Point is surrounded by a nature reserve, so it's a mini safari on the drive. (Lock your doors -- the baboons may try to join you in the car.)

Along the drive from Cape Town, stop at Boulders Beach to see the penguins sun themselves on the sand.

---
7. Garden Route
For many of our Deal Experts, a road trip along the coast on the Garden Route is a must.
This is a stretch best explored without a schedule, as you navigate winding coastal roads; check out forests and lakes in the conservation areas that dot the coast; visit Oudtshoorn, the ostrich capital of the world; and hang out eating fresh oysters in tiny seaside towns like Wilderness and Knysna.
Plettenberg Bay is renowned for whale watching and Jeffreys Bay is a fabled surf spot.

The adventurous will want to stop and take the plunge at the Bloukrans Bungee. This is the highest bridge jump in the world at 709 feet.
And while you may not notice it while you are plummeting toward the riverbed below, take a second on the bounce back to appreciate the architectural marvel of this single-span concrete arch bridge across the gorge.
In addition to the bungee jump, you can try a "foofie slide" -- a 650-foot cable slide under the arch -- or take a catwalk tour of the bridge.

---
8. Shark Cage Diving
If witnessing the Big Five on safari or springing off the world's third tallest bridge isn't enough of an adrenaline rush, then it's time to get in the cage.
For several of our Deal Experts, shark cage diving off the South African coast was one of those wow moments. It's almost an out of body experience as you come face to face (behind thick steel bars) with the steely eyed stare of a great white.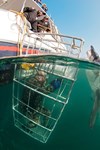 Boat trips can be canceled for even the slightest swell (safety first!), so it's good to have a few trips booked if this is high on your list.
---
9. Johannesburg
Most international flights into South Africa land in Johannesburg, and if you have the time to explore, you'll find a culturally diverse metropolis that's grown out of a one-time gold-mining settlement. Called Joburg or Jozi by locals, this is the country's largest city covering an area similar to Los Angeles (including the world's biggest urban forest of 10 million trees).
With 40% of the world's gold mined in the region surrounding Johannesburg, it's understandable that this is South Africa's business hub. The city is well-known for a hopping nightlife and a creative and entrepreneurial streak.
Check out the hip Maboneng Precinct to see this in action. The Arts on Main development was a key piece of this revitalization of this area, turning a 1911 warehouse into a space that includes studios for contemporary artists like William Kentridge and Kim Lieberman, galleries and boutique shops.

---
10. Soweto
Where else in the world can you visit a street that was once home to two Nobel Peace Prize laureates?
Nelson Mandela and Archbishop Desmond Tutu both lived on Vilakazi Street in the Soweto township southwest of downtown Johannesburg. The Mandela House can be found here at 8115, now a moving museum that showcases the life of the Mandela family during the apartheid era and beyond. Tours are limited to 20 guests at a time, allowing you to immerse yourself in the experience.

Soweto was the flashpoint of the freedom struggle for democracy. In addition to the Mandela House, the Hector Pieterson Memorial and Museum commemorates the 1976 student uprisings and the Freedom Charter, a precursor to the modern-day South African constitution, can be viewed at Freedom Square.
Guided bicycle tours are one way to experience Soweto -- a vibrant area that will touch all your senses, from the beat of the kwaito (South African music) to the smells of meats cooking at a roadside shisa nyama (barbecue).
---
11. The Cradle of Humankind
Not far from Johannesburg, you'll find Maropeng, which is Setswana for "returning to the place of origin."
Forget Ancestry.com -- this spot is full of clues on where it all began, and scientists are still piecing it together. The World Heritage Site is called the Cradle of Humankind, and here the landscape is filled with limestone caves that have preserved millions of years of hominid fossils. First uncovered in the 1800s, these fossils include some of the most significant discoveries in archaeology.
The Maropeng Visitor Centre takes visitors through time from the very beginning of the human species to the development of language and tools -- all the way to the present day. The building itself is quite cool -- you enter into what looks like a grassy burial mound and exit from a building of glass and steel.

---
12. Koesisters & Bunny Chow
How did we go this far without mentioning the food? South Africa's cuisine is a mix of European, traditional African and Asian flavors.
Explore the food markets that bring in local produce alongside freshly baked breads, sweet treats and hand-crafted beer. You can't go wrong shopping for a quick bite (or two) amid the stalls at the Neighbourgoods Market in Cape Town or Johannesburg.
Creative chefs play on the bounty of South Africa's agriculture and fresh seafood from the nearby ocean. Wash it down with wine from the country's vineyards and your meal could be the most memorable part of your day.
In Cape Town, Cape Malay food is a mashup of culinary styles, and Bo-Kaap, with its colorful row houses, is a great place to experience it. Don't leave this neighborhood without trying a koesister, doughnuts dipped in a sweet syrup and dusted with coconut.

Venture to Cape Town's Woodstock neighborhood for a reservation at Test Kitchen, lauded as one of the 50 best restaurants in the world by Conde Nast Traveler (but thanks to a strong dollar, a meal here can cost as little as $50 per person).
When you're in South Africa, make sure to get some "bunny chow" -- a hollowed-out loaf of bread filled with tasty curry. The best "bunnies" are found in Durban -- the birthplace of this unique dish with a fascinating back story.
---
13. Blyde River Canyon
The third-largest canyon in the world, Blyde River Canyon is yet another example that South Africa was blessed when it came to handing out stunning vistas. (One is even called God's Window.)
The canyon is located in the same province as the popular safari spot Kruger National Park. You can drive to viewpoints along the Panorama Route for incredible sights, hike to waterfalls such as Lisbon Falls or Berlin Falls and relive the Gold Rush years in towns like Gaskrop.
In a word, wow.

---
Looking for more inspiration? Check out this video by one of our Deal Experts from her Travelzoo Experience trip to South Africa.