Travelzoo's Ultimate Crowdsourced Roadtrip: Newfoundland and Labrador Tips

When planning your trip, we recommend you check your local public health guidelines and call ahead before booking attractions and experiences as they may be operating on adjusted schedules that are subject to change.
---
We heard you loud and clear: The No. 1 thing on Travelzoo members' minds this summer, based on recent polls, is a classic Canadian road trip. But it takes insight and planning to make one truly great. 
That's why we went to you to crowdsource the country's top destinations with input from Travelzoo members from coast to coast. We pooled the collection of Canadian experiences and curated an interactive map with regional highlights, plus insider tips on what to do and see to maximize your fun. 
For those ready to hit the road, here are the Travelzoo member tips for Newfoundland and Labrador.
See the seabirds at Cape Saint Mary's Ecological Reserve
"My favourite travel find is the Cape Saint Mary's Ecological Reserve in  Newfoundland. I was a bit nervous that my 16-year-old son would find it boring, but everyone loved it. Even without the 30,000 nesting pairs of Gannet sea birds, the views here were breathtaking. The whole area was very peaceful and less crowded or touristy than other areas. It is a two-hour drive from St. John's  through pretty landscape, then  a very pleasant 1 km. walk to 'bird rock' (pictured), where you can sit at the edge of the cliff watching the birds nest, preen, court and fish. Truly amazing!"— Lara, Travelzoo Member
See whales and icebergs at the same time in Newfoundland and Labrador

"Most people think July and August is the best time to go to Newfoundland and Labrador. However, if you want to see whales and icebergs at the same time, then June is actually the best time. Sea kayaking will allow you to get up close and personal with whales and be able to touch an iceberg!  After June the icebergs start to float elsewhere. There is no place like Newfoundland and Labrador on earth." — Tatia, Travelzoo Member
Make the Most of Gros Morne National Park
In her guest blog, Parm Parmar of Planet Blue Adventure shares advice on a trip to this stunning site.
See
L'anse
aux Meadows

"You can walk in the footsteps of Viking settlers from bygone years at this important archaeological site, discovered in 1960. There is a Viking Village with interactive characters and re-enactments for the whole family." — Kiera, Travelzoo Member
Hike Newfoundland's East Coast Trail

"I do this hike every year. It's world-class and always a beautiful adventure." — Elaine, Travelzoo Member
Visit The Wooden Boat Museum in Winterton, N.L.

"The museum is a step back in time to when small boats were essential to the people of Newfoundland. It also offers summer workshops on-site for dory building." — Ann, Travelzoo Member
Walk The Battery in St. John's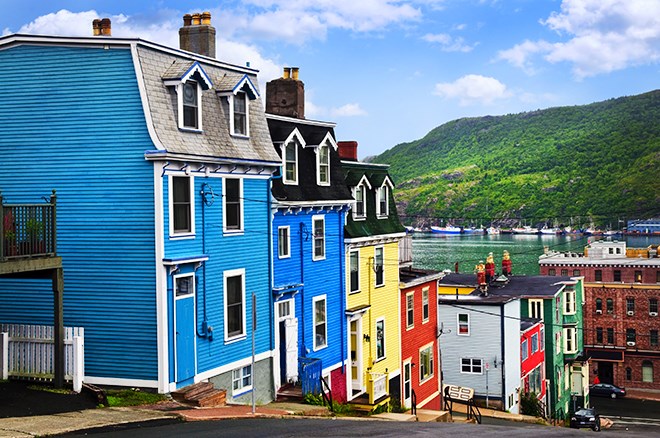 "Colourful, ramshackle wooden homes clutching the side of a steep, rocky cliff. One of the world's most striking harbours. And fog rolling in off the Atlantic. A walk along the paved path that winds its way through the Battery neighbourhood of St. John's, Newfoundland, is one of the best urban walks in the world -- a treasure of sights and sounds mixed with the smell of fresh sea air and a stiff breeze off the ocean."
"There are a few artists' residences/galleries scattered along the way, giving you more time to linger. But given the beauty of the natural setting, the rainbow-coloured houses and the friendly locals (Newfoundlanders are so welcoming they make the Irish look mean), you'll already be taking plenty of time along the way."— Jim Byers, Travelzoo Guest Blogger. Read his full piece on the Battery here.
---
To fuel your road trip wanderlust, click here to explore Travelzoo's Ultimate Crowdsourced Road Trip map, where you'll find insider tips and member-exclusive deals.