These 7 Types of Travellers Belong in Barbados

After a long Canadian winter, we're dreaming of sinking bare feet into soft white sand. Of water and air that both average 26-29 degrees. Of dining on that day's fresh catch while the setting sun glints off our glass of wine. That's why we're all eyes for Barbados.
We know we're not the only ones imagining this Caribbean island's warm beaches, top-tier golf courses, seaside restaurants and tranquil gardens. These seven types of travellers all belong in Barbados. Which one are you? 
---
1. The beach lover
Hey sunseeker, you're home. Barbados is lined by over 110 kilometres of palm-fringed beaches, giving us all a place to laze in a lounger after a long winter.

Each side of the island offers something different. The blush-pink Crane Beach and Bottom Bay along Barbados' southeastern edge offer secluded stretches of sand that are ideal for a leisurely picnic. On the southern coast, you'll find livelier shorelines of white sand, like Accra Beach, where you can grab a fruit-filled cocktail or dine seaside after a day of snorkelling over shipwrecks or just wading into bathtub-warm waters.
Mullins Beach and Gibbes Beach in the sunset-facing west offer beachgoers especially tranquil waters for easy swimming and low-key watersports.
The Atlantic Ocean strikes against the craggy eastern shores, making them perfect for surfers (who should head to Bathsheba Beach for the best waves). If you're not a surfer but you're on the east coast, head to Bath Beach, one of the few areas along the Atlantic with calm waters. There, you'll be shaded by giant casuarina trees, and perhaps spot female hawksbill turtles coming ashore to lay their eggs. 
---
2. The gourmand
Barbadian fare is for locavores. The Barbadian (affectionately known as Bajan) diet consists of just-caught fish, garden vegetables, tropical fruits and luscious lobster — everything that grows on or around the island — flavoured with hot-pepper sauce or a mix of fresh herbs.  
Check out Fisherman's Pub for a true local haunt. This seaside institution on the island's west coast has been serving up Bajan cuisine (along with rum drinks and beer) since 1937. Today you can grab ladlefuls of homegrown staples like salted-cod fish cakes, macaroni pie, fried plantains and chicken pelau at the buffet-style counter before taking your plate outside to eat while backdropped by the calm Caribbean. 

Don't miss the national dish of flying fish and cou-cou if they have it on the day's menu. They debone the flying fish, soak them in lime and salt, rub them with Bajan seasoning, batter them and fry them up until they're crisp, then serve with a cou-cou side of cornmeal, okra, butter and herbs. 
For a white-tablecloth dining experience, take a seat at Champers Restaurant overlooking the south coast's Rockley Beach. Past patrons loved it so much that they've ranked it the No. 1 fine-dining restaurant on the island (TripAdvisor). Try to get a waterside table and you might even feel a bit of mist from the waves as you sink a fork into chili-coconut shrimp or herb-crusted rack of lamb. 
But don't miss Cocktail Kitchen in bustling St. Lawrence Gap if you want to blow up your social media feed.

Award-winning chef Damian Leach paints each plate's canvas with little pieces of art, like fire-roasted breadfruit with pepper-sauce lobster or spiced pineapple topping oxtail pulled off the bone. Get a bunch of small plates and share them all — you're going to want to try as many different dishes here as possible. 
---
3. The golf-cationer
With five 18-hole courses and two nine-hole options, Barbados has palm-lined fairways and island-style greens for amateurs and scratch golfers alike. One of the newest courses to open on the island is Apes Hill, standing 1,000 feet above sea level and decorated with fig trees and deep gullies. At that height you can take in views of both the Atlantic Ocean to the east and the Caribbean Sea to the west, all in one round of 18.


For a delicious challenge, try out Barbados Golf Club for its version of the Augusta National "Amen Corner" on holes 15 and 16, where lakes and coral bunkers both come into play. Or head to the Barbados golf scene's crown jewel, Royal Westmoreland, designed by the famous Robert Trent Jones Jr. This beauty requires you to navigate around bougainvillea bushes, stubborn dog legs and two-tier greens as you enjoy the verdant views. 
---
4. The romantic
After two years of missed honeymoons, delayed weddings and dine-in anniversaries, it's time for the romantics to go all out — and Barbados welcomes lovebirds with open arms. After all, anything can be romantic when you're backdropped by Barbadian beaches and warm Caribbean waters. 

One of our favourite couple-friendly spots is Café Luna, a terrace restaurant on the rooftop of the adults-only Little Arches Hotel. There you can watch the sun set as you dine on the day's fresh catch, then share a guava tarte or mango cheesecake under a sea of stars. 
Amp up the affection with a stay in one of the island's many private villas, a stroll in local galleries showcasing Caribbean art, or a night of soca dancing amid rum shops and fish-fry stalls.

With romance all around, Barbados is also an ideal spot for a destination wedding or vow renewal, and there are plenty of wedding vendors on site ready to build your ceremony. 
---
5. The mixologist
Just saying the word "Barbados" feels like sipping a cocktail of coconut water and banana-almond rum. Small wonder — people have been distilling the famously Caribbean liquor on the island for over 300 years. 

Its geology makes it particularly well suited to the practice. Unlike many nearby islands, Barbados isn't formed by volcanic rock; instead, its coral-stone base acts as a natural filter for rainwater captured in subterranean aquifers. Locals would tell you the pure springs make their rum inimitable.

While rum shops and distilleries can be found all over the island, the most iconic spot that mixologists must see is Mount Gay Rum Distilleries, the oldest rum maker in the world. Take a tour of the site that has been crafting spirits since 1703 and sample premium and limited-edition rums imbued with flavours of gingerbread, dark chocolate and toffee. 
---
6. The watersports enthusiast
Deep-sea fishing for yellowfin and kingfish with a cold Banks beer in hand. Jet-Skiing across the turquoise Caribbean. Basking on the deck of a rented catamaran. Barbados lives up to its reputation as a watersports-lover's playground.

Atlantis Submarines provides a particularly unmissable experience. Hop onto one of their windowed vessels and you'll submerge to depths of up to 150 feet, gliding past shipwreck ruins, pastel coral reefs and schools of tropical fish.

Get even closer to the island's entertaining marine life on a snorkelling or diving excursion. You can grab a pair of fins and a snorkel to head out on your own, swimming up to sea turtles and graceful angelfish. Or hire a guide for a diving adventure to see parrotfish, lionfish, small sharks and sunken ships — we recommend the shallower Bell Buoy diving area off Accra Beach for beginners. 
---
7. The wellness seeker
When you get to Barbados, and wiggle your toes on a flour-soft beach, you'll naturally meditate on the sound of the warm waves lapping the shores. 
Barbados makes it easy to hit reset. Visitors can sink into stress-relieving massages at spas like The Healing Power of Touch, or slide into a warrior pose atop a standup paddleboard with teachers from Yoga Samudra.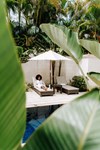 If you seek wellness through forest-bathing, the island's many hiking trails will give you plenty of opportunities to immerse yourself in nature. But our favourite spot to go is Hunte's Garden, a lush bit of rainforest landscape tucked in the centre of Barbados.

Make sure you check out the sign at the front with photos of the 80-some species of flowers, birds and animals you'll see along the garden paths. We love sitting quietly on a bench beneath a swaying palm tree, listening to hummingbirds and green monkeys overhead, as we breathe in the aroma of purple lilies and wild orchids. 
---
Ready to go?

Barbados is welcoming Canadian travellers with a negative lab-performed rapid antigen or PCR test.
Check out the latest

travel updates

and the

Visit Barbados

site for more trip inspiration, or view our best Barbados offers to help you plan your next vacation.