Here's Your Trip to Spain, Sorted

Now that we can travel again, we want to eat up the world. We want to savour Michelin-starred meals, walk under Moorish arches and wander neighbourhoods that have inspired the world's best artists and authors. One destination offers all of this on a silver platter, served with a luscious glass of wine: Spain.

Don't worry if your trip-planning skills have been pushed to the backburner over the past few years — we've done the travel research for you.
Here's what to see, eat and do in trendy Barcelona, cultured Madrid and beachy Malaga — the three cities Canadians can fly to directly — plus our recommendations on where to stay in each spot.
Consider this a mix-and-match guide for your trip to Spain. Choose just one city if you can only get away for a few nights, or combine all three into a longer vacation.
Travelzoo Tip: Spain is ready for us; fully vaccinated Canadians just need to fill out a form and show their proof of vaccination to enter (there are no tests required).
---
Barcelona
Barcelona is all curves. From the looping panot sidewalk tiles to the wavy walls of Gaudi architecture, the whole city feels like it's swaying. Heck — you can't even cross the street without swerving, because city blocks are rounded, not square.

Visitors can't help but fall into Barcelona's unique rhythm. You'll feel it in the tapas restaurants where menus change daily, or the swirl of a dark glass of wine late at night. And in the morning, as you watch the sun rise over the warm Mediterranean, you'll hear it in the waves lapping the city's golden shores.
---
What to see: 
Along with the Great Wall and the pyramids of Giza, La Sagrada Familia is a man-made creation you must see before you die. Period.

Work on this still-unfinished basilica continues nearly 140 years after famed architect Antoni Gaudi first sketched its design on paper, so generations of Barcelonans have witnessed the carving of its impossibly detailed facades and the placement of everything from fruits to stars on top of its towers and spires.

While the exterior boggles the mind, the real show is inside. (Get a ticket ahead of time to make sure you can get in.) We'll never forget the humbling feeling of soft light streaming through stained glass windows as we stared up at the forest of stone columns breathing within. 
---
What to eat: 
In Barcelona cuisine, it's all about the small plates. Tapas bars serving up grilled razor clams, fried artichokes and montaditos of jabugo ham and brie dot the city. One of our favourites is Vinitus, which has two outlets a five-minute walk apart near the cosmopolitan avenue of Passeig de Gracia. Sit outside for optimal people-watching as you sink your fork into fluffy tortilla de patatas or smoky, ash-roasted escalivada.
If you're looking to grab a bite on the go, slip inside La Boqueria, a huge covered market off of the famous pedestrian street, Las Ramblas. Originally opened in 1836, today about 200 vendors hawk rare fruits, pungent chanterelles, cayenne olive oil and raw oysters.

There's no need to browse hungry; many stalls sell a mix of sliced ham, fresh cheese and crispy breadsticks tucked into a paper funnel that you can carry like an ice cream cone as you peruse.
---
What to do: 
You can't leave Barcelona without viewing its rooftops from the mosaic-tiled benches of Guell Park. This 42-acre green space originated in 1900 as a private estate sculpted by for local entrepreneur Eusebi Guell by Gaudi.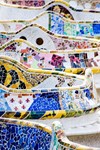 Walking through the park is like meandering through the modernist architect's mind. You'll stroll through aisles of leaning columns emerging from the ground like giant's ribs, climb staircases lined by whimsical lizards and stare out at the city from the photogenic terrace, which is framed by undulating benches coated with rainbow-coloured tiles.
---
Where to stay: 
If you want to be in the heart of the action, stay along Passeig de Gracia. It's the city's main drag, so well-known that any cab driver will be able to understand where you want to go, no matter how you pronounce its name. The area is surrounded by excellent restaurants, trendy boutiques and even a few Gaudi pieces like Casa Batllo.

For a more hip, laid-back trip, look at the Raval district, near the Museum of Contemporary Art of Barcelona. We recommend Casa Camper for its thorough sustainability practices and Michelin-starred restaurant.
Travelzoo Tip: Bring a good set of walking shoes. Barcelona is extremely walkable: If you wanted to, you could stroll from Guell Park in the north, to La Sagrada Familia, to the city centre, to Las Ramblas, to the beach — all in an hour and a half.
---
Madrid
Madrid is Spain's political, cultural and gastronomical beating heart. It's quite literally where Spain begins — a plaque in plaza Puerta del Sol tells visitors the exact "kilometre zero" point from which all radial roads in the country are measured.
With the city's top-tier museums, centuries of history and famously all-night nightlife, a trip to Spain isn't complete without experiencing the capital.
---
What to see: 
To get a feel for Madrid's grandeur at its peak, stand in the middle of the historic Plaza de Armeria. You'll be framed by stone archways on two sides, with the classicist facade of Almudena Cathedral to the south and the stately Royal Palace to the north.

Make sure you include a tour of the Royal Palace on your Madrid itinerary. The 3,418-room residence is the largest royal palace in Western Europe, and visitors can actually enter the velvet-draped throne room, step into the royal dining room (with a table that can seat 150 guests) and get up close to the hanging artwork throughout the building.
Opt for a ticket that includes entry to the palace kitchens and you'll see gigantic paella pans, antique ice cream makers, royal china, wine cellars and former dinner menus, too.

Walk 15 minutes northwest to cap off your day of sightseeing at the Temple of Debod, a 2,000-year-old Egyptian monument transported to Spain in the 1960s as a gift. Sunsets here are particularly spectacular.
---
What to eat:
You'll eat well in Madrid. Its culinary scene is a mix of old and new, offering both deep-rooted staples and ultramodern haute cuisine.
For a time-tested taste, dine on suckling Segovia pig or roast lamb at Sobrino de Botin, the oldest restaurant in the world (Guinness Book of World Records).

Opened in 1725 and operating continuously since then (with the same wood oven!), the restaurant notably appears in Ernest Hemingway's novel "The Sun Also Rises," in which the narrator calls it "the best restaurant in the world." It's a few minutes' walk south of Madrid's main Plaza Mayor.
On the other end of the spectrum, many of Madrid's 21 Michelin-starred restaurants transport diners to the future. Leading the pack is the three-starred DiverXO.

Recently named one of the top 50 restaurants in the world (The World's 50 Best Restaurants), it's renowned for daring, avant-garde dishes of Iberian-Asian fusion like black-pudding-stuffed shumai or grilled cuttlefish with Korean gochujang. Dinners here can last four hours and courses often require a specialty utensil.
If you can't get a coveted table here, no sweat — chef Dabiz Munoz opened the no-reservations StreetXO so all diners can savour yuzu-coconut scallops and kimchi croquettes.
---
What to do:
In a city as cultured as Madrid, it's only fitting to have a day of arts and letters in the Literary Quarter (Barrio de las Letras). Many of Spain's most acclaimed authors, including Don Quixote's Miguel de Cervantes, once called this neighbourhood home, and today their mark lies in every bookshop-lined lane. Some of their words are even inscribed into the pavement.

Wander from Calle de Las Huertas to Plaza de Santa Ana, pausing to step inside independent theatres, unique bookstores, traditional-craft shops, tapas bars and cafes, all overseen by statues of poets and playwrights.
Madrid's world-renowned Prado Museum stands just 10 minutes' walk east. On your way to its works of El Greco and Rembrandt, don't skip over strolling down the Paseo del Prado, the north-south boulevard lined with museums, leafy trees and gushing fountains.

This artsy area, along with the massive Buen Retiro Park next door, became a UNESCO World Heritage Site in 2021.
---
Where to stay:
Both Centro (near the Royal Palace complex) and Retiro (by Prado) are ideal bases for seeing the sights on foot. If you're looking to taste a bit of Madrid's late-night tapas scene, stay in the livelier La Latina quarter.
---
Malaga
Malaga's famous for its beaches — after all, the coastal city boasts 16 of them — but it's so much more than just sunny shores.

It's the art-inspiring birthplace of Pablo Picasso, host to the first Centre Pompidou outside of France and home to over 2,800 years of history that spill out from the city's every corner.

Just one example: When renovating the 16th-century mansion that now houses the Picasso Museum Malaga, excavators uncovered remains of sinks from a Roman fish-salting factory and remnants of a Phoenician dwelling dating back to the seventh century B.C. (All of these ruins are still preserved in the basement of this 21st-century institution.) A visit to Malaga entails seeing a millennia-old city once again coming into its own.
---
What to see:
After Phoenicians founded Malaga, it was conquered by the Romans, Visigoths and Moors. See this legacy of civilizations for yourself at the foot of Mount Gibralfaro, a high hill that abuts the city's historic centre. There lies a Roman theatre first constructed in the first century B.C., which was re-discovered in 1951 after hundreds of years underground.

Gaze up from the amphitheatre to see one of Malaga's most renowned sights, the thousand-year-old Moorish palace-fortress of Alcazaba. You can stroll around this former royal residence's gardens and pass through its keyhole arches before heading up the hill, on a path shaded by pines and soundtracked by street musicians, to the 14th-century Castillo de Gibralfaro.

Grab a coffee at the castle's café and soak up sweeping views of the city's terra-cotta rooftops and the seaside marina.
---
What to eat:
Few restaurants can claim to be as Malagueño as El Pimpi, adjacent to the Picasso museum and one minute's walk from the Roman theatre. Everyone from Salvador Dali to Antonio Banderas has visited this 40-year-old institution to dine on dishes like Iberian pork cheek and Malaga-style squid.
For a more casual experience, head to the Pedregalejo Beach area. Tons of restaurants and food stands sell fresh seafood you can eat outside while smelling the salt air and watching the waves greet the shore.

Don't miss the espetos. Well, you won't be able to miss them — these sardine skewers grilled over a wood fire are as tasty as they are fragrant.
---
What to do:
Pablo Picasso spent his early childhood in Malaga, and you can follow in his footsteps when you visit his hometown. Start at 15 Plaza de la Merced, the building in which he was born, which now houses a museum showcasing exhibits about his parents and Malaga at the time.

Walk a few minutes south on Calle Granada and you'll pass the church where he was baptized and the spot where his uncle ran a jewelry store on your way to the Picasso Museum Malaga, where you can see nearly 80 years of the artist's work in over 230 sketches, paintings, lithographs and sculptures.
---
Where to stay:
First-time visitors looking for convenience can't do better than a stay in Malaga's historic centre, close the main street of Calle Marqués de Larios. You'll be within walking distance of the Alcazaba and surrounded by restaurants and boutiques housed in 19th-century buildings.
Travelzoo Tip: Malaga is a great jumping-off point for some of Andalusia's most treasured UNESCO World Heritage sites. Granada's Alhambra, Cordoba's historic centre and Seville's 1,100-year-old palace are all within a 1.5- or 2.5-hour drive.
---