Rugged, deep and away from it all at Skeena Cat Skiing & Boarding in Northern B.C.

The snowcat growls at it lurches forward and cuts a powdery path up a precariously steep ridge. Large windows look out onto snow-capped mountains as far as the eye can see. The scenery is downright impressive, even by Beautiful British Columbia standards. And as the snowcat comes to a stop atop a peak, it's hard not to feel like you've arrived at the edge of the world.
This is Skeena Cat Skiing & Boarding, the northernmost cat-skiing destination in British Columbia with a remote and wonderfully pristine wilderness that's as much a visual treat as a powder-plundering paradise. Vast peaks and valleys in the Babine Range stretch out on the horizon, and in the distance, Mount Thomlinson punctuates the landscape with a mighty exclamation. 
The zone is located about 80 kilometres north of Smithers, a government and logging town that in recent years has created a true outdoor recreation community with a wave of newcomers attracted by the laidback lifestyle, lower cost of living and northern spirit. 
As the machine trundles down the ridge and out of sight, silence cuts the air in an eerie, almost unearthly way. There are no crowds, no lift lines, no cell service. In this moment the reality sets in that this is as close to the middle of nowhere as it gets. Skeena is wild and raw and unrefined, so for dyed-in-the-wool riders chasing bonafide experiences as much as powder, it's the real deal. 
---

An untamed, high-alpine backcountry experience away from it all
The buzz is palpable as Bruno, our veteran guide in these parts, provides a briefing on navigating the run below. Safety is a priority as much as fun, after all. And then it's go-time. Dropping in one by one, any troubling weight from a life chaotic is lifted away as the snow parts under skis and snowboards and the lullaby-like swooooosh of rhythmic turns encapsulate the moment.
Bounding through backcountry powder is the holy grail for every dedicated snow junkie. And for the uninitiated, cat skiing is your ticket to ride it. It's a form of guided backcountry exploration, taking you away from the borders of controlled ski areas to ride through untouched powder. Rather than using a lift to access snow, a snowcat takes you up the mountain on purpose-built snow roads, drops you off at the top for a guided descent through untouched snow and picks you up again at the bottom to do it all again.
It's exploration, it's adventure, it's freedom. There's so much terrain out there to discover, and cat skiing is how you can get out there and find it. You can pick your own untracked lines, and enjoy the stunning scenery through open bowls, forests and steep powder descents. 
Skeena has access to an enormous backcountry tenure — at about 30,000 hectares, it's one of the largest in the province — and deep, dry powder is all but guaranteed. It's located in a weather sweet spot where the moisture-laden Pacific air collides with frigid winds from the interior to deliver frequent dumps of light and airy snow, the kind that burns thighs (in a good way) and puts a snow-crusted grin on your face like nothing else. 
---

Heartwarming camp vibes and all the refreshing air you can inhale
Arriving at the Skeena basecamp comes via a thrilling helicopter lift direct from Smithers (a new feature as of last winter). Perched at 1,200 metres up Gail Ridge, you're welcomed by a warm, smiling crew — which includes Keenai, the huge and hairy yet extremely friendly wolf-dog — while luggage and gear are swiftly organized and a delicious dinner is served.
Skeena basecamp is a rugged setup in the high alpine — so don't expect highfalutin and luxurious amenities. What you will find is a genuine backcountry experience with toasty-warm northern hospitality, emphasizing a communal atmosphere and skiing and snowboarding as a priority above all else.
A collection of heated and insulated quonsets half-buried in a winter's worth of snow make for a surprisingly comfortable slumber. Utter exhaustion from descending some 4,500 metres that day mixed with a strong nightcap also helps the sleep. Rounding out the basecamp is a shower house with on-demand hot water and a common hall for shared meals and apres lounging where epic stories of the day are rehashed.
The food from the camp kitchen is outstanding and a wilderness culinary experience unto itself. All meals are prepared on-site from scratch, using organic ingredients, grass-fed meat and wild seafood. An early breakfast spread starts with eye-opening camp coffee and includes homemade oat porridge, granola and fruit followed by a plated hot breakfast. Lunches are made fresh every morning and guests can nip into a brown bag in the cat whenever hunger strikes. Upon returning to basecamp, hors d'oeuvres and cold drinks are served in the common hall before a four-course gourmet feast caps each evening.
Full disclosure: you will have to sneak outside in snowy, subzero temperatures to pee in the middle of the night but, when skies are clear, you'll be treated to a glitter bomb of stars overhead while you do your business. Otherwise, the basecamp is cozy with comfy quarters, an always-roaring woodstove and plenty of chatter and laughter that make it feel like home. 
---

The daily routine that never gets old
The morning wake-up call in these parts begins with yawning growl of the snowcat firing up. After coffee, breakfast and a snow and safety briefing, we're ushered up the mountain. In a connected world, discovering new places that genuinely feel far out is becoming increasingly rare, but at Skeena, you step out of your tent and into a snowcat to explore the wilds. It's here that you can roam seemingly endless amounts of rugged and rolling alpine, powder bowls, spines and glades of fir and spruce cut with gullies and dashed with cliff bands. 
Days consist of a magical dive into the powdery depths that is repeated over and over and over like a rhythmic chant. A butterfly-inducing yet seductive surrender to gravity, whizzing up over rollers and down into gullies, the shadows of bark and branches in the trees, and then a quick glance and grin at your skiing buddy as you glide past, the blur of a bright jacket contrasted on a palette of white, before you're both overcome with hooting, hollering and a high five when you regroup at the bottom. 
This private powder paradise is shared by a couple of cats of 12 that head in opposite directions each day, with a guide, tail guide and cat driver who are all there to keep you safe and having the time of your life. A typical day here can mean 10 to 15 runs and up to 15,000 feet of vertical, but don't worry, there is plenty of fresh snow to go around and no need to ride the same line twice (though you'll probably want to). In fact, there's a good chance of claiming first descents and naming new runs at Skeena because so much of the terrain is uncharted. About 40 to 50 named runs are official with more being added to the repertoire each season.
It all adds up to a lot of big, dreamy lines, but be warned: you'll be left with sore legs, a warm glow and a likely case of powder withdrawal. 
---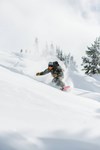 Getting there is easier than you think
The logistics of getting to this part of British Columbia can seem unnerving, but a direct flight from Vancouver to Smithers is followed up by a quick and exciting 30-minute helicopter ride to Skeena Cat Skiing's backcountry basecamp. On top of the epic views of the Skeena Mountains from above, it also makes for a surprisingly shorter door-to-door travel day from Vancouver to Skeena compared to operators in other southern parts of the province. 
If you go, be sure to spend a day or two running warm-up laps at Hudson Bay Mountain which looms above the town. With non-existent lift lines and uncrowded runs, this local ski hill is a refreshing step back in time in the best way possible. Afterwards, take in the shops, restaurants and breweries of Smithers and enjoy the European ambience of this northern B.C. town, which has adopted a decidedly Swiss character with alpine-style rooflines, red-brick sidewalks and giant alphenhorn on main street.
---
Ready to go? Visit Skeena Cat Skiing & Boarding for more information and to book a trip this winter.