Recharge your happiness batteries in Copenhagen

Photo by Daniel Rasmussen
If you look at any "happiest countries" list, Denmark is never far from the top. After all, this is the land that invented "hygge," that warm contentment over the simple things in life. Now, don't get us wrong, we know Canada is often near the top of the United Nations World Happiness Report, but in the past 10 years, it has fallen from the fifth spot to 15th. We could use some recharging of our happiness batteries.
One of the best ways to do this is to experience the Danish way of life — everything from green living and food and drink to its architecture and history. Start with a trip to Copenhagen, the capital city, which is now easier than ever to visit.
Thanks to new nonstop Airbus A321LR flights from SAS, Copenhagen is directly accessible from Toronto either two or three times a week, depending on the season. In all three of its travel classes, cabins are equipped with high-speed Wi-Fi and adjusted mood lighting.  


So, go on, book your Danish getaway and we'll help you plan the best ways to see the city.   
Green Living
Copenhagen was about sustainability long before it was a buzzword. (Denmark moved away from being dependent on fossil fuels back in the 1970s.) Today, green living is second nature and more than 30% of Denmark's energy comes from renewable resources.

As a compact city, it's easy to get around Copenhagen on foot or via its bus, train or water taxi routes. If you want to really feel like a local — i.e., more than half the city's population rides a bike every day — rent a bike through the bike-share program and you'll be pedalling alongside kindergartners, office workers and politicians. There are tons of green oases around the city so you can stop and rest in nature; with about a quarter of the city being green space, it's the opposite of a concrete jungle.
For an even closer look at nature, head to the Botanical Garden, just steps from Nørreport Station. Part of the Natural History Museum at the University of Copenhagen, the garden is free to the public and houses the largest collection of living plants in the country. More than 13,000 plant species can be found here, along with a butterfly house and a tropical palm house.


Copenhagen also raises eyebrows (in a good way) when it comes to its harbour water. As in, it is so clean that you can literally jump in the city's harbour and go swimming without thinking twice. Over the past few years, the city has invested a hearty amount of funds to improve both wastewater treatments and the sewer system to make the harbour cleaner, all to benefit its people. If you prefer to keep yourself dry, you can rent an eight-person GoBoat and soundlessly drift around Copenhagen's harbour; these environmentally-friendly boats have electric engines recharged by solar panels.


---
Food & Drink
Along with topping liveable city lists, Copenhagen also gets a nod when it comes to its cuisine. In 2021, 14 restaurants received 23 Michelin stars. Noma and Geranium each took home three stars this year, and in 2021, they were named to first and second place, respectively, in the World's 50 Best Restaurants Awards.  


While reservations may be hard to get for the Michelin-starred restaurants (adding yourself to their wait lists is recommended), anyone can get into the Torvehallerne food market. Located between the Dronning Louises Bridge, which crosses the Copenhagen lakes, and Nørreport Station, this glass market sells fresh fruit and vegetables as well as ready-to-eat items like pastries, sandwiches, pizza and coffee. When you're in there, be sure to try smørrebrød, a traditional Danish open-faced sandwich, at Hallernes Smørrebrød. While there can be different combinations in said sandwich, like potato and bacon or shrimp and egg, a local favourite is the fiskefilet, which is a piece of breaded plaice on rye bread, topped with lemon and remoulade. Another food on the must-try list is pølse, a Danish hot dog, which is comprised of soft buns, smoked hot dog, raw onions, fried pickles and Danish remoulade.
If you're looking for street food with a view of the harbour, check out Copenhagen's new "it" area of Refshaleøen. Its organic street food market, Reffen, has more than 50 startups in the form of food stalls and bars. Here you can get a kebab at Yallah Yallah, homemade Mexican burritos at Nomames, Moroccan cuisine at Maroc Maroc or Cajun gumbo stew at Big Easy. 


Copenhagen is happy to oblige when it comes to alcoholic beverages. This is a beer culture, so you'll fit in by ordering local brands like Carlsberg, Tuborg and the newer Mikkeller. Head to a bodega for some cozy socializing, or an English-style pub, or spread out on rooftop bars throughout the city. Take advantage of the fact that you can walk around outside with your beer, too.
---
Modern Architecture
While you're strolling or biking around Copenhagen, you'll see a lot of four- to six-storey buildings, rather than skyscrapers. Rather than being imposing, Danish design is more about being useful and improving life for the locals (and visitors). Key elements include light, water, open spaces and sustainability.
One of the best examples of this is Amager Bakke, a.k.a. Amager Slope or CopenHill, which is a facility that turns waste into energy. Unlike standard power plants that you would pass on a highway in North America (think: grey, ugly, not worth looking at), Copenhagen managed to make this a recreational destination. The building was covered by a year-round artificial ski and snowboard slope, and hikers are also welcome to climb to the top as well.




Copenhagen is bisected by its swimmable harbour and it's also crisscrossed by canals, so the city has quite a few bridges. What's notable about this, and you might be able to guess this theme, is that many of these bridges are not big enough for automobiles. These are bike and pedestrian bridges only. Take a stroll or pedal across the Inner Harbour Bridge in Nyhavn, the Bicycle Snake on the harbourside or the newest one, Lille Langebro in central Copenhagen.  


---
Incredible History
Trace the path from Vikings to royals as you walk along cobblestoned streets and look at ancient castles and palaces. Start at the harbour and you'll see Hans Christian Andersen's Little Mermaid sculpture sitting on her rock.


Whether you visit the museum at Amalienborg Palace or just take a selfie outside, it's worth stopping by to look at the home of the Danish royal family. Denmark is home to one of the world's oldest monarchies and these four identical palaces in an octagonal courtyard date back to the 1750s. The Royal Guard changes every two hours, with a complete change of the guard at noon every day. If a raised flag is seen at Christian IX's Palace, that means the queen is at home.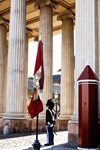 For a further look into Copenhagen's past, present and future, head to the city's Cultural District. Here you will find 19 museums and cultural institutions, all within a 10-minute walk of each other. Check out bone combs from the Viking Age or the skeleton of a Middle Ages warrior at the Museum of Copenhagen. See relics from the Bronze Age and more at the National Museum of Denmark.
Catch a lecture or a concert at The Black Diamond. Talk to archaeologists and even help wash and sort finds at The Archaeological Workshop. Or just live in the moment on one of the world's oldest roller coasters and scream your heart out in Tivoli, the second oldest theme park in the world. You are on vacation, after all.


---