Montserrat: 10 reasons to visit this winter

Photo credit: Uncommon Caribbean
Talk about a comeback. In 1995, Montserrat — a verdant pear-shaped drop in the West Indies —  saw the eruption of Soufrière Hills, the 1,000-metre volcano that had been quiet for centuries. The southern half of the island was buried in ash, and visitors stayed away. Today, though, savvy beach-lovers seek out Montserrat for some of the most dazzling beaches and terrain in the Caribbean, untouched by mega cruise ships and all-inclusive resorts.  
Its 5,000 residents — many of whom have island-wide nicknames — are practically one big, friendly family. And its dramatic, volcanic ash-covered history only makes it more intriguing. 
And in another comeback (this time, post-pandemic), Montserrat is welcoming visitors again with no restrictions. Here, we celebrate 10 reasons why Canadians should visit Montserrat this winter, before the crowds catch on. 
---
1.  The dramatic black sand beaches 

Montserrat's tranquil beaches and forested trails offer so much for nature enthusiasts to explore. Beach lovers should head straight for sunset-facing Woodlands Beach, a stunning stretch of black sand yawning between two striking dramatic cliffs. (Travelzoo Tip: Go from May-December for a chance to see tracks from nesting turtles crisscross the shore.) Or for calm, extra-swimmable water, pick a spot a few kilometres south of Woodlands on Isle's Bay Beach. 
---
2. Hidden-away beaches with snorkeling right off shore 


Montserrat's sole white sand beach, Rendezvous Bay, is tucked into the island's northwest corner. To get there, you need to kayak from nearby Little Bay (where you can rent watersports equipment), take a short five-minute boat ride or hike about 2 kilometres over a grassy trail. No matter which path you take, the reward is a gorgeous shoreline lapped by crystalline waters and snorkel-ready reefs. 
---
3. The volcano's legacy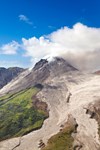 In 1995, about 400 years after its previous blast, Montserrat's rugged Soufriere Hills volcano began to rumble. Over the next few years, a series of eruptions blanketed the island's southern half with ash. The capital of Plymouth was evacuated. Today it lies preserved like a present-day Pompeii, and you can tour this ghost town with a certified guide. (They keep in direct contact with the Montserrat Volcano Observatory, which monitors any current activity very closely, and is also a part of the tour.)  
For a postcard-worthy shot of the volcano itself, drive to the top of Jack Boy Hill near the eastern coast. The viewing platform has a telescope so you can observe the mountain up close. Bring lunch; the tables at the top are perfect for a picnic.
But our favourite place to enjoy volcanic views is from a bitesize beach that's so under-the-radar it's not even listed on Google Maps: Barton Bay. This stretch of shoreline is only about 7 kilometres from the Soufriere Hills. Beachgoers can simultaneously make footprints on soft sand, feel the spray of the warm Caribbean and gaze up to watch a crown of steam encircling the volcano's peak. 
---
4. See where Elton John, the Rolling Stones and the Police all recorded albums 

In the late 1970s, legendary Beatles producer Sir George Martin fell in love with Montserrat. He built the state-of-the-art AIR Studios on the lush island to give artists the chance to produce new songs in paradise.  
Paul McCartney, Stevie Wonder and Elton John all recorded there. World-famous tunes like the Police's "Every Little Thing She Does is Magic" and "Feeling Hot, Hot, Hot" (sung by Montserrat's native son, Arrow) all came to be within the island studio's walls. Watch the acclaimed 2021 documentary about AIR Studios, "Under the Volcano," to see the artists in action.
The studio shuttered in 1989 after a hurricane hit the island hard. It's not open for tours today, but the island's musical history is still on display at local joint Hilltop Coffee House and Family Centre, where you can sip an espresso or tropical fruit juice while gazing at memorabilia from the studio's heyday that cover the café walls. 
---
5. The hiking trails are heavenly


If you can tear yourself away from the water, Montserrat's network of hiking trails winds you through forests of banana trees, cassava plants, fringing ferns and rare orchids, typically ending with a picturesque view of the island's peaks and the surrounding Caribbean Sea. (You may also stumble across hidden waterfalls or Amerindian petroglyphs.)
Go with a guide to make sure you spot all the local flora and fauna, especially along Oriole Walkway, where you'll likely hear the call of the trail's namesake, Montserrat's national bird.
---
6. Winter is a wonderful time to go 

Montserrat is warm all year round, but when you want to escape the snow and ice of a Canadian winter, you'll really appreciate the climate on this sunny isle. December and January temperatures typically reach highs of 28 degrees celcius, and drop to a not-even-slightly chilly low of 25.  You won't have to worry about hurricanes or rain, since December to June is dry season. For an extra-special experience, time your visit to the Montserrat Carnival, a year-end festival running from mid-December through New Year's Day. This year the island celebrates 60 years of Carnival. Expect parades and performances, calypso competitions, and as much fun as you can handle.
---
7. St. Patrick's Day is a public holiday 


Prefer to travel a little later in winter? Consider March 17. Only three regions in the world celebrate St. Patrick's Day as a public holiday: the island of Ireland, Newfoundland and Labrador, and Montserrat. 
In fact, in Montserrat the festivities are not a one-day affair; Montserratians throw parades, food fairs, outdoor concerts and pub crawls for a full  week or two, making mid-March a particularly fun time to see the island.
Montserrat's ties to Ireland run deep. Irish Catholics began settling on the island in the 17th century to escape English persecution. Many people in modern-day Montserrat have Irish surnames, villages bear Irish names and, when you arrive on the island, you get a shamrock stamped into your passport. 
But the Montserrat version of St. Paddy's is distinct. Montserratians at this time also honour a rebellion that took place on March 17, 1768, by slaves who were hoping to take advantage of their masters' holiday drunkenness to fight for their freedom. An Irish woman overheard their plans, though, so the slave owners were prepared for the revolt. That's why St. Patrick's Day celebrations on the Emerald Isle of the Caribbean, as Montserrat is aptly known, are nuanced and complex. They commemorate Irish heritage and how it interweaves with Montserrat's African ancestry. 
---
8. Your private pool villa awaits 


Montserrat's shores are free of crowded all-inclusives. You won't need to worry about vying for poolside loungers or standing in line for repetitive buffets when you visit the island. Instead, you'll stay in a cozy B&B or, most likely, a private villa.  
These multi-bedroom properties — most of which have their own pools, Wi-Fi and full kitchens — are Montserrat's main option for accommodations. You can rent one for anywhere from US$100-US$450 per night, depending on size, beach proximity and seasonality. Rates drop from April-November and get even lower if you stay a month or more. Some villas boast A-list names on their past guest lists, which isn't surprising, considering how many celebrities frequented the island over the decades. (For example, Princess Anne enjoyed this Mango Falls property during her 2005 visit.)  
They're also perfect for multigenerational family trips or friend reunions, as some estates even have separate apartments for those in the group who need more privacy. And many rental agencies offer housekeeping and grocery services, tour arrangements, car rental bookings, restaurant reservations and more, giving you one expert point of contact to simplify your vacation. 
---
9. It's paradise for remote workers 


If you're lucky enough to be able to take your job on the road, might we recommend Montserrat? Combining work with windsurfing (or whatever else you love to do in the Caribbean) is easy here, where applications are streamlined and Canadians can work from the safe, tech-savvy island for up to 12 months through the Remote Worker Stamp program. You can even send your children to school in Montserrat during your time on the island. To qualify, you'll need to work or freelance for companies outside Montserrat and have an annual income of USD$70,000. 
---
10. Montserrat is easy to get to from Canada


To get to the Emerald Isle of the Caribbean, you'll fly from Toronto Pearson to the nearby island of Antigua. WestJet and Sunwing offer nonstop flights twice a week, and other airlines also service the 4 hour, 45 minute route. From there, it's just a short 20-minute flight from Antigua to Montserrat on Flymontserrat or SVG Air.