Country Stars Swear By These 5 Under-The-Radar Nashville Hot Spots

Planning to visit Nashville? We've got some expert advice from people who know the town inside and out. Not only have these country musicians' boots scuffed up the stages of Music City, they're also all native Nashvillians. Here, the five hometown stars share their favourite under-the-radar hot spots in a city famous for both styles of music: country and western.
---
The best place for unique finds?
Cam, whose single "Diane" is out now, recommends Old Made Good at 3701B Gallatin Pike: "They just have such cool, different stuff. I bought a bunch of their paintings that have random sayings across the front."

---
The best place for a nice dinner?
The Southern fine-dining destination Watermark (507 12th Ave. S.) is the top choice of Jordan Davis, "because it's the place where I had my first dinner date with my now-wife." His debut album Home State features "Singles You Up," a top 10 country hit in the States.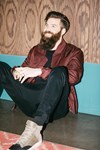 ---
The best day trip?
"Mammoth Cave National Park is a short hour-and-20-minute drive from Nashville, and is one of the largest cave systems in the world. You can see layers and layers of limestone in about 405 miles of cave passages," says Lindsay Ell, whose debut album "The Project" (featuring hit single "Criminal") dropped last year. She's on tour with Sugarland this summer from July 19 to Sept. 7.

---
The best post-gig grub?
"Every restaurant on 'M Street' [the nickname for McGavock Street between 11th and 12th Avenue] is divine," says Brett Kissel, whose album "We Were That Song" dropped in December. 5th and Taylor [at 1411 5th Ave. N.] is one of my personal favourites, as it's located in Germantown and is a celebrity hot spot. Ask for a local whiskey like Belle Meade Bourbon."

---
The best places for live music?
"If you are looking for something low-key, like a writers' round, check out The Listening Room Café [at 618 4th Ave. S.]," says Madeline Merlo, whose single "Motel Flamingo" is out now. "3rd and Lindsley [818 Third Ave. S] is a great venue for music, as well as Cannery Ballroom [1 Cannery Ballroom]."