Australia's wild beauty in 5 unbelievable photos

There's no place like Australia. Every corner of the country-continent boasts the kind of natural wonder that stops your breath and reminds you just how mind-bogglingly big the world really is. And now that Australia has flung its arms open wide to travellers — who no longer need to take tests or show proof of vaccination —  it's time to pack our bags and go.
Here are five photos of Australian destinations that make us beyond excited to return to the epic land Down Under.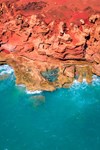 1. Gantheaume Point
On a tuft of land along Australia's northwest coast, there's a place where the turquoise Indian Ocean carves into red pindan rocks. The result is stunning — no one will believe your Gantheaume Point photos are #nofilter.
Perhaps part of the magic comes from the lore seeped into the soil itself. Aboriginal people have long told legends of this area, especially of the three-toed footprints only revealed at low tide, known as the tracks of the deity Emu Man in local culture. Today, we know that those footprints are the 130 million-year-old prints of a Megalosaurus.
In fact, 21 different types of dinosaurs have marked a 26-kilometre stretch of coastline around Gantheaume Point's Dampier Peninsula, making it the most diverse section of dinosaur footprints on the planet.
Getting there: This spot is a five-minute drive from Broome, which you can fly into from most Australian cities.
---

2. Kangaroo Island
About 60,000 kangaroos hop around this island, which is located off the southern coast of Adelaide. These marsupials are a subspecies of the mainland's Western Grey kangaroos, and you can see them playing in their natural habitats within the island's parks and reserves (or sometimes just on your way to a restaurant).
But don't think Kangaroo Island is only home to kangaroos. It boasts such biodiversity that some even liken it to the Galapagos. At Flinders Chase National Park in the west, for example, visitors can see koalas climbing eucalyptus trees, eagles flying overhead and echidnas — the only living egg-laying mammals apart from platypi — digging for worms.
One of the island's most well-known attractions is Seal Bay, where a colony of sea lions sun themselves on the beach. You can watch them play from an 800-metre boardwalk and viewing platform or get a guided tour on the sand (just book at least nine hours before you go).
After a day of sightseeing, enjoy a tipple at one of the island's vineyards, distilleries or microbreweries, or sit down for a farm-to-table meal. Our favourite spot is Sunset Food & Wine (which reopens for the season in mid-December) for its thoughtful tasting menus and unimpeded views of the sun setting over American Beach.
Getting there: The island is a 35-minute flight from Adelaide or a 45-minute ferry ride from Cape Jervis.
Travelzoo tip: Consider this 12-night tour of the Golden Outback with a ferry trip to Kangaroo Island. 
---

3. Great Barrier Reef
In a country-continent brimming with superlatives, the Great Barrier Reef still manages to stand out. This collection of about 3,000 reefs is the largest living structure on Earth — so massive that it's visible from space. The Great Barrier Reef is one of the Seven Natural Wonders of the World, a UNESCO World Heritage Site and home to 25% of all known marine species. It's a big deal.
There are so many different ways to explore this underwater realm. Tour operators departing out of Cairns or other coastal cities take visitors to the reef to snorkel, scuba dive or walk along the seabed in a special transparent helmet (check out the company Seawalker).
You can even spend the night over the reef with Cruise Whitsundays, an outfit that runs a large pontoon moored about 70 kilometres from shore. After a day discovering the reef, you'll slumber on deck in private daybeds or below deck in a submerged suite, gazing at tropical fish swimming by your floor-to-ceiling window.
Getting there: Many Great Barrier Reef activity operators depart from Cairns in Queensland. If you'd prefer to visit that area on an organized tour, check out this 13-night package with which include excursions to the reef.
---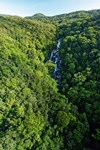 4. Daintree Rainforest
The lush ferns, soaring trees and climbing vines of Daintree Rainforest first started to flourish about 180 million years ago, making it the oldest tropical rainforest in the world (sorry, Amazon).
Daintree is a paradise. Under its verdant canopy, tree-kangaroos and forest dragons cling to mahogany trunks, and electric-blue butterflies flit by 2-metre-tall cassowary birds. Crystalline rivers lined with ancient plants flow over polished boulders and waterfalls gush from every corner.
To experience its beauty for yourself, you can hike with an Aboriginal guide, do a nocturnal trek, cruise near crocodiles on Daintree River, or float and snorkel down the waterway on a raft (check out Back Country Bliss for this excursion). If you want to stay overnight, book a room at the luxurious Silky Oaks Lodge, a treehouse-style retreat that made Conde Nast Traveller's 2022 Hot List.
Getting there: Daintree is in Queensland's far north; the closest international hub is Cairns. From Cairns, you can drive about 75 minutes to the Mossman Gorge area and hike there, or drive about 1.5 hours to activity operators along the Daintree River.
---

5. Uluru
The massive sandstone rock Uluru — the world's largest monolith — has long been one of Australia's most recognizable icons. It stands 348 metres tall (edging out the Eiffel Tower) and measures 9.4 kilometres around its base.
To the Anangu people, who have lived in Central Australia for about 30,000 years, Uluru is sacred. It was formed by their creation ancestors as part of Tjukurpa, or the Aboriginal traditional law and stories.
You can explore this sacred place by hiking part or all of its circumference, or by going on a guided tour to learn about Anangu culture. Come during the sunrise or sunset to see the rocks painted with pinks, oranges and reds; there are even designated viewing areas for these times to show you where to get the best angle.
Getting there: Uluru is a 30-minute drive from the Ayers Rock Airport, which you can fly to from many Australian cities. You can also visit Uluru as part of an organized tour.
---