A romantic Saint Lucia getaway just got more affordable

Many Canadians tend to stick to the same vacation spots year after year, presumably because they know they can expect to have a pleasant experience at an old standby. But Saint Lucia is creating a strong case for elevating "pleasant" to "idyllic" this summer: an island-wide sale offering up to 65% off more than 40 accommodations and experiences. And nonstop flights from Toronto add ease to the prospect of branching out, Saint Lucia style.
With its mix of unspoiled beaches, lush rain forest and often-Instagrammed landmarks (the towering Pitons that loom like beneficent sentinels off the island's southwest shore, for example), Saint Lucia easily justifies its place near the top of the "best honeymoon destinations" list from U.S. News & World Report. Its top-rated luxury hotels, private villas and eco resorts only add to the romantic appeal.

But there's more to do here than swing in a hammock—for those who want it. Between sessions of sand and sun, couples can connect over exhilarating hikes, unique wellness opportunities, intriguing markets and inspired plates of flavourful Caribbean fare.
Here's a look at six experiences that will set your Saint Lucia getaway apart.
Wellness—inside and out 
Saint Lucia's wellness experiences are a natural attraction—quite literally, in the case of one of the island's most sought-after spots: the mud baths at Sulphur Springs. The wellness complex is set at the foot of the Soufriere Volcano, and though it last erupted in the 1700s, it still steams, smokes and heats the muddy waters surrounding it.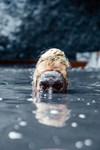 A day at the hot springs, mud baths and 50-foot waterfall (ideal for "showering" off the mineral-rich mud after a soak) is, according to many, more than a fun way to unwind. People come from all over for the reported healing properties of the baths; the sulfur-rich pools are said to be a remedy for skin ailments, poor circulation and pain, among other maladies.
But even if you and your sweetie are perfectly fit, basking in the mud and soothing springs here is a novel, must-try experience—and the mud-faced photos you'll take away as mementos are a nice bonus. You can enter on your own or as part of a guided tour package.


Detox days are accessible all over Saint Lucia, including, of course, at the island's spas. One especially noteworthy example is the Sanctuary Spa at Serenity at Coconut Bay Resort (which conveniently is offering a deep discount as part of the ongoing sale). The spa and beauty menu at this top-rated, all-inclusive Vieux Fort resort is literally 10 pages long, with sumptuous treatments like lava shell and hot candle massages, honey and lemongrass scrubs and mango passion wraps begging to be tried. The resort is a top choice among honeymooners and offers more than a dozen couples' treatments, including therapies carried out in oceanfront spa cabanas.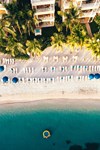 Also to consider for wellness seekers: The Landings Resort and Spa, a 5-star resort with a 7,000-square-foot wellness center. The spa houses VIP treatment rooms with private terraces, hydrotherapy tubs and showers; multiple treatment and relaxation rooms; and a menu that covers both classic and specialized treatments. (A brightness recharge facial sounds especially fitting heading into the summer months.) And yes, this all-suite winner is also offering a summer special as part of the sale.
Hikes to scenic outlooks 
Beyond the massage table, walks in Saint Lucia's lush landscapes are another way to truly unplug, and there are hikes for all fitness and ambition levels.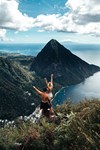 In case you were wondering, yes, it is possible to hike the iconic Pitons. Gros Piton, the taller of the two peaks, is a hike on the challenging end of the spectrum, taking anywhere from four and six hours to complete thanks to a steep, often wet trail that's peppered with roots, rocks and boulders.
Arguably, the views from the top make it all worthwhile. Depending on the weather and which viewing areas you're able to access, sapphire ocean expanses, the south side of the island and a look down upon the other Piton are all possible outlooks. You must buy a permit and hire a guide to take on this trail. (The smaller Piton, or Petit Piton, is even more difficult and recommended only for expert hikers.)


The Tet Paul Nature Trail offers a more relaxed alternative. The half-mile loop takes less than an hour to complete, and yet manages to deliver hikers to a scenic summit that offers views of the Pitons, the town of Vieux Fort, and possibly other island nations (Martinique, St. Vincent) in the distance, depending on visibility. The entry fee covers a small tour by a local guide, who can escort hikers to a working organic farm within the nature preserve, where guavas, avocados, soursop and medicinal plants grow.
And if getting in touch with nature ranks high on your list of reasons for travelling to Saint Lucia, you'll be enthused to know that there are dozens of hiking trails, nature activities and also lodging options that cater to this desire.


Fond Doux Eco Resort is one such place. There, you'll stay in one of 16 picturesque cottages nestled amid tropical foliage and on the site of a historic and operational cacao estate. You'll want to find time between treatments at the organic spa, meals from the onsite farm-to-table restaurants and dips in the rain forest-shrouded pools to try out the chocolate heritage tour.
The experience gives a view into every step of the chocolate-making process—from fermenting, to drying, to "dancing" on, grinding, extracting and powdering beans. Guests will even get to create their own chocolate from a cacao, cocoa butter and sugar mixture created right on the property. The eco resort has a compelling sale happening now to make the experience all the sweeter. 
A rich culinary scene 
Fresh island fare is another perk couples can count on during their Saint Lucia getaways. Caribbean, Indian, African, European and American culinary traditions all mingle on Saint Lucia's menus, and you'll want to eat broadly to grasp the breadth of flavors.
Start with a local favorite, like green figs and saltfish, Saint Lucia's national dish. Notably, the "figs" in the dish are actually green bananas boiled with salt and garlic, while the salt fish is typically cod, which was introduced to the island by the British in the mid-19th century. 


Spend an afternoon at Castries Market to try this and other popular dishes, like accras (fish cakes), lambi (seasoned and pan-fried conch meat) and cow heel soup (a satisfying mix of dumplings, carrots, split peas, okra and, well, cow heel); plus a host of fresh-picked local fruits.
The market was rated by National Geographic as one of the Top 10 Food Markets from around the globe, and, with its eclectic mix of booths, selling everything from homemade meals to crafts and souvenir T-shirts, it's also a prime spot to experience a slice of local life in the island's capital city.


Also in Castries, The Coal Pot Restaurant has been a fixture on the island for more than half a century, and it's a favorite both among locals and travellers in search of authentic and expertly prepared Saint Lucia cuisine. The seafood selection is wide, with lobster, barracuda, kingfish and dorado (a.k.a. mahi mahi) all cooked to order in your choice of sauce (coconut curry is the most beloved). A glass of the potent rum punch pairs well with everything—as do the waterfront views from the restaurant's secluded cove.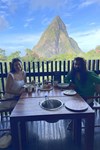 For a meal with a generous dash of romance, don't miss Rabot Restaurant in Soufriere (an area that is something of a hotbed of great dining spots). Every dish—whether the braised local pork, the beef filet or the housemade linguine—integrates local cacao. And while this natural aphrodisiac contributes to the romantic vibes of the place, the restaurant's position at the base of Petit Piton piles on even more amorous ambiance.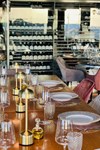 In the Vieux Fort Quarter, Artisan Restaurant (a participant in the summer sale) is a new restaurant and cocktail bar right near the airport. Its location makes it a convenient spot to grab a meal and a drink before catching a plane home, but its French fusion menu—which includes a five-course chef's menu—makes it a spot you'll want to visit for a few hours, not minutes.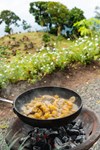 If all your dining escapades have you wishing you could take the island flavors home, consider Carol's Creole Cooking class, a small-group culinary workshop where you'll learn to make essential Saint Lucia dishes in your own kitchen. Classes are discounted as part of the island-wide summer sale; see the Serenity Vacations & Tours website for details.
Waterfalls worth chasing 
Waterfalls and romance just seem to go hand-in-hand, and that goes double when you're vacationing on an island that exudes honeymoon vibes at every turn. Toraille Falls is one of Saint Lucia's most popular nature stops, with its 50-foot rush of water and accessible location. Aim to go during less busy times (early morning or late afternoon) so you can enjoy more time swimming in the natural pool and getting pleasantly pummeled under the falls.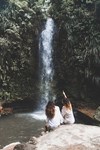 Diamond Waterfall is another gorgeous spot to behold. Notably, the rock behind the gushing water is lit up in unique hues that vary day-to-day thanks to changes in the mineral concentrations deposited by the stream (sulfur, magnesium, iron, calcium, etc.).


This singular sight comes at the end of a stroll through a lush botanical garden. Visitors can also take a dip in volcanically heated mineral baths to round out their experience (though swimming in the falls itself is not permitted).  
Indeed, the Soufriere region has more than a handful of waterfalls you can hike to, swim under, admire and photograph, so you can fill your proverbial cup with the beauty that literally gushes out of the island's nature sites. 
Suites for sore eyes
As alluring as exploring Saint Lucia's peaks, markets, dining scene and natural attractions may be, there's no shame in choosing to do very little during your getaway. A number of Saint Lucia's pampering resorts specialize in getaways that involve next to no finger-lifting, but loads of relaxation—and as more good news, several of these are offering special pricing this summer. 


Soufriere's Ladera Resort—which describes itself as "paradise between the Pitons"—offers an elevated experience, literally and figuratively. It's set 1,000 feet above the sea, its suites dotted across a volcano ridgeline, offering front-row seats to Saint Lucia's famous twin peaks. Without exaggeration, the views are staggering, and they're made even more astounding when taken in from the private plunge pool that comes with every suite and villa.
Notably, accommodations each come with one "open wall" for seamless indoor/outdoor living. The resort is also home to one of the island's top restaurants, Dasheene, known for farm-to-table cuisine, delivered with artful presentation. 

Another reason to celebrate Saint Lucia style this summer: One of the best-known and most beloved resorts on the island is also offering special rates. Jade Mountain Resort (also in Soufriere) is a 5-star luxury escape that's evoked praise like "beauty beyond words" (Travel Weekly) and "a sight to behold" (U.S. News & World Report). It houses guests not in rooms or suites but in "Sanctuaries" that open up to the Pitons and the sea.
The resort offers both European and all-inclusive dining plans, but you'll likely want to spring for the all-inclusive option since onsite restaurant Jade Mountain Club was created by James Beard Award-winning Chef Allen Susser.  


Though not as famous, boutique hotel Tet Rouge offers also offers an eco-luxe experience tucked into the hills of Soufriere, and for an appealing price. There are only six suites on the property, so stays here feel very personal and private. Suites each have both indoor and outdoor rain showers, and the large infinity pool overlooks the sea and Gros Piton. 


For those thinking of toting the kids along, Coconut Bay Resort, set on the south end of the island near the Vieux Fort Quarter, offers both adults-only and kid-friendly accommodations. Both halves of the large oceanfront resort are loaded with all-inclusive amenities, like nine restaurants, festive parties, an onsite waterpark, watersports equipment rentals, interactive events and nightly live entertainment.


Bay Gardens in Rodney Bay also has some great offers for summer travel, and the oversize beachside suites feature full kitchens, making it easy to eat in occasionally and save some cash for big nights out. 
Beachy bliss
Whether your accommodations are set on a mountaintop or steps from the sand, spending some time on Saint Lucia's sought-after shores is a romance must. Each beach has its own features and flavors; some offer epic views to take in from a beach blanket (Sugar Beach, set between the Pitons).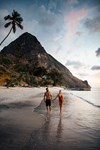 Others are excellent for endangered leatherback turtle spotting (try Grand Anse on the island's eastern shore—summer is nesting season and ideal for sightings), for experiencing volcanic black sand (try Anse Chastanet on western shores of Soufriere) or rubbing elbows with locals (head to Cas-en-Bas beach on the northeast corner of the island).
The island is a mere 27 miles long, so you don't have to limit yourself to swimming and sunning at just one. And whatever plots of this island paradise you don't manage to visit this time around, take heart—at least they'll give you and your partner something more to dream about ahead of your next romantic Saint Lucia escape. 
---