5 Reasons Why You Need the Travelzoo App in Your Life
Wanderlust and Convenience
Instead of enviously scrolling through the gorgeous vacation Instagrams of friends and celebrities online, the Travelzoo app takes things a step further. It features a mosaic of stunning destination images, sure, but they're also linked to deals you can purchase on your smartphone or tablet. You can also open the world map and let your thumbs trot through deals we've found across the globe. So whether you want to sunbathe in that #nofilter sunshine or find a good deal on a weekend escape – we've got you covered.
From A to Z
There are a lot of travel apps out there, and it can be hard to know which ones are worth the valuable storage space. Travelzoo's app is vital to every step of the process: from the first spark of inspiration to a safe flight home. You can search for the best flights, book quality hotels and find deals for activities and meals while you're on the road.
Download the free Travelzoo app for iPhone or Android.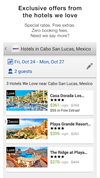 Like a Friend in Every City
Everyone knows the best travel tips are really from locals. (Remember: Only a Parisian can point you to the best pain au chocolat.) So even if you don't know anyone while you're travelling, consider our app as that friend with the go-to travel advice.  We won't send you anywhere we wouldn't go ourselves because our Deal Experts curate, vet and test the best deals for you. Also, over 300,000 members have shared their experiences, along with helpful tips like family friendly hotels in Niagara, romantic restaurants in Montreal, or the best shows on The Strip.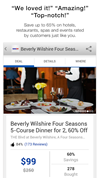 Exclusive Savings
Travelzoo deals are often exclusive, meaning you can save up to 60% on experiences in more than 150 destinations worldwide. Airfare calendars show when to save money on flights. The new, easy-to-use booking platform offers searchable deals in destinations all over. Saving money while travelling can be especially tricky. Not only does this app help you avoid overpaying, it actually allows you find the best deals, even while you're on the go.


Always in Touch
One of the hardest things about planning trips is trying to keep up with all the goings-on in your destination. A lot of these things happen only once a year, and it's our job to stay informed so that you don't miss out. If you're strolling the streets of Tokyo and suddenly feel your stomach rumble, pull up the app and see where we've found great deals on great food. Spending a night in London? Check to see what show tickets we've scored for you. Whatever it is, we'll tell you about it.