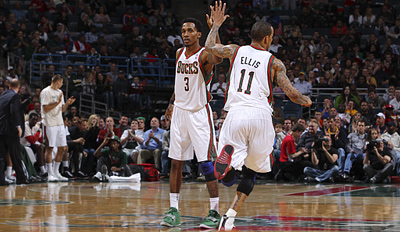 Catch Brandon Jennings, Monta Ellis and the Milwaukee Bucks take on the division rival Chicago Bulls on Wednesday, Jan. 30, at 7 p.m. This offer includes a special game T-shirt for an overall savings of more than 60%.
Why we love it
The Milwaukee Bucks take on the division rival Chicago Bulls on Jan. 30 at 7 p.m.
Tickets start at $20 (reg. $53.60) and include a T-shirt
Lower- and Upper-level seating options are available
A family of 4 can attend this matchup for as little as $80
A promo code is required, please see complete booking instructions
When
Jan. 14, 2013 - Jan. 30, 2013
Where
Milwaukee Bucks
BMO Harris Bradley Center
1001 N 4th Street
Milwaukee, WI 53203
What's included
Chose from the following seating levels*:
Upper Level Endzones & Corners ... $20 (reg. $47.60-$53.60)
Upper Level Sidelines ... $30 (reg. $61.60)
Lower Level Corners ... $50 (reg. $89.60)
*Regular pricing includes fees and T-shirt value.
The Bucks are 22-18 and are primed for a playoff run.
Booking Instructions
Click "Buy Now" and click "Find Tickets." Enter the code TZ in the "Special Offer Code" box and click "Verify." Create an account or log in to continue. Select number of tickets and seating sections from drop-down menu and click "Continue." Verify seat selection and click "Continue." Enter billing information to complete purchase.
The fine print
No additional fees apply. There is a 10-ticket limit per order. See Booking Instructions for step-by-step details. T-shirt redemption instructions will be provided on ticket after purchase is complete.