You're part of the art at NYC's new Balloon Museum

Though it's called the Balloon "Museum", New York City's newest art attraction is unlike any other. The exhibit's playful use of inflatables, neon colors and trippy light effects feels less like a stroll through The Met or The Guggenheim and more like a multisensory journey through different fantasy lands. After all, how many museums do you know of that have a ball pit? 
The Balloon Museum is making its first appearance in the U.S. after a successful European run that attracted more than 2.5 million guests across its other locations in Rome, Milan, Madrid and Paris, where it made a cameo in an episode of Netflix's "Emily in Paris". Having just opened in October at Pier 36 in The Seaport, the limited run will end January 14. Timed entry tickets are now on sale.
The experience at each location is unique, with different artists and installations featured throughout. The NYC-specific exhibit, "Let's Fly," spans an 80,000-square-foot space with inflatable displays crafted by 13 international artists. Inside the event, guests can learn more about the installations and the creatives who made them by scanning the QR code at the entrance of each one.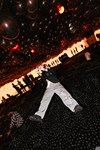 During my recent visit, I wasn't a guest, but a participant—I jumped into a sea of plastic balls in one room, climbed through a larger than life inflatable labyrinth in the next and watched as visitors drew on the walls with a massive charcoal-studded globe. Just by attending, we were all shaping the art in real time. Suffice to say, this is not your father's museum.
Much more than a photo opp
The Balloon Museum has all of the classic components of an Instagrammer's dream: it's colorful and well-lit (with the exception of a few installations that use moody lighting to great effect) and features a row of selfie stations that coax even the shyest of models to strike a few poses. Despite this, I spent nearly two hours perusing the museum and didn't leave with a single photo. 
View this post on Instagram
I did, however, take plenty of videos. There's footage of me wandering through mirror mazes, petting a pack of inflatable black dogs and popping smoke-filled bubbles in a pitch-dark room. While there are plenty of great photo opportunities at every corner, it's impossible to capture the essence of the installations without fully immersing yourself in them. At this museum, it's more about experiencing the art rather than capturing it.

In fact, one of my favorite installations was impossible to get on film or video. Airscape by Sila Sveta fused art, fantasy and virtual reality to create a whole new dimension. Though the physical space looked similar to an Apple Store with its minimalist white tables and matching swivel chairs, once I placed the VR headset over my eyes, I was whisked away to fictional and far-away lands. I soared through space on a rollercoaster and swam underwater among jellyfish without leaving my seat.

Hyperstellar by Hyperstudio was another space that was impossible to fully capture in one shot. The installation centered around a pool of metallic-colored plastic balls that was designed to mimic a sensory journey through the cosmos. Without hesitation, adults of all ages jumped into the waist-deep ball pit and "splashed" around while strobe lights flashed and a mind-bending projection played in the background. This, along with a ceiling overflowing with balloons, made the installation a clear favorite among museum-goers.
This museum has no age limit
At the Balloon Museum, the wide range of installations from roly poly creatures to high-brow minimalist art targets all different age groups. And for many kids whose only exposure to balloon art was a clown making balloon animals or a bouncy house at a backyard birthday party, this creates so many opportunities for fun.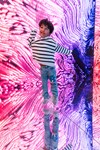 With its bright colors and punchable qualities, Rub Kandy's The Ginjos installation is likely a favorite among younger visitors. But anyone who lived through the '90s will also have a soft spot for the inflatable artwork. Set against a black and neon backdrop of spaceships and planets, the aesthetic looks like it was pulled from the pages of a pre-Y2K toy store circular. Navigating through a crowd of brightly colored bubble creatures oddly sent me back in time to my childhood.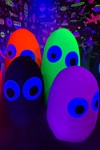 Similarly, Cyril Lancelin's Flying Maze is appealing to guests both young and old, and each for different reasons. The installation features an inflatable green structure that the artist explained is a nod to the quest for self. With twists and turns and narrow areas that require crouching to navigate, the installation sends visitors on a journey to find the center. There, guests can look up to find a giant mirrored sphere and gaze at their own reflection before continuing their trek out. While children will love bouncing off the walls and getting lost in the maze, adults can appreciate the deeper meaning of it all.
And while most museums have a strict no-touch policy surrounding their featured artwork, this one encourages visitors to jump in and get their hands dirty—literally. Inside Ada by Karina Smigla-Bobinski lies a massive membrane-shaped globe filled with helium. The globe, which is covered in charcoal spikes, sits in a bright white space and acts as a paintbrush, so each bounce against the wall leaves a unique imprint.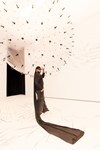 Guests tried their hand at creating their own work of art by lifting the life-sized globe and smashing it against an untouched area of the wall. The end result was a mess of black scribbles that starkly contrasted with the all-white room. As I walked farther away from the exhibit and toward the exit, I wondered what that same wall would look like weeks later when a new batch of guests passed through.
---
Ready to go? Get your tickets to this unique art attraction before it flies away. Save 30% on weekday tickets in December using promo code 30OFF through this exclusive offer.