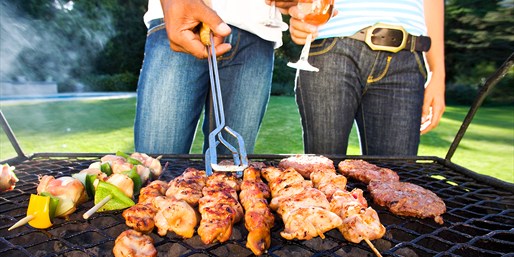 Give your dad an excuse to dust off the barbecue this Father's Day -- this
BBQ Taster Pack
from Highland Foods is now £19 instead of £40.
Why we love it
Great Father's day gift. Host a barbecue for dad or have the pack delivered directly to him
£19 BBQ taster pack includes all the staples: steaks, sausages and ribs, plus mouth-watering Wagyu Kobe burgers and more
Highland Foods has received organic certification from the Soil Association
Plan ahead for a summer of barbecues. Buy multiple vouchers for yourself or for friends
When
May 30, 2013 - Sept. 30, 2013
Where
Highland Foods
Highland Foods
14 Bittacy Hill
Mill Hill, NW7 1LB
Tel: 0208 346 1055
What's included
The pack includes the following barbecue favourites: 2 x Wagyu Kobe burgers, 4 x 4oz pork steaks, 1lb of sausages, a rack of marinated pork ribs and 6 x kofta kebabs. With the exception of the Wagyu Kobe burgers, all products in this taster pack are organic.
Serious meat lovers can upgrade to the following bumper packs, all of which have also been discounted by more than 50%:
- £39 (regularly £80-£82), choose from 5 different packs (Packs 1, 3, 4, 5, 6) that add the likes of sumptuous sirloins and lamb chops, or get adventurous with exotic flavours such as crocodile burgers and buffalo sausages
- £49 (regularly £102), get the ultimate BBQ Pack 2 including, lamb and sirloin steaks -- perfect for large barbecue parties
Please note that exotic meats are non-organic and are delivered frozen. Some other items such as burgers and sausages may also be delivered frozen, subject to availability.
Visit Highland Foods' website for the full description of each BBQ meat pack and to learn more about their organic certification by the Soil Association.
Highland Foods is also offering a 15% discount on any additional items you buy when you spend over £10 on these items.
The small print
This voucher entitles the holder to one BBQ Taster Pack. A £10 delivery charge to mainland UK will apply upon placing the order. Meat packs are delivered in a cool box: vacuum packed and on ice. For £39 choose from BBQ Pack 1, BBQ Pack 3, Mixed Exotic BBQ Pack 4, Mixed Exotic BBQ Pack 5, and Mixed Exotic BBQ Pack 6. The BBQ Pack 2 is available for £49. See all BBQ pack descriptions on www.organicbutcher.net. See below for full terms and conditions.
See all terms