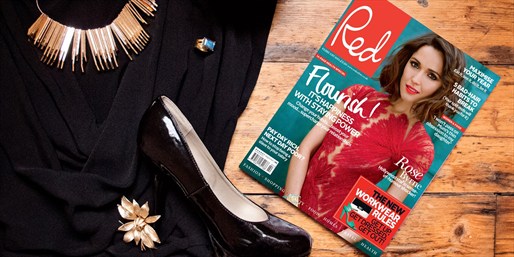 Treat yourself or a friend to a year's worth of celebrity, fashion and beauty news with 12 issues of either Elle, Red or Harper's Bazaar magazine for £16 (that's just £1.34 a copy).
Why we love it
Twelve issues of either Elle, Red or Harper's Bazaar magazine for £16 (just £1.34 an issue)

This exclusive annual subscription offer saves up to 36% on Hearst Magazines UK's usual selling price

Get the latest celebrity, fashion, beauty and travel news delivered direct to your doorstep every month

A brilliant birthday present or treat for a loved one -- this was the best annual rate we could find for these glossy titles

All delivery charges are included
When
Jan. 25, 2013 - Feb. 14, 2013
Where
Hearst Magazines UK
What's included
Save up to a third on Hearst Magazine UK's usual selling price when paying by direct debit, and get stuck into the latest news and trends every month, with your favourite glossy delivered straight to your door.
Get all of the style, beauty and fashion news each month from Elle, which is one of the most widely-read women's magazines in the country. The magazine scooped awards for Editor and Art Director of the Year at the British Society of Magazine Editors in 2010, and was nominated for a further two titles in 2012.
Alternatively, sign up for the latest in travel, lifestyle and food from Red (choose either the standard size or handy travel sized edition), or for the serious fashionistas out there, Harper's Bazaar will act as your monthly style bible.
The £16 offer applies when you sign up to an annual direct debit; if you'd prefer to pay a one-off credit card charge instead, you can do so for £24.99.
You're free to cancel your direct debit any time after your payment for the first 12 months has been accepted; after that, charges for the annual subscription prices will increase (please see the fine print for more details).
How to Buy:
Click the 'Buy now' tab in the top right hand corner and you'll be directed to Hearst Magazines UK's website. There, you'll choose which magazine subscription you would like to purchase before entering your payment and delivery details. On the drop down menu, you'll see two options -- the first says "six month direct debit at £15. First 12 issues at £16". By selecting this offer, you will receive 12 issues of your chosen title, and agree to sign up to a direct debit the for the following year. This can be cancelled at any point after your payment for this offer has been accepted. Alternatively, select the second option on the drop down for a one-off payment of £24.99
The small print
Direct debit payments will commence after your inital prepaid 12-month subscription has elapsed, unless it is cancelled. Direct debits may be cancelled at any time after the payment for the first year's subscription has been accepted. If direct debits are not cancelled, the following annual subscription charges will apply: A single direct debit payment of £22.99 for Red magazine; two direct debit payments of £19 (a total of £38) for Elle; two direct debit payments of £15 (a total of £30) for Harper's Bazaar. See below for full terms and conditions.
See all terms