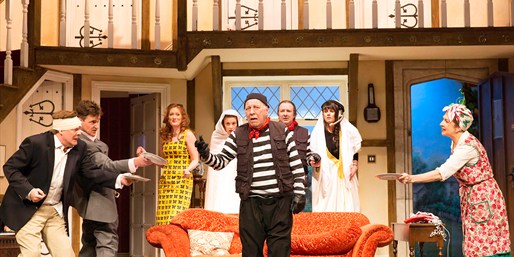 "Noises Off" is the Olivier Award-winning farce by playwright and novelist Michael Frayn ("Spies", "Democracy") and it's now touring the UK. Travelzoo subscribers can save over 45% on tickets to the show when it comes to Wales Millennium Centre on 11-13 June.
Why we love it
Over 45% off a ticket for Olivier Award-winning comedy "Noises Off", starring Neil Pearson ("Drop the Dead Donkey") and Maureen Beattie ("Taggart")
At Wales Millennium Centre from 11-13 June
Seats worth £31 in the stalls and boxes are now £16 each
The farce is a play-within-a-play about an acting troupe that stumbles through shambolic rehearsals to a disastrous final performance
"Hilarious" -- The Star
When
June 7, 2013 - June 12, 2013
Where
Wales Millennium Centre
Bute Place
Cardiff Bay
Cardiff, CF10 5AL
What's included
Usually £31, these seats in the stalls and boxes are now £16. These prices already include the venue's obligatory £1-per-ticket online booking fee. If you wish to pay by phone, the offer price is £16.50, because the phone booking fee is £1.50 per ticket. Booking in person with cash at the venue incurs no extra charge, meaning you can nab a ticket for £15.
On its debut in 1982, "Noises Off" won the Olivier Award for Best Comedy and was nominated for another two when it ran in the West End last year. Presented by the Old Vic and directed by the acclaimed Lindsay Posner, who takes the reins again for the UK tour, it stars Neil Pearson ("Drop the Dead Donkey", "Between the Lines", "Bridget Jones' Diary") and Maureen Beattie ("Lewis", "Taggart"). A play within a play, it's a fast-moving and riotous comedy about a touring theatre company that stumbles through rehearsals to a shambolic opening night and a disastrous curtain call."Hilarious" -- The Star
"There are moments when you are no longer certain quite what you are laughing at. All you know is that you can't stop" -- The Daily Telegraph
"The ultimate comedy of theatrical chaos and confusion" -- Sunday Express
How to book:
- Click "Buy Now" to book directly with the theatre
- Click "Quick Buy" and choose your preferred performance
- Enter promo code NOISESTRAVELZOO (case sensitive)
- You will be asked to register or log in
- You can now select your seats -- offer is valid for stalls and box seats marked £30
- Choose the option marked "Web Special Offer"
- Proceed to the checkout
- Alternatively, book by phone on 029 2063 6464 and quote NOISESTRAVELZOO. Phone bookings incur a per-ticket fee of £1.50, making them £16.50 each.
- Wales Millennium Centre's website is not optimised for mobile use; we recommend booking by phone or online using a PC, laptop or tablet
- Maximum of eight tickets per booking
Travelzoo tip:
There is a free post-show talk after the 12 June performance.
The small print
Valid for a ticket in the stalls or boxes on 11-13 June, subject to availability. Advance booking required. Not valid on tickets already purchased. Cannot be combined with any other offer. All prices quoted include the theatre's obligatory £1-per-ticket online booking fee. Face value of ticket is £30; online price is £31 and phone price is £31.50. Must be used in one visit. No cash value or cash back. The full value quoted is based on the maximum ticket cost plus per-ticket fees at the time of publication.