Travelzoo® Has Delivered Valuable Experiences to Millions of Members for more than 12 Years
Leverage Travelzoo's expertise to craft custom experiences that attract and drive local market audiences while meeting your business needs.
The "Local Experience" Difference
Travelzoo Local Deals offers consumers an experience as opposed to coupons or discount gift certificates
The audience is established; high-income leisure travelers proven to make incremental purchases
This model helps operators target time periods when their business is not at full capacity
Knowledgeable producers are experts at working with operators to help craft value-based experiences that inspire users to purchase immediately
Our unique and rigorous test-booking process assures flawless booking experience for users
We Understand Local Because We Are Local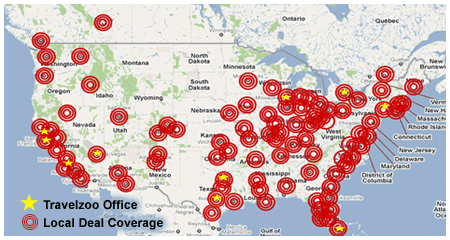 National Footprint
97 cities in the United States & Canada
Travelzoo Offices
12 offices in North America
Austin, Boston, Chicago, Dallas, Las Vegas, Los Angeles, Miami, New York, San Francisco, Mountain View, Toronto, Vancouver
25 offices worldwide
Audience1
14 million North American members
12 million U.S.
1.2 million Canada
More than 29 million members worldwide
Spontaneous2
56% of Travelzoo members booked an incremental trip because they felt the Travelzoo deal was too great to pass up.
Open Minded2
66% hadn't decided on a destination before purchasing an offer seen on Travelzoo.
Upgraders2
51% of Travelzoo users clicked on a Travelzoo offer and ended up purchasing something other than the original offer.
Travelzoo Members Are Affluent & Established
Household Income
40% have HHI $100K+
Age
82% are over 35
Gender
62% are women
Education
69% have Bachelor's degree +
What Others Are Saying
"My advice is to start with
Travelzoo..."

"Of the diners that have come in so far, 85 percent of them are new clients. In addition, the customers spent anywhere from $20 to $60 more than the voucher amount, mostly on drinks and dessert. We had one couple come back for dinner the very next night!"
Jennifer Blackmon
Director of Sales and Marketing for Bistro 24 at the Ritz-Carlton in Phoenix
"Our experience with Travelzoo Local Deals has been exceptional! We love the customers from Travelzoo; they've really helped us expand our new customer client base. For example, one couple who tried out the restaurant for the first time on a Travelzoo voucher turned into a party of 14 the next week at full price ($1,200 value)."
The Grateful Palate
Fort Lauderdale, Fla.