Travelzoo Map the World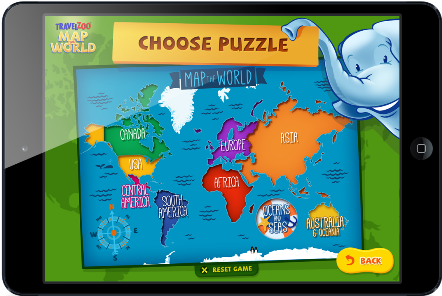 A puzzle app designed to inspire your child to
learn about the world in which we live:
Easy to navigate, with child-pleasing design and puzzle features
Teaches children about the continents, countries,
oceans and seas of the world
Diploma reveals time scores upon completion
Download for FREE on your iPad
Extras
Take our Geography Quiz
Think you know your U.S. states? Can you name all seven continents correctly? Take
our quiz to find out.
Open Arms Malawi
Learn about Map the World's charitable donation program for Open Arms Malawi.
"It's now more important than ever that children have a sense of the world around them and where they fit into it. Travelzoo's Map the World is an excellent tool for teaching children about the countries of the world in an engaging way. It should help young minds learn and inspire them to explore this magical planet. Travelzoo is donating the optional cost of the app to the Open Arms Malawi charity, which provides healthcare, education and social support for orphans in Malawi. It's an app designed to challenge, inspire and, above all, make a difference to the lives of others."
Sir Ranulph Fiennes
The World's Greatest Living Explorer