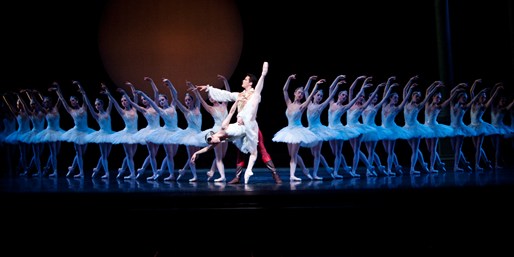 Save more than 55% on tickets to see the Pacific Northwest Ballet when you purchase a three-show subscription package for $99. Tickets to one show regularly cost $77, but with this offer, they are only $33 per show.
Why we love it
For $99, get Main Floor seats to 3 ballets by Pacific Northwest Ballet
"Modern Masterpieces," "Swan Lake" and "Director's Choice" are included in this offer
Shows take place at McCaw Hall from March-June
Reservations must be made by March 11, 2013; call early for the best seats
When
Jan. 31, 2013 - March 11, 2013
Where
Pacific Northwest Ballet
Seattle Center's Marion Oliver McCaw Hall
321 Mercer Street
Seattle, WA 98109
Tel: 206-441-2424
What's included
The three-show package includes:
"Modern Masterpieces" (March 15-24)
This show features award-winning dancer and choreographer Twyla Tharp's "In the Upper Room"; "Concerto Barocco" by George Balanchine with music by Bach; and the world premiere of "Mozart Pieces" by PNB's own Paul Gibson.
"Swan Lake" (April 12-21)
This version of the world-famous ballet is choreographed by Kent Stowell and accompanied by the sublime score of Peter Ilyich Tchaikovsky. It's widely considered the greatest of all classical ballets.
"Director's Choice" (May 31-June 9)
This tribute to ballet master George Balanchine includes "Agon" by Balanchine and a world premiere by highly acclaimed choreographer Christopher Wheeldon. The grand finale will be one of Balanchine's greatest works, "Diamonds."
Regularly $231, the subscription package is for Orchestra Back seats. Choose from the following series:
Saturday matinee (series C): March 16, April 13, June 1
Thursday evening (series E): March 21, April 18, June 6
Friday evening (series F): March 22, April 19, June 7
Sunday matinee (series H): March 24, April 21, June 9
Booking Instructions:
Click "Buy Now" to purchase. Subscribers will purchase a voucher directly from Travelzoo and call the box office to reserve tickets to all 3 shows. Subscribers will get the best seats available and select the series they would like. The box office can be reached Monday-Friday, 9 a.m. - 6 p.m., and Saturday, 10 a.m. - 5 p.m., at 206-441-2424. Call early for the best availability. Please mention how many people are in the party.
The fine print
See booking instructions for step-by-step details on how to purchase. There are no additional fees. Subject to availability. Restrictions may apply. No refunds or exchanges. Reservations are required and subscribers are urged to call early for the best availability.