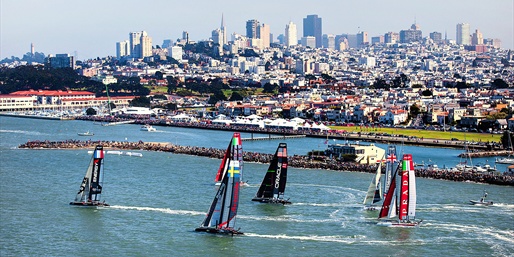 Witness 72-foot wing-sail catamarans compete in the San Francisco Bay for the oldest trophy in international sport: the America's Cup. With this exclusive offer, Travelzoo subscribers can purchase tickets to the America's Cup Challenger Series taking place in July and August at Piers 27-29 along the San Francisco waterfront.
Why we love it
The America's Cup "Summer of Racing" kicks off on July 4 and includes three months of hard-fought competition
Travelzoo subscribers have access to an exclusive presale offer for America's Cup events before they go on sale to the general public
Tickets range from $15-$85 for events in July and August 2013
Sale ends Tuesday, April 2
Promo code TZOO is required for booking
When
March 31, 2013 - April 5, 2013
Where
America's Cup
Piers 27-29
Embarcadero Dr
San Francisco, CA 94105
What's included
Tickets to the Opening Fleet Race on Friday, July 5, are $45 for East Grandstand Seats.
Tickets to the Louis Vuitton Cup Round Robin are available Tuesday-Wednesdays and Fridays-Sundays from July 7 - Aug. 4:
East Grandstands ... $15-$25
The Deck ... $25-$35
Tickets to the Louis Vuitton Semifinals on Tuesday-Wednesday, Aug. 6-7, 13-14, and Friday-Sunday, Aug. 9-11 are:
East Grandstands ... $35-$45
The Deck ... $45-$55
Five Stars Yacht ... $200 (Available on select dates)
And finally, get tickets to the Louis Vuitton Cup Finals on Saturday, Aug. 17, Sunday, Aug. 18, Wednesday, Aug. 21, and Saturday, Aug. 24:
Race Course Bleachers ... $60-$70
Marina Green West Bleachers ... $50-$60
Marina Green East Bleachers ... $75-$85
The Deck ... $85-$95
Note: Higher priced tickets are for events on Saturdays and Sundays.
The Louis Vuitton Cup, the America's Cup Challenger Series, is used as the selection series to determine who will race the Defender in the America's Cup Finals. The events include challengers from around the globe who battle each other in a series for the opportunity to compete for the America's Cup. Click here to read more.
Booking Instructions:
Click "Buy Now" to book directly from America's Cup. Scroll to the bottom and click "Buy Tickets." Click "Log in" then select "Buy Tickets next to applicable date. Enter code TZOO, then "Apply." Select quantity next to desired seating section and then hit "Continue." Review order then hit "continue." Enter payment information and continue with booking. Mobile Users: The Travelzoo test-booking team has found that this offer is not available on a mobile device. Please use a computer.
The fine print
See booking instructions for step-by-step details on how to book this deal. Promo code TZOO is required for booking. Additional fees of $3-$17.75 per ticket and $3.50 per order may apply. All tickets are subject to the same fees. Restrictions apply. Subject to availability. This is a date-specific event; no returns or exchanges.