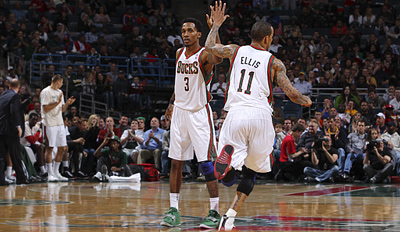 Travelzoo subscribers can now purchase tickets for eight Saturday night Milwaukee Bucks games this season for as low as $17.90 with this Local Deal. Each ticket includes a complimentary beverage voucher for a beer or soda and a Bucks/Coors Light pilsner glass. In addition, presale access for special seating sections is available for popular games against the Bulls and Thunder.
Why we love it
The Bucks take on the Celtics (Nov. 10), Chicago Bulls (Nov. 24) and 7 other opponents with this offer, starting at $17.90
Snag a complimentary beverage voucher (beer or soda) and a Bucks/Coors Light pilsner glass with this deal
Watch Monta Ellis and the Bucks take on the Cavaliers in their home opener
Get postgame entry into the Palermo's Courtside Club with each game ticket and meet members of the Bucks Energee! dance team
Palermo's Courtside Club (Rows 2-4) seats available for more than half off for 5 games including the home opener
When
Oct. 29, 2012 - April 15, 2013
Where
Milwaukee Bucks
BMO Harris Bradley Center
1001 N 4th Street
Milwaukee, WI 53203
What's included
The Bucks will host the following games at the BMO Harris Bradley Center:
Saturday, Nov. 3 at 7:30 p.m. vs. Cleveland Cavaliers - opening night
Saturday, Nov. 10 at 7:30 p.m. vs. Boston Celtics
Saturday, Dec. 1 at 7:30 p.m. vs. Boston Celtics
Saturday, Dec. 15 at 7:30 p.m. vs. LA Clippers
Saturday, Jan. 26 at 7:30 p.m. vs. Golden State Warriors
Saturday, Feb. 2 at 7:30 p.m. vs. Orlando Magic
Tuesday, March 12 at 7 p.m. vs. Dallas Mavericks
Monday, April 15 at 7 p.m. vs. Denver Nuggets
The following seats are available with this deal:
400 Level Corners... $17.90-$27.90 (reg. $25-$37)
400 Level Sides ... $32.90-$44.50 (reg. $39-$55)
100 Level Endzones & 200 Level Sides ... $52.90-$64.90 (reg. $97-$110)
Note: Seat sections and availability varies by game.
Travelzoo subscribers also have presale access to special seating sections not available to the general public for these select games:
Saturday, Nov. 24 at 8 p.m. vs. Chicago Bulls
Saturday, March 30 at 7:30 p.m. vs. Oklahoma City Thunder
The fine print
To purchase, click "Buy Now." Click "Find Tickets" next to desired game. Enter code TZGNO in the "Enter Offer Code/Password" box and click "OK." Click on seat map then click on blue circles to select seats. When finished selecting click on "Checkout." Enter word verification and click "Continue." Verify seat selection and click "Continue." Log in or create a new account. A $5.60-$9.60 per ticket and $5.70 per order fee applies.