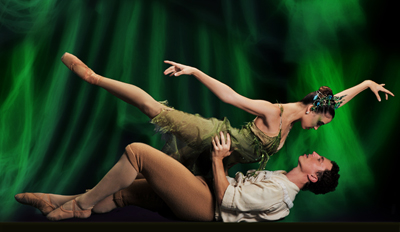 This October, see Texas Ballet Theater's season opener "Peer Gynt" for as low as $10 per person with this exclusive Local Deal. Tickets are up to half off for performances in Fort Worth and Dallas for this neoclassical ballet.
Why we love it
Watch season opener "Peer Gynt" in Fort Worth or Dallas and save up to 50% on tickets
Mezzanine tickets are available in Fort Worth starting at $15, regularly $25
Balcony seats in Dallas are $10-$17.50, regularly $15-$35.50
This neoclassical ballet is based on Henrik Ibsen's Norwegian fairytale of the same name
When
Oct. 4, 2012 - Oct. 20, 2012
Where
Texas Ballet Theater
Multiple locations
What's included
Bass Performance Hall in Fort Worth: The following seating levels are available on Friday, Oct. 19, at 8 p.m. or Saturday, Oct. 20, at 2 p.m.:
Mezzanine Side/Back ... $15-$22 (reg. $25-$35)
Parterre Side/Back ... $22-$30 (reg. $35-$45)
Orchestra ... $30-$38 (reg. $45-$55)
Music Hall at Fair Park in Dallas: On Friday, Oct. 26, at 8 p.m., Saturday, Oct. 27, at 2 p.m. or 8 p.m. and Sunday, Oct. 28, at 2 p.m.:
Balcony ... $10-$17.50 (reg. $15.50-$35.50)
Center Parterre ... $22.50-$27.50 (reg. $45.50-$55.50)
Orchestra ... $27.50-$35 (reg. $55-$65.50)
Corps Circle ... $32.50-$37.50 (reg. $65.50-$75.50)
Note: $10 Balcony tickets are available for Friday and Saturday performances in Dallas.
This ballet, set to the music of Edvard Grieg, is loosely based on Henrik Ibsen's Norwegian fairytale about the lazy and mischievous boy by the name of Peer Gynt.
The fine print
To book, click "Buy Now." Click "Purchase Tickets" and on the next page, enter promo code TZOOTBT in the upper right-hand corner and click "Submit." Be sure to enter the promo code prior to selecting your performance date. To purchase tickets in Fort Worth, click "Purchase" next to a valid performance. For Dallas performances, click the link and select the performance of your choice. Click "Purchase Best Available Seating" and select your seating section. Fees of $3.50 per ticket and $5 per order will be additional. Subject to availability. Restrictions may apply.