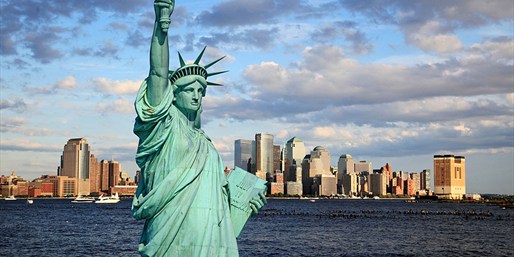 Thanks to the strong Australian dollar, the USA is becoming a very affordable place to visit. Save even more and visit the cosmopolitan cities of New York, Washington and Boston with this special offer from Mandarin World Tours for just $899 per person, twin share.
Why we love it
Enjoy a 9-day 'USA East Coast' deluxe tour for just $899 per person, twin share with Mandarin World Tours
Visit New York, Washington, Boston and more, and save 35% off the usual price
Stay in 4-star hotels such as Marriott, Crowne Plaza, Double Tree or similar
Includes airport transfers, coach travel and an English-speaking guide throughout
See attractions such as the Statue of Liberty and the Empire State Building
Other highlights include Harvard University, Boston Common, Capitol Hill and Niagara Falls
Solo travellers can also take advantage of this offer for just $1399
Mandarin World Tours can also organise flights from anywhere in Australia starting from just $1499 per person (payable direct)
Valid for departure on select dates until November
Please note: There is an additional local payment of US$200 per person 'Admission Package' payable on arrival; Compulsory gratuities of an additional $65 per person is also payable upon booking
Click here for full itinerary and further details
Where
Mandarin World Tours
Suite 4
3368 Pacific Highway
Springwood, 4127
Tel: 07 3166 8711
What's included & when
Apr 10, 2013 - Nov 19, 2013
Saving 35% off the regular price, this 9-day 'East Coast USA' package includes:
-Eight nights' accommodation in 4-star hotels such as Hyatt, Marriott, Crowne Plaza or similar
-Airport transfers and air-conditioned coach transportation throughout
-Entrance to a range of attractions including the Empire State Building, a Hudson River cruise and a Boston Harbour cruise
-An English-speaking guide throughout
Starting in New York, you will be collected from the airport and transferred to your hotel. Early arrivals will get a bonus tour of Queens.
Take a city tour of New York exploring Wall Street, Central Park, the newly transformed USS Intrepid Sea-Air-Space Museum, Madame Tussauds was museum and much more.
Then head south to Washington D.C., stopping in Princeton University, Philadelphia and Baltimore along the way. Enjoy a full-day tour visiting Capitol Hill, Lincoln Memorial and even catch a glimpse of the White House.
From the capital city, the tour travels north to Niagara Falls in NY State and skims the Canadian border at Niagara Falls State Park. The next day, journey back to the coast and explore the cultural capital of Boston where you will visit Harvard and spend a full day on the harbour.
Returning to NYC, you'll stop at Yale University and spend your final day at the outlet stores of Woodbury Common for some last-minute shopping before transferring to the airport for your onward flight home.
Valid for departure on the following dates: 26 April; 7 ,21, 31May; 4, 11 June; 19, 30 July; 13, 27 August; 3, 13 September; 11, 22, 29 October; 1, 8. 19 November 2013.
Please note: A compulsory US$200 admission package is payable to your guide locally on arrival. Compulsory gratuities of $65 per person are also payable directly upon booking.
The fine print
Please note: An additional US$200 per person admission package is payable to local guide on arrival. Compulsory gratuities are extra and cost $65 per person, payable upon booking.

Vouchers must be purchased by Wednesday 24 April but could sell out before. Vouchers can be redeemed for a 9-day 'East Coast USA' land-only tour. Solo travellers must purchase a single voucher for $1399. Flights can be arranged for an additional fee (from $1499) payable direct to Mandarin World Tours at time of booking. When you are ready to book, contact Mandarin World Tours and mention your Travelzoo voucher.

Departure dates: 26 April; 7 ,21, 31 May; 4, 11 June; 19, 30 July; 13, 27 August; 3, 13 September; 11, 22, 29 October; 1, 8, 19 November 2013

All taxes are included in the prices listed. Vouchers are not refundable and cannot be used in conjunction with any other offer or promotion. Once you have booked your holiday, no cancellations are permitted or your voucher is subject to forfeiture. USA visa is not included in this package.